Profile: Carolyn Starman Hessel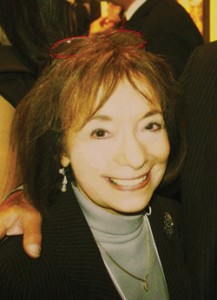 When asked what her favorite book is, Carolyn Starman Hessel evades selecting a current title. "What is the Jewish book that most influenced my life? It must be the Tanakh, for it is from this that Jewish life and literature emerged. All books of Jewish interest were born here. The Jewish teachings and values we hold dear and that reflect on all of our writings come from this one source."
No doubt she loves the Jewish Bible, but as the director of the Jewish Book Council, the only organization solely dedicated to the promotion of Jewish books, and as one the most influential people in the Jewish book world, Hessel can have no other reply.
"You can't say what my favorite book is," she instructs. "Most of the authors are very good friends. I can be lynched by anyone I didn't include." Tapping her long, red fingernails on the desk, she concedes, "I have so many favorite books in different ways."
It does not really matter what Hessel's favorite books are. It's enough that this diminutive woman has spearheaded a renaissance in the Jewish book industry, creating a central place where publishers and communities can connect with Jewish authors.
"Carolyn took a dying organization and turned it into a powerhouse by understanding that her ability to market large numbers of books gave her power in the publishing community," says Jonathan D. Sarna, the Joseph H. & Belle R. Braun Professor of American Jewish History at Brandeis University and chief historian of the National Museum of American Jewish History in Philadelphia.
The Jewish Book Council dates back to 1925, when Fanny Goldstein, a librarian at the West End Branch of the Boston Public Library, set up an exhibit of Jewish books and used it as a focus of what she called Jewish Book Week. Two years later, Jewish communities around the country adopted the event. In the beginning, Jewish Book Week coincided with Shavuot, but in 1940 it was moved to the pre-Hanukka period to promote Hanukka gifts, where it remains as a month-long event. (Jewish Book Month is October 28 to November 28 this year.)
"When I came here I didn't know Random House from Hong Kong," says Hessel, who been director of the JBC since 1994, when it became an independent nonprofit organization supported by a very supportive board of directors, foundations and individuals. "I was innocent enough not to know what I didn't know…but I had nobody telling me what to do, so I just did it. I cannot explain it—and it became a passion."
Blu Greenberg, the founder of the Jewish Orthodox Feminist Alliance who also served as president of the JBC before Hessel's tenure and now sits on its board of directors, says "[Hessel is] unbelievably creative; every day she's thinking of new ideas to expand the ideas of the Jewish book to readers and publishers…. Every director has expanded it, but she's just expanded it in many different directions."
One of those directions is the Jewish Book Network Meet the Author Program, which Hessel started in 1999 to serve as a central address for Jewish organizations that present book or author programs. In the last decade the network has become a must-attend event for every Jewish author with a new book.
Each spring at the Meet the Authors program, some 200 authors pitch their books—and themselves—to more than 100 Jewish organizations, such as Jewish Community Centers, Hillels, synagogues and federations, in hopes that these organizations will invite them to their communities. These two-minute "auditions" have been likened to literary speed-dating. Authors can rack up 2 to 35 bookings around the country, sponsored and coordinated by the JBC. This is no small feat in an age where bookstores are closing and general readership is shrinking.
"The council provides a fabulous platform for future visibility and access," said one debut author. This visibility includes having their profile appear in Jewish Book World, JBC's quarterly color publication sent out to 5,000 subscribers, including libraries, Jewish schools and synagogues. It also includes JBC's new program, Book Clubs, which provides resources for book clubs, such as reading guides and discussion questions as well as the ability to video chat with authors.
In addition to the longstanding National Jewish Book Awards, which began in 1950 and now give prizes in 18 categories, under Hessel's stewardship the Sami Rohr Prize for Jewish Literature was added in 2006. The Rohr prize annually awards $100,000 to an emerging writer who has written a book of literary merit that stimulates an interest in themes of Jewish concern (fiction and nonfiction books are considered in alternate years)—another feat in an age where book advances are shrinking and it has become increasingly difficult to make a living as a full-time writer. Hessel is not fazed by the changes in the publishing world. "I believe in the written word, and I don't care what format it's in: hardcover, ebook…I think this is going to work its way out," she says.
But what is a Jewish book? it is an old question for which Hessel, this time, has an immediate answer. "It's either a book with Jewish content or a book written by a Jew," Hessel declares. "I firmly believe that Jewish writers see the world through Jewish eyes." She calls it a ta'am, using the Hebrew word for flavor, but also meaning sensibility. By reading what she calls a "Jewish book," she hopes "that it enriches one's Jewish way of life," she says, adding, "Some of these books don't have Jewish content in them, but they are innately Jewish. Susan Isaacs is on the best-seller list. Her books are so Jewish. [So are] Judy Blume's. It's the values in their work, how they describe their mothers. It's a sense you have."
Hessel herself comes from an innately Jewish background, growing up in a religious neighborhood of Brooklyn. Her family and community certainly influenced her strong Jewish identity. She worked as a teacher in Reform religious schools for 27 years (with the influential Rabbi Harold Saperstein as her mentor) and then served at the National Education Resource Center of the Jewish Education Service of North America for more than a decade before she came to the JBC. She and her husband have four children and four grandchildren.
But Hessel, who is in her seventies, does not want to talk about herself. She will use every opportunity to credit another person or to turn the conversation back to Jewish books and authors. And it is the authors—a veritable Who's Who of the literary world—who sing her praises.
"I don't think it would be any exaggeration to say that my career has depended on her help," says Jonathan Safran Foer, celebrated author of novels such as Everything Is Illuminated and Extremely Loud and Incredibly Close, both of which were turned into films. "She has been my very strongest supporter, outside of my agent and publishing house. With all of my books, but especially my first, she went to extreme lengths to support my writing," says the author, who in 2010 was included in The New Yorker's once-in-a-decade "20 under 40" list of promising authors under 40. "Carolyn has done an immense service for Jewish books, bringing together writers who need readers, and readers who need books."
One can witness this boundless energy at a recent JBC event, trying to catch a glimpse of Hessel as she whizzes by, making sure the caterer is on top of things, that an author being honored feels comfortable and that writers she would like to meet up and get to know each other are doing so.
"Hessel is more than just a matchmaker, but someone who takes a deep interest in the author's work," says Daniel Gordis, senior vice president and the Koret Distinguished Fellow at Shalem College in Jerusalem, and author, most recently, of The Promise of Israel: Why Its Seemingly Greatest Weakness Is Actually Its Greatest Strength (Wiley). Gordis remembers her pushing him very hard on one of his books. "What's going on with the novel? How's the novel?" he recalls her nudging him in a "typical Carolyn" way. "She puts her whole heart and soul into it."
Hessel says she enjoys nurturing young people. She takes them to lunch ("You establish a different relationship around the lunch table," she says), hears their ideas, talks to them about the publishing process and encourages them—or sometimes discourages them. "Sometimes as a younger person, you don't have enough experience, so I say, 'Come to me in three years,'" Hessel says.
She's also the first to admit she is not without her detractors. "I'm short for a reason," she says, joking. "You can't be loved by the world. To be a good leader you need your enemies; they keep you on your toes."
And the Jewish book world needs a good leader. "Contemporary life is facing a cataclysmic challenge of Jewish illiteracy," says Gordis. "One of the ironies of American Jewish life is that the freeist, most successful, most secularly educated, most politically influential, economically secure Jewish diaspora we have ever known has produced the most Jewishly illiterate society we have ever known."
Gordis says that the Jewish book is critical to change that. "Jewish books are about the future of the Jewish people. Without Jewish books, there's really no way to spread Jewish ideas."