Young Judaea Independent: Moving On—and Up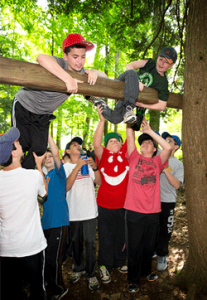 Naomi Solkowitz, 17, remembers an idyllic shabbat at Camp Tel Yehudah last summer when she and her friends lay on their backs cloud-watching by the Delaware River. "We began talking about Zionist figures and suddenly the conversation became a provocative discussion about whether we idolized them or not," she says. "That embodies my Young Judaea experience."
While Solkowitz was enjoying Tel Yehudah, Noah Berman, 22, a past Young Judaea president, was developing a higher-education program for the African refugee community in Israel. Berman learned about the country's Sudanese and Eritrean population through Young Judaea a social action program and, while on Year Course, taught English to adults and volunteered at a kindergarten for refugees. "Young Judaea has inspired me to work in fields that help others," says Berman. A recent Cornell University graduate in Near Eastern studies, Berman was the education enrichment associate at Camp Young Judaea Midwest this summer and plans on making aliya this year.
Today, through its camps and programs, Young Judaea serves 5,000 Jewish youth annually from grade school through postcollege. As Young Judaea and Hadassah forge a new path as independent legal entities, voices like Berman and Solkowitz's are vital in shaping a new vision. Independence is exciting, says Solkowitz, Young Judaea national president. "Now we have the chance to go in as many directions as we want."
Hadassah and Young Judaea remain a "natural fit," notes Berman, but "the beauty of independence is that it will give more impetus and opportunity to members and alumni to take ownership over where the movement goes."
Simon Klarfeld, Young Judaea's new executive director, calls Young Judaea "a 104-year-old start-up. Our vision is rooted in a strong core of Jewish and Zionist values," he says, "but how we continue has to resonate with the reality of 2013 and beyond." The change in Hadassah's relationship with Young Judaea is "sweet and sour," he adds, because the two organizations have closely aligned missions. Hadassah had been providing annual funding to Young Judaea ever since it took the fledgling Zionist youth organization under its wing in 1936, and for almost 50 years underwrote its total budget. Young Judaea then became a division within Hadassah. But five years ago, Hadassah's financial challenges forced it to cut Young Judaea's budget by $6 million to $2.8 million; the majority of clubs closed.
Young Judaea's independence had been discussed before the financial crisis, but Hadassah's 24th National President Nancy Falchuk implemented the vision. Since July 2012, a founding board of alumni, parents of alumni and Hadassah members with diverse geographical and generational representation has hammered out the way forward. "Young Judaea is already a very strong brand," says founding board member and journalist Betsy August Gold. "It has been existing—and it needs to be running. It's a movement. We need to move."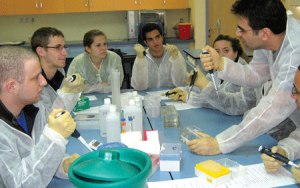 Roni Schwartz, national vice president of Hadassah and founding Young Judaea board member, was initially dubious about the split but is now excited. She is focusing on forming a new department within Hadassah that will raise funds for scholarships and support Young Judaea. The three-year transition includes continued financial and organizational support, but Young Judaea will start looking for resources in the wider community.
Klarfeld's vision for the future turns on the word "inspiring," which he uses repeatedly. "We are educators with the mission of inspiring people," he says. A native of London, Klarfeld, 46, came to the United States to earn a master's degree in Jewish communal service at Brandeis University in Waltham, Massachusetts. "When I…got involved in the Jewish community 20 years ago, almost no organization except Young Judaea spoke to me in my soul…. But I was too old to join." American Jewish identities are often hyphenated, he says: Conservative-, Orthodox-, Republican-, Democratic-, secular-. Young Judaea is open to all. "I was always someone who believed in a fundamental blend of values."
Klarfeld's experience in pluralistic Jewish communities honed his approach. As a teen, he ran an overnight camp for Jewish teens from across Europe and chaired the Zionist Youth Council of Great Britain. As a young adult, he lived in Russia, directing activities on behalf of the Soviet Jewry movement. He was interim Birthright Israel director and transformed the Hillel at Columbia University and Barnard College during a seven-year tenure as executive director. His wife, Dara, is an alumna of Camp Young Judaea Sprout Lake and the national high school leadership camp, Tel Yehudah, both in New York.
"There is an existential crisis in the greater Jewish community, the inability to engage our young people in contemporary Israel," says Shelley Sherman, Hadassah's executive division coordinator and a national vice president as well as immediate past coordinator and current board member of Young Judaea. "For over 100 years, YJ has done exactly that: Judaeans internalize their connection to the Jewish state [but also] feel free to speak out about social issues with which they disagree. Their love and commitment are so strong that even if they disagree with a given policy or situation, they continue to support Israel with their whole being while advocating for change."
The ingredients that make Young Judaea stand out, says Klarfeld, rest on five core values—Zionism; Jewish peoplehood; pluralism; social action; and leadership development—as well as a grounding in informal Jewish education.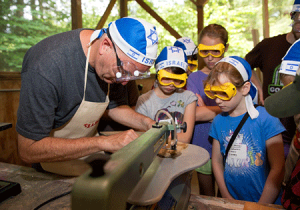 In addition to Young Judaea's five summer camps—Camp Judaea in North Carolina; CYJ Midwest in Wisconsin; Sprout Lake; Camp Young Judaea Texas; and Tel Yehudah—year-round activities include alternative winter break service, learning opportunities and conventions. Programs in Israel span ages high school and up: Year Course, for the gap year program; Shalem, a yeshiva-based gap-year program; YJ Summer, four-week programs for high schoolers; Amirim, summer volunteering for college and postcollege young adults; WUJS, a five-month business or arts internship; and Taglit-Birthright, the free trip to Israel for ages 18 to 26.
Almost everything has been placed on the table for examination. A Vision Task Force has engaged the Young Judaea community, soliciting input to craft a mission statement and business plan. The conversation included teens, says Klarfeld, since peer leadership has always been among Young Judaea's strongest credos.
"Young people leading is the power of Young Judaea," says board member Vally Kovary, who recalls her days as a regional president, Tel Yehudah camper and Year Course participant. "We helped cocreate the learning and the community."
Kovary, a child of Holocaust survivors, grew up in a kosher, Zionist home in Ithaca, New York, where she still lives. Young Judaea grounded her identity as a Jew and a Zionist. With her expertise today as founder of a management consulting firm specializing in strategic organization and business planning, she hopes to help realign Young Judaea's structure so that it is strong and flexible.
"There's so much talk today about girls not being able to stand up for themselves," says board member Melanie Topper, 34, a Washington, D.C.-based data-management consultant. "Through Young Judaea my opinion always mattered." Topper grew up in Mobile, Alabama, one of five Jewish students in her public high school of 2,000. Young Judaea was her Jewish outlet. When she moved to New York in 2003, "getting involved with Hadassah was a natural step." She helped charter the Meira Chapter, a young women's group, with the tagline, "Not just your bubbe's Hadassah."
"We wanted to be the fresh, cute face of Hadassah," she says. For Young Judaea, the tagline could be adapted to read, "A fresh face for the 21st century."
The friendships and leadership skills that the movement encourages create a passion for Young Judaea that Kovary sees as a key to building intergenerational partnerships. Besides increasing the donor base, she says, alumni can serve as ambassadors and recruiters in their communities as well as mentors to teens.
As the board moves forward, it is tackling a host of complex questions: How do we put our mission of leadership and activism into our programming in a more systemic way? How do we engage kids when they return home? How do we expose them to a real Israel that is absolutely compelling? How do we involve alumni and supporters in the movement?
Some priorities are clear: increase the number of participants and length of stay in camps, enhance Israel programming and create meaningful leadership training. Despite studies showing the importance of Jewish camps to a committed Jewish life, many families do not choose Jewish camps. The board will look at obstacles to participation, working toward providing scholarships and reducing internal costs; better marketing, education and advocacy; creating relationships with federations and day schools; and exploring regional issues, including the possibility of a Young Judaea camp on the West Coast, where none currently exists.
Even the transformative Israel programs may be based on outmoded models, says Klarfeld. "The world is different post-Birthright. The thinking is, Why pay when you can wait a few years and go for free?" Israel has also evolved. Jerusalem and Kibbutz Ketura, founded by Young Judaeans in 1973, are not big draws anymore, but Tel Aviv programs are bustling, due to the city's intriguing mix of technology, modernity, creativity and social life.
Young Judaea must "engage with a new epoch of Zionist thinkers," says board member Oran Ebel, 33, a New York-based attorney. "The pioneering songs and kibbutz experience at camp were compelling in the past but that world is really far away now." Ebel and two friends cocreated and cochaired fundraisers for alumni in the New York metropolitan area, raising $50,000 for scholarships. "Just as Young Judaea inculcated in us that you need to step up, we took it upon ourselves to do this," Ebel says.
Expanded social action programming could also attract teens. At Young Judaea, says Kovary, tikkun olam is based on an awareness of self that extends to the larger world. The movement's logo—a lion with the globe as its mane—captures that perspective.
For Jared Stein, 20, tikkun olam means giving of himself—literally. A Year Course graduate, Stein signed up to be on the bone marrow registry through Gift of Life. A year later, he was informed he was a match for a woman with Hodgkins disease.
"My heart just dropped," he recalls. "I was afraid I would be hurt." During the donation process at the Dana Farber Cancer Institute in Boston and throughout his recovery afterward, his Young Judaea friends were at his side.
"It was a few crummy days for me," Stein says now, "but a whole life for someone else." When Stein returned to the University of Maryland, he decided to coordinate donor drives on campus—adding 535 new names to the registry—including some of his friends from Year Course.
As Klarfeld says, "Young Judaea transforms lives for the good."