Madame Alexander, What a Doll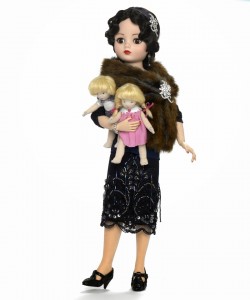 Generations of young girls have delighted in unwrapping the gift of a Madame Alexander doll—whether it becomes a treasured plaything and best friend or the latest prized addition to a burgeoning collection.
But did you know that Madame Alexander—née Bertha Alexander and later Beatrice Alexander Behrman and who passed away in 1990—was the Brooklyn-born daughter of Russian Jewish immigrants? Her father ran a doll hospital, where a young Madame Alexander was first inspired to design high-end fashion dolls.
She founded her company in New York in 1923, at the start of the Roaring 20s. And it is that vibrant, playful era that the Madame Alexander Doll Company brings to life in its 21-inch, limited-edition Cissy fashion doll (right)—created in the image of Madame Alexander herself.
This delicate, graceful doll has blue eyes and brunette hair pulled back in a low bun with wavy bangs, set off with a rhinestone-encrusted headband. Cissy wears a drop-waist gown with navy blue georgette touches and a taffeta sash with pearls and beads. A fur stole completes her outfit. Clutched in Cissy's arm are two little cloth dolls signifying Madame Alexander's first doll creations.
But all this nostalgia doesn't come cheap. The Cissy doll sells for $1,500—definitely one to add to the collection, not the toy room, this Hanukka gift-giving season.