2013 Ribalow Prize Winner: The Innocents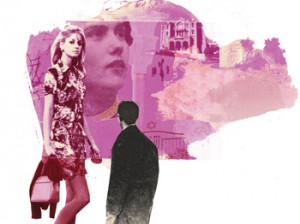 Adam had, for the occasion, bought a new suit. He had wavered between dandyish black, chalk-striped and double-breasted, and a more traditional two-button jacket in deep navy wool. After some consideration he had chosen the navy. It seemed a more appropriate suit for a man who was newly engaged.
And now he was in the suit and in synagogue, considering the stained-glass windows that painted a dappled light, pale rose and paler sapphire, onto the painted faces in the women's gallery. There were three of these windows—a red-flamed golden candelabra for Chanukah; a rainbow in a cobalt sky with white leaded doves swooping beneath its arch; and a third pane in which acid green palm trees framed the two rounded, silvery tablets of the Decalogue, an orange and lemon sunburst above them. Beneath this one sat Rachel Gilbert between her mother and her grandmother, looking intently at the pulpit. Adam, in turn, lowered his eyes from the windows and looked intently at Rachel.
They had been together since they were sixteen—twelve years last summer. For twelve years she had been his girlfriend and now, for a week, she had been his fiancée. And it all felt different. He could never have anticipated the shift, profound and inarticulable, that had taken place when he had seen the ring over which he had agonized winking on Rachel's slender finger. It was more than possession, more than union, more than love. It was absolute confidence. It was certainty, and a promise of certainty always.
Beside him Jasper Cohen stirred suddenly, shifting his bulk beneath the folds of his white prayer shawl. "Rachel's cousin's here." He nudged Adam in the ribs with a heavy elbow and nodded toward the balcony where the Gilbert women were ranged, coiffed and contemplative, in a mahogany pew. Rachel's mother, Jaffa Gilbert, sat closest to the rabbi, her cropped and hennaed hair hidden beneath a green hat, red-framed glasses on a red plastic chain resting on the broad velvet shelf of her bosom. Beside her sat Rachel herself, demure in high-necked charcoal silk, looking down at her hands, her face half-obscured by a sheet of tumbling, dark hair.
Rachel's grandmother Ziva Schneider was on her other side, peering at the text in her lap with a grimace of either concentration or skepticism. And then the cousin, Ellie Schneider.
"So?"
"You didn't tell me she was back from New York."
"I didn't know you cared."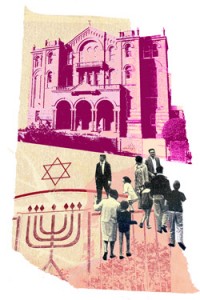 "If there's going to be a half-naked model in shul then I care." Jasper leaned over Adam, straining to see. "God, she's tall. You'd need a stepladder to get up there."
"Six foot."
"Too tall for me. You could handle her." Jasper flipped over a few pages of his prayer book without looking at them. "When are we going to get hold of that porn film she was in?"
"Art house," Adam hissed. Long inured to Jasper's indiscretion, he was nonetheless alarmed by it on this occasion. Whatever other rumors might be circulating about her, he did not want the congregation thinking his fiancée's cousin was a porn star.
Jasper snorted, loudly. Jasper did everything loudly. He was not secure enough to believe that anyone would pay him attention unless he made himself unavoidable.
"Arse house, maybe. I've seen clips on YouTube, mate, it's porn. We've got to order it."
"No."
"No it's not porn or no we shouldn't order it? Gideon said that they censored half an hour from the final version but you can still get it uncut in the States."
"Gideon didn't say that, I said that. Rachel was upset about it."
"Well, either way, Columbia kicked her out for doing it so there's got to be something worth seeing."
"Shh," said Adam finally, frowning. He was not the only one, he noticed. Whispered conversation among the men in the back pews was in general permissible, encouraged even, if the content was engaging enough for the surrounding eavesdroppers. Football, in particular, was a much beloved topic. Services on the High Holidays were long; it was understood that one had to pass the time. But sustained discussion about porn during Kol Nidre—the beginning of Yom Kippur and a significant, spiritual incantation—was pushing lenience to its limit. The congregation was fasting until sunset tomorrow night; in the meantime they were meant to be atoning. Adam too had seen clips of Ellie Schneider's acting debut on the Internet; in one she was delivering a breathy and hypnotically rhythmic monologue to the camera, wearing only a stained Columbia University T-shirt while the rest of her was exposed and exploited by a menacing costar. Synagogue was not a place in which he felt comfortable recalling it. Around them the Al Chet prayer continued. For the sin we have committed before you by improper thoughts. For the sin we have committed before you through speech. Pardon us, forgive us, atone for us.
Adam rejected the memory with some effort and instead focused on the women's gallery, hoping to catch Rachel's attention. She looked down at him and widened her eyes. From her expression he could see that she had a great deal to say and was desperate to say it—her cousin was embarrassing her; she could not believe that Ellie was in shul at all, let alone that the girl had come to Kol Nidre exposing skin from clavicle to navel, wearing a tuxedo jacket with nothing beneath it and black trousers—trousers!—that clung and shimmered as if she'd been dipped in crude oil. Adam needed little more than a glance to understand Rachel's signaling, for the subtle contractions of her lips and the arching of her dark brows were a language long mastered. He knew their vocabulary, and every expression of her lovely face. He did not see the appeal of unpredictable women. Rachel never surprised him, and he considered it a testament to their intimacy that he could predict her reactions with complete confidence. Life, he knew, provided enough of the unexpected. Adam had perspective. A steady and loyal copilot was more important than whatever passing frisson might come with more spontaneous spirits. He smiled at her.
Outside the synagogue Adam waited for Rachel and her family. For late September it was warm, tenacious leaves still green and living on the oaks that stood like looming sentries along the edge of the empty parking lot. Tonight, people were leaving slowly, taking their time to fold prayer shawls, gather coats, greet friends. The fast decreed that there would be no supper; nothing at all, in fact, until the same time tomorrow evening when they would all be leaving synagogue once again, but at a more urgent pace. Tonight they would have to be sated with spiritual—or at least social—sustenance. Men and women were now reunited after the service and families reassembled, lingering on the steps and drifting out past Adam, calling good-byes to one another into the hazy autumn darkness.
"Hi. Here again."
The voice was American, low and close behind his shoulder. He turned to find Ellie Schneider winding a long gray scarf around her neck, an unlit cigarette already in one hand.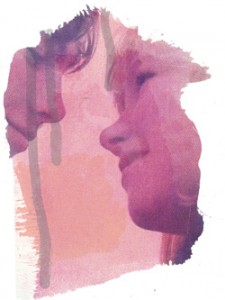 Until now Adam had had a clear image of Rachel's cousin in his mind assembled from magazines and the Internet—limbs of satin; champagne blond hair; high cheekbones; and high, pointed breasts. He knew about her other life beyond the page, of course. In reality the girl was a mess. But in photographs her pale skin was as smooth as poured cream, and the bright green eyes, Disney wide, evoked a fresh-faced innocence entirely at odds with the darkness he knew was behind them. And so the darkness was easy to ignore. She was related to his girlfriend and he had taken a proprietary interest.
For years, in his head, he had been establishing a relationship with Rachel's younger cousin—close, vaguely paternal, faintly flirtatious, but always within the bounds of what was appropriate among old friends. She would confide in him about her antics, and he would be fond and exasperated and offer her sage, avuncular advice. When he and Rachel married, she would treat their home like her own and would turn to them for refuge, would stay with them (visits during which she might sometimes be glimpsed in her underwear— though in Adam's defense, this was not usually the focal point of the daydream). They would help her turn around her troubled life. In the pub with Jasper and the boys, he discussed her New York life in a confident, possessive manner. Ellie's seedy glamour, such a contrast to her conventional cousin, nonetheless gave Rachel a certain edge. No one else had so notorious or so alluring a relative. The girls had been close in childhood and in the solitude of his own thoughts, Adam had appropriated this closeness. He was a friend and confidant. Now, he was forced to confront the reality that she was almost a perfect stranger.
The private image he'd constructed was now superimposed, ill-fitting, onto the girl who stood before him. Her eyes were the same extraordinary green, bright and clear and fixed on him with an expression of idle curiosity, but beneath the thick lashes were rings of gray and plum and lavender, as if she'd slept many nights in old makeup or perhaps simply never slept. Around her, the exposed heads of the community's departing women were sleek and blow-dried, neat as a pin in order to stand before God's judgment and each other's, but Ellie's hair was in a loose ponytail of overbleached straw blond, and looked unbrushed. Her heavy, pouting lips were chapped. Beneath the gaping collar of her jacket, her gaunt frame seemed as flat-chested as a little boy's, and when she turned away for a moment, tugging her hair out from under her scarf, her profile revealed a deep shadow beneath a cheekbone that protruded like sharp flint. He hid his surprise and looked instead at the cigarette, hoping to convey to her that lighting it on Yom Kippur—while still in the grounds of the synagogue—would be flagrantly, extravagantly offensive. He did not want Rachel's parents to be embarrassed further.
"Where again?" he asked. Despite his inventions, he had not expected her to remember him.
"I met you here once, a long time ago. Jaffa brought me with her to pick up Rachel from Israel Tour. I was desperate to come, I'd missed her so much. I was playing on the climbing frame when the buses got in. Just there." She nodded toward the other end of the car park and his eyes followed hers to the smooth, empty tarmac where years ago had stood a curved rack of low monkey bars and a shallow plastic slide. "I worshiped her and I was just insanely jealous that summer. I just thought—Anyway. You and Rachel got off the coach together, you were carrying her bag. I remember, it was the first time I'd noticed a boy doing that. And then she brought you over and introduced you to Jaffa and Lawrence. So I met you."
"You were very little then."
"Ten."
"Good memory."
She shrugged. "You all seemed happy. That's rare enough to make an impression."
At that moment Rachel's parents appeared behind her and he lost the chance to reply, though Ellie's comment had bothered him. He knew a lot of happy people here. He remembered the day that Ellie described as clearly as she did, not for the stern blond ten-year-old who'd shaken his hand with the formality of a politician but for Rachel—he had first met her on that youth group trip to Israel, and as their coach of sun-burned teenagers had drawn into the car park he had asked her to be his girlfriend. And he knew it seemed anachronistic, or simply unfashionable, but from the moment she'd smiled back, bashful and willing, he'd known that they would get married. She'd had such certainty, such a placid conviction in the essential goodness of the world and what it promised her. To Adam, raised by a mother who prepared with steely determination for the worst to happen immediately if not sooner, Rachel's unwavering, no-nonsense optimism had been an elixir. He hadn't known that he was allowed to expect a calm, happy life until Rachel had shown him that she anticipated nothing else. Her belief was such that there seemed no doubt she would have it; whoever shared that life with her would share that calm and happiness.
He'd loved her since that glorious month of freedom in Israel. The boys had pierced their ears, kneeling on blankets for Arab jewelry traders to shoot ill-advised gold studs through their lobes; Rachel and her friends had sat cross-legged on adjacent rugs while Ethiopian girls worked slim braids into their hair, the plaits then wrapped in bright cotton so that one or two worms of green and red stuck out stiffly from each ponytail. Their teenage rebellions that summer had been innocent and conventional and brief—the earrings had been removed at Heathrow; there had only ever been kissing and maybe, for a precocious couple, one hand in a bra. And Adam and Rachel had done neither of those things but instead had begun tentatively, in the final few days, to sit together on the bus. They were all happy then—Ellie was right. But they were happy now, too.
"Good, good, you found each other."
Rachel's father, Lawrence, clapped Adam amiably on the back and then, overcome by emotion at the thought of the engagement as he had been intermittently all week, gripped him by the shoulders and held him at arm's length for a loving appraisal. He then enfolded him in a bear hug. Adam and Lawrence were the same height—six foot two—but Adam was broad-shouldered while Lawrence was thin and always slightly stooping, as if to avoid intimidating anyone with this impressively un-Jewish height. Yet still his bear hugs felt enveloping. The warmth of Lawrence's presence alone was enveloping. Proud to be tall, particularly among Ashkenazi men who tended to halt at around five nine, Adam had nonetheless been content to stop growing where he did. It would have felt wrong to stand taller than Lawrence.
Jaffa, small and wide where her husband was tall and slim, was frowning at Ellie's cigarette.
"Ellie, you can wait for that, no? Show respect." She had removed the green hat to expose short hair home-dyed a deep wine purple, streaked with lighter aubergine shades where it had begun to fade with washing. It was a color much favored, for reasons Adam had never fathomed, by Israeli women of a certain age.
Ziva Schneider joined them in time to hear this remonstrance. "You think," she asked her daughter, "that God finds it more respectful if she smokes on Kol Nidre around the corner?"
Jaffa pursed her lips in irritated silence, as her mother knew full well that it was not God's judgment that concerned her. She wanted to stand exultant in the car park as the crowds flooded from the synagogue, graciously accepting congratulations on the triumph of her daughter's engagement to Adam. She wanted to soak up naches like a sponge. Such a large assembly would not come together again until Rosh Hashanah the following year—this Yom Kippur she wanted to fire her news at huge clusters of rival mothers. She adored Adam, God only knew, but there had been other engagements recently, newer couples walking down the aisle; the names of girls younger than her daughter featured on the announcements pages of The Jewish Chronicle. There had been some concern that Adam would leave it "too long." But now it had happened, and Rachel would not yet be thirty at the wedding if they planned it quickly. Today of all days, Jaffa Gilbert did not want to concern herself with her niece's rebellion. She turned her considerable back to both Ziva and Ellie and caught Adam's face between plump hands.
"Ah, Adam, Adam. Rachel says she'll be just a little while, bubele, she is talking to Brooke Goodman about something. You are breaking the fast with us tomorrow, yes?"
Adam nodded, his face still between Jaffa's palms through the first few motions. An assortment of rings—heavy silver and bright molded plastic—scratched gently against his cheeks.
"I'll wait for Rachel, please go ahead."
"I am going nowhere, I have a cab," said Ziva, sitting down neatly on a low brick wall. "I am an old lady, I will not walk back and no injunction says I must. I am eighty-eight. I am infirm. Pikuach nefesh. This morning I already called Addison Lee, and Ellie will come with me."
"Infirm? Eze meshugas? At lo chola, Ima!"
"Sha shtil," said Ziva, waving away Jaffa dismissively. At that moment a black Volkswagen drew up at the curb and Ziva hopped lightly to her feet, disappearing into it before Jaffa could intervene. Ellie folded herself into the front seat and the car departed. Adam watched her go with curiosity.
"Eze meshugas?" Jaffa asked again, this time to herself, pouting and drawing her face farther back into her chins. She made no further comment, but the force with which she crossed her arms over her immense, velvet-clad breasts was sufficiently expressive. The engagement cast their family into the spotlight this Yom Kippur—absolute propriety was required beneath its glare. A look of anxiety crossed Lawrence's mild face as they departed, Jaffa muttering an outraged monologue in rapid Hebrew to her partially comprehending but entirely supportive husband. Lawrence was a straightforward man. He lived, exclusively and devotedly, for his wife and daughter. He would be happy again only when Jaffa's equilibrium was restored.
Adam sat down on the wall that Ziva and Ellie had just vacated, nodding greetings to the many familiar faces among the congregation. Mostly, these were the occupants of the crowded outer stratum of his world, people with whom his life had intersected at an earlier stage and who now resurfaced often enough for him to know a little of their lives, though he did nothing to seek out either the information or the subjects of it. Such was the way in Jewish North West London—no one ever disappeared. Instead his contemporaries circled in its gravity, returning from college to rent houses in Hendon, or buy first flats in West Hampstead, held in orbit by the hot sun of the community. And during brief periods away—a year seconded to a law firm in Shanghai, for example, or a residency at an Edinburgh hospital—their parents were still in place and in contact, so that everyone's coordinates remained logged. It had only been at university that he had understood just how unusual it was that he could list the whereabouts of all of his nursery school classmates. He could say if they were married or fat or employed by the civil service. He knew, for the most part, their sexual histories. Unless from a very small village, his fellow students found it incomprehensible. Even in a small village, in fact, when people leave there is little expectation of return.

But tonight, on the eve of Yom Kippur, everyone was here—Hayley Pearl, who was Jasper's girlfriend's sister; Dan Kirsch, who had been in Adam and Jasper's scout pack and had twice been on tennis camp with Rachel; Ari Rosenbaum, whose brother had married a girl who'd gone out with Dan Kirsch. Adam smiled at each of them as they passed, but his eyes always returned to the steps of the synagogue, waiting to catch sight of his future wife.
Excerpted from The Innocents
 by Francesca Segal. Copyright © 2012 Francesca Segal. All rights reserved. Used with permission of the author and publisher Hyperion Books, a Division of the Hachette Book Group. No part of this may be reproduced without permission from the
publisher.