Brief Reviews: Beauty, Brutality and the Blues
FILMS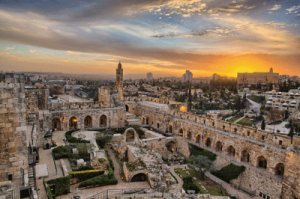 Jerusalem
The first IMAX 2-D and 3-D giant screen film of the city traces Jerusalem's history with rare aerial images and stunning cinematography of Jewish,  Christian and Muslim holy sites. To promote tolerance, director-coproducer Daniel Ferguson gives voice to three eloquent teenage girls, a Jew, a Muslim and a Christian, who share their passion for their home; and noted archaeologist Jodi Magness brings the city's past to life. Produced by Cosmic Picture and Arcane Pictures and distributed by National Geographic Entertainment (www.jerusalemthemovie.com). —Penny Schwartz
The Pin
This film is an oddity: It is the first Canadian movie produced  in Yiddish. Set in Eastern Europe in 1941, Jacob is in hiding after his family has been wiped out by the Nazis. He meets up with Leah, whose family has suffered the same fate. After initial suspicions, the two orphans become intimate, only to separate and meet again 50 years later under strange circumstances. Toronto writer-director Naomi Jaye has drawn able performances from her small cast. Main Street Films (www.thepinfilm.com).  —Tom Tugend
Last of the Unjust
Perversely, SS leader Reinhard Heydrich demanded that all Jewish ghettos in Poland establish Jewish councils to carry out Nazi policies. These unfortunate Councils of Jewish Elders were required to organize deportations to death camps, among other horrors. Many members served in the hopes of protecting their communities and many others served on pain of death, but all were regarded as collaborators by their fellow Jews. In this astonishing film, Shoah director Claude Lanzmann interviews the last Judenälteste, or council leader, of Theresienstadt, Benjamin Murmelstein, about the seven years he worked with Adolf Eichmann; his eyewitness account of Eichmann's brutality; and how he was denied the right to testify at Eichmann's trial in Jerusalem.  —Judith Gelman Myers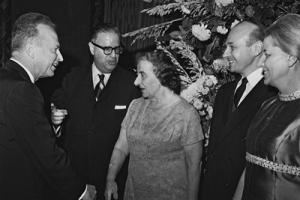 The Prime Ministers
Moriah Films, the in-house studio of the Simon Wiesenthal Center, has bitten off another solid chunk of Israeli history in a two-part documentary based on the book by Israeli diplomat Yehuda Avner. The first part covers the leadership of the often underrated Levi Eshkol and the feisty Golda Meir (here, with Abba Eban), who carried the heavy responsibility of assuring Israel's survival during the 1967 and 1973 wars respectively. Moriah Films (www.moriahfilms.com). —T.T.
AKA Doc Pomus
Doc Pomus, writer of 20th-century pop hits such as "Save the Last Dance for Me" and "A Teenager in Love," was born Jerome Felder in Brooklyn. A polio victim, he was paralyzed at age 6. He became a "white boy hooked on the blues," first singing, then writing lyrics to more than 1,000 songs for singers such as Elvis Presley, Ray Charles and Bob Dylan. Peter Miller and Will Hechter's engaging documentary follows Doc from rise through downfall and then to another rise, including lots of toe-tapping music. Clear Lake Historical Productions (www.akadocpomus.com). —Renata Polt
DVDs
In Robert Trachtenberg's exclusive documentary, a still-spunky Mel Brooks talks about his Jewish upbringing, early years in show business, marriage to Anne Bancroft and personal struggles. Clips from his 60-year career include live television appearances on Your Show of Shows with Sid Caesar and The Ed Sullivan Show as well as his films Blazing Saddles, Young Frankenstein and The Producers, which became a Broadway musical sensation. Interviews with friends and colleagues describe a comic genius with unparalleled wit. Shout Factory. American Masters for PBS (www.shoppbs.org). —Sara Trappler Spielman
How to Re-establish a Vodka Empire
Nothing explains this documentary better than the banner on its Web site: "Bumbling film-maker voyages through time to resurrect his family's once glorious empire." Impassioned by the discovery of his wealthy grandmother's diaries, which reproduced the lives of the Jewish aristocracy during the Russian revolution, Irish Jew Dan Edelstyn sets out to reclaim his family's lost riches by building a vodka factory in his "ancestral village." The film is as crazy as Edelstyn's scheme, but it is loads of fun—and a cliffhanger to boot: Can he make this happen? (www.myvodkaempire.com). —J.G.M.
EXHIBIT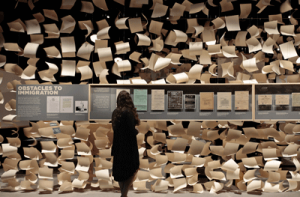 Against the Odds: American Jews and the Rescue of Europe's Refugees, 1933-41
Extensive documents, letters (including missives from Albert Einstein and Eleanor Roosevelt) and affidavits of financial support reveal how American Jews worked to save European Jews after immigration quotas were tightened. The show highlights individuals, families and organizations taking great risks to obtain visas for desperate Jews. Among personal items on display are  immigrants' first-person accounts, a bracelet, an ID tag and children's autograph books. Through May 2014 at the Museum of Jewish Heritage, New York (www.mjhnyc.org). —S.T.S.
Web Sighting
The daf yomi—completing a page of Talmud a day—is a Web staple in both podcasts and daily lessons. That traditional learning cycle, which takes seven and a half years to complete, is being reinvented by online thinkers. In Tablet Magazine, www.tabletmag.com, literary critic Adam Kirsch brings a discerning eye to his daily page in all its sometimes grand, sometimes bland minutiae, comparing, for example, the Temple service and modern politics or musing on the cubit. Avi Strausberg uses haikus, https://inhaiku.wordpress.com, as Talmudic exegesis. Here is his lyrical take on Berachot 58: "The world inundates/ us with its noise; seek wonder/ in quiet places." —Leah F. Finkelshteyn