Profile: Shari Arison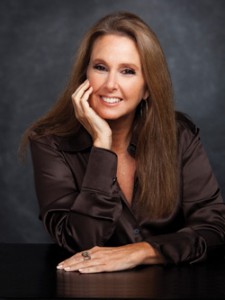 Shari Arison is the wealthiest woman in the Middle East. The American-born Israeli businesswoman and philanthropist with a net worth of $4.2 billion was ranked number 64 on a list of the world's most powerful women compiled by 
Forbes
 magazine in 2012 alongside Hillary Clinton, Queen Elizabeth and Lady Gaga.
The Arison Group she owns and directs includes Bank Hapoalim, Israel's largest bank; Shikun & Binui, a global real estate and infrastructure company; and Salt of the Earth, the leading salt manufacturer in Israel. The Ted Arison Family Foundation, named for her late father (founder of Carnival Cruise Lines), has donated over $260 million to social, educational, youth, health, sports and cultural causes in Israel.
The numbers may be staggering, but to Arison, it is inner power that counts, power that she has channeled into doing good. To inspire others, she has spelled out her mantra—"think good, speak good, do good"—in the book Activate Your Goodness: Transforming the World Through Doing Good
 (Hay House), which landed on The New York Times best-seller list soon after its March 2013 release.
"With a critical mass, we really can create a positive shift," she says. Her previous book, Birth: When the Spiritual and the Material Come Together
, was a best seller in Israel.
Over seven years ago, Arison, 56, established good Deeds Day in Israel, now held each spring. It has ballooned from 7,000 to 370,000 participants in 5,200 projects and 191 municipalities (81 were Arab). To create a culture of giving in Israel, she adopted Ruach Tova (good spirit), an organization that encourages volunteering and oversees Good Deeds Day; Goodnet.org, an online gateway that matches individuals, groups and causes worldwide; and MATAN, an Israeli version of United Way. Last March, Arison kicked off International Good Deeds Day with events in New York, Washington, D.C., and Los Angeles. It is now up and running in 50 countries. "Something that started in Israel has crossed all cultural borders and religious boundaries," she says.

Doing good may sound simple—and, according to Arison, may be as basic as a smile—but, she acknowledges, "it is a task, something to be worked on all day, every day." True to her message, Arison smiles often and speaks modestly. Her English is American; her Hebrew is Israeli. In a fuchsia sweater dress, she grants interview after interview at her publicist's office in New York. "I have only recently started speaking out. I always believe in doing before speaking," she says.
Change, she says, begins with values and vision that interface even in her work world. "Doing good is good business," she says. "It's looking at each company and seeing what values it can bring to individuals, to society and to the environment." One example: Shikun & Binui's projects are 100-percent sustainable, and all Arison projects are vetted for their social, economic and environmental impact, causing Forbes to crown Arison in 2010 with yet another mantle: No. 2 among the world's "greenest billionaires." "In the long term, we won't derive a profit," she explains, likening the devastation of the planet to a wound that has to be cleansed.
At Bank Hapoalim, where she is controlling shareholder, the vision turns on empowering customers to make better financial choices. Miya, another project close to Arison's heart, develops practical technologies for water efficiency and distribution worldwide and has recently expanded from its initial projects in the Bahamas, the Philippines and Brazil to more Latin American countries, Europe and Asia. Its name reflects Arison's vision of Divine abundance, combining the Hebrew words for water (mayim) and God (Yah).
She also uses education to promote her goals. Good Deeds Day is the highlight of the Creating Change program adopted by the Israeli school system. Arison is working with a team from Harvard University and other graduate schools to create a values-based business curriculum intended for use by individuals, communities, organizations and corporations. To engage her own employees in her vision, her companies run sustainability workshops and, for management and top employees, a Doing Good Conference.
Tel Aviv Mayor Ron Huldai says that Arison, a resident of the city, continues the tradition set by her father, who was one of the initiators of the Tel Aviv-Yafo Foundation. The international fundraising arm of the city has established over 500 projects since its inception in 1977. "Shari has had a major impact on the city, and I can attest to her great commitment to our society," he says, citing the Tel Aviv Conservatory as an example. "When we faced a need to upgrade the institution—which her father had donated—Shari immediately stepped in to help, and her generous assistance allowed the city to essentially completely rebuild the conservatory. In this event, like in many others, she did what was needed without taking credit or asking for anything in return. Shari helped us, and helps us, in implementing our vision for Tel Aviv." (The conservatory is now called the Ted and Lin Arison Conservatory for Music.)
In 2010, Arison received the America-Israel Friendship League Partners for Democracy Award for her contributions to advancing economic relations between the United States and Israel. At the ceremony, former United States President Bill Clinton said in a prerecorded clip, "Your work has impacted the world in a profoundly positive way."
Arison's comfort in discussing her business ventures does not extend to personal matters. She remains protective of her children and grandchild, declining to divulge their names. "It's funny that I'm private," she says, because her books have revealed some details about her upbringing, her phobias and three divorces. The Israeli media has made rich fodder both of her wealth and personal troubles, and Birth caused an uproar with the "visions" in which Arison claimed to have foreseen: the Indonesian tsunami, Hurricane Katrina and an impending economic collapse.
In 2002, she fired 900 Bank Hapoalim employees (about 10 percent), many who had been there since her father's days. She has also been criticized for allowing Salit products to remove the image of a modestly dressed woman from its packaging, bowing to ultra-Orthodox pressure.
"People look at trials and tribulations as something bad," Arison says with equanimity. "I look at it as a lesson and try to grow from it and become stronger."
It's no wonder that she refuses to read newspapers or listen to news broadcasts because their negativity is "crippling," she says. Instead, she receives a factual daily report devoid of sensationalism. "If you want a healthy body, you eat healthy. If you want a healthy spirit, you have to choose what you are going to put into your spirit. I choose things that will bring me happiness and peace and joy." She has chosen a different way to use media: as a force for motivating positive change. The Shari Arison Center for Awareness Communication at the Interdisciplinary Center in Herzliya offers students tools to develop a type of journalism with an inspirational spin, to look at news and events in a positive, problem-solving mode.
Arison believes she was born with a deeply spiritual nature, one that was not necessarily nourished or cultivated by her upbringing. Raised in a secular home, she notes that she was considered the "religious one" in the family—not in the observant sense, but with a strong connection to Israel, tradition, holidays and values. She continues to cherish and carry out the ideals of tikkun olam, tzedaka, hesed, ve-ahavta le'reakha kamokha (loving others as oneself) and of being or la-goyim, the role of Jews and Israelis to serve as a light unto the nations. "I think everything is connected; everything has spirit in it," she says. "To me, the greatest thing in life is to be connected to your true self, to your essence. Because of that I constantly read and study myself."
Arison devotes time daily to introspection. In fact, she founded the nonprofit Essence of Life to help people find the tools for inner peace. Her vegetarian lifestyle began after a visit to Africa during which she fed a giraffe on a ranch and then was served giraffe as a delicacy at dinner. She enjoys taking early morning walks on the sand dunes or in the park as well as watching movies, reading, meditating, sculpting, drawing and dancing. (She does not belong to a particular synagogue in Israel.)
Inspired by Martin Luther King Jr., Mother Teresa and Gandhi, Arison attributes her passion for peace not to naïveté but to personal hurt. "I managed to move a few walls and break a few glass ceilings, but I began to feel overwhelmed, tired and sick," Arison writes in Activate Your Goodness, until one day, like a light suddenly illuminating her darkness, she realized that the question was how to transform those challenges and "grow goodness in and around me to create a better world."
A New York native, Arison moved with her family to Miami when she was 9. Both her parents had deep roots in Israel; her father was born there and fought in the Jewish Brigade of the British Army during World World War II and Israel's War of Independence before moving to the United States in 1954. Her mother, Mina Arison Sapir, came on Youth Aliyah from Romania. After her parents divorced in 1966, Arison traveled back and forth between Israel and Miami and says she often felt displaced, torn between worlds. She joined the Israel Defense Forces at 17, then moved back to Miami for 16 years, attended Miami Dade University but didn't graduate, married her first husband and had three children and established the foundation with her father. She still maintains a home in Miami.
"From America," says Arison, "I learned manners—being polite, kind and respectful. From Israel, family and warmth. In Israel, everybody is there for you, in good and bad times. From my mother's European background, I inherited a lot of culture and history." Her father, "a great visionary," was very goal-oriented and never gave up, she says—traits she shares. But she struggled with the "tight, unemotional" mores of her parents, which she calls typical of their generation. "They didn't hug and kiss and talk about feelings like we do today."
Until Carnival took off, her father's business ventures had not always succeeded. But when he died in 1999, Ted Arison was reportedly the world's wealthiest Jew. He left his daughter 35 percent of his fortune. Though she served twice on the Carnival board, she says her father did not train or teach her. "I learned by osmosis," she says. "Business was part of our dinner conversation. It was part of the DNA of the household." She does not bemoan her lack of formal education. "We learn from life more than anything—at least I have. You can learn in so many ways—from books and workshops and from life itself."
Her older brother, Mickey Arison, is chair and CEO of Carnival and owns the NBA championship team Miami Heat. Arison had no comment on recent Carnival disasters—the sinking of the Costa Concordia that resulted in 11 deaths, and the sewage disaster on the Triumph.
When Arison moved permanently to Israel after the Gulf War 22 years ago, she was shocked at the chauvinism she found as she tried to make it in a male-dominated environment. She picked herself up and moved forward. Today, she says, the situation is "getting better." Her own businesses employ men and women based on their professionalism, skill and specific talents. "Women in business should be women," Arison declares. "Too often women try to be men at work and I think that's a mistake. Women are very insightful and have great intuition. If they would use the compassion and love they have as mothers and bring that into the workforce and the world that would be a huge contribution."
Whether Good Deeds Day will become a cousin to Mother's Day or will have an even more lasting global impact remains to be seen. Arison's own good deed is to spread the message.