The Many Sides of Peter Max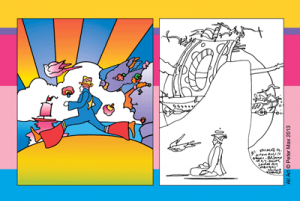 If the psychedelic paintings that greet you at the exhibit "Peter Max"—on display through February 23 at the Nassau County Museum in Roslyn Harbor, New York (www.nassaumuseum.org )—are familiar, that is not surprising. If you are old enough to remember the 1960s and 1970s, then likely you will also recall Max's vivid neo-Expressionist posters, record album covers and T-shirts created during the era of the Beatles and Rolling Stones. Max, in fact, is often described as having made Pop culture.
The Cosmic Runner is representative of Max's early works: A long-legged man in a deep royal blue and red outfit, topped by an orange, yellow and lavender hat, runs atop a green globe. He is surrounded by other whimsical figures and objects in graduated tones of lavender and pink—birds, smiling profile, bitten apple—set against the orange-yellow sun rays.
But viewers will be astonished to see that the artist, who still works at his craft every day in his New York studio, was, and is, much more than a graphic designer. His work is diverse, sometimes complex, joyous, playful and lushly layered. For instance, on view are some pieces never before publicly displayed: His "Cosmic Series," black ink on paper line drawings. These mostly small, tightly constructed, intricate works comprise lines moving in multiple directions, winding into fantastical celestial images. One drawing shows a meditative sage sitting on a wing-shaped seat, with a fanciful ship between him and a circular globe.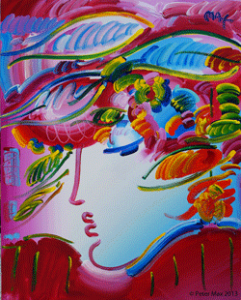 Gallery No. 3 is devoted to women, often in profile, and flowers in nature and elsewhere; these works are large and bursting with color, the floral ones among Max's most abstract. Beauty on Pink appears to be a spontaneous profile painted with thickly pigmented brushstrokes in raspberry. It delineates a pale face with a closed blue-lined eyelid, the head topped by bountiful bouquet of hair, hat and bow in pinks, reds, yellow, green and blue.
In a second-floor gallery are Max's expertly executed, stylish nudes, another aspect of his work not usually known. He began his formal studies in 1956 at the Art Students League in New York, where he studied anatomy.
Considering Max's early life on the run from Nazis, it is interesting to contemplate the joy, meditativeness and daring that inform his various genres. He was born in Berlin in 1937 and was taken to Shanghai in 1938 when his parents fled the city. In Shanghai, his mother gave him art supplies and encouraged him to paint. His family lived there for 10 years until they moved to Haifa in 1948. A few years later, they moved again, first to Paris, which opened up for him the world of Old Masters, and, finally to Brooklyn, when he was 16. Max has attributed his exuberance for color to Matisse, one of his artistic heroes.
Though Max must have been affected by his being uprooted so many times because of anti-Semitism, the only Jewish work on display, is a small pen and ink on paper drawing, Praying at the Wailing Wall (1972), that shows a large break in the wall and includes black-hatted figures.
Indeed, the artist has said that the spirituality expressed in his black-and-white celestial images was influenced by observing Buddhist scribes and sages in their temple, which was across the street from his home in Shanghai.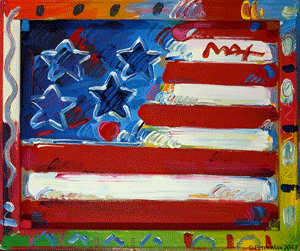 Besides joy and spirituality, Max's work expresses appreciation: His Statue of Liberty and Flag With Heart are paeans to the country that offered him freedom. In 1976, he became part of an effort to save the Statue of Liberty, creating a series that generated enough funding to restore the badly deteriorated landmark.
It is also fun to point out that in addition to his "celebrity" cameos such as Marilyn Monroe, Cleopatra and Bob Dylan in his 1967 lithographs, over the decades, many of Max's works also have reappearing quirky characters: Degas in a fancy zoot suit; umbrella man, which recalls British sages. Because they pop up every so often, they are iconic pieces that hold their own narrative. Playful drawings include Floating Zooples (1986), pen and ink on paper, with corkscrew-shape squiggles and flowers clouds with chickens.
Whatever your fancy—the hippie Peter Max, the contemplative Peter Max, the romantic Peter Max or the playful Peter Max—they are all present and accounted for in this exhibit.