Profile: Pascale Bercovitch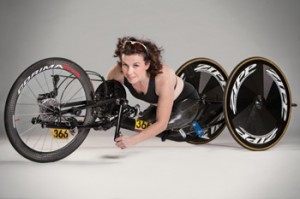 A gray winter morning in a suburb of Paris. A teenage girl is rushing to catch the train to school. As the door of the railway car inches shut, she takes a running leap, slips on the ice and tumbles onto the tracks. There is a whish, a whir and then the searing sensation of being electrocuted.
When she looks up, she sees that half her body is gone. The sheer terror is worse than the indescribable pain as she lies alone, pinned to the track, no one left behind to see or hear her cries. Fifty minutes to go until the next train.
The following day, the girl finds herself in a Paris hospital, after being lifted off the tracks just three minutes before the arrival of the next train. Her legs are stumps. The doctor tries to console her stunned parents. She might be lucky, he tells them, and marry another invalid, perhaps find a job as a telephone operator. But her parents, heartbroken, gaze at their 17-year-old daughter, a gymnastics champion, with undisguised pity. As far as they are concerned, her life is over. Pascale Bercovitch finds this puzzling, because as far as she is concerned, her life is just beginning.
Bercovitch's steely blue eyes squint in the brilliant Tel Aviv sun. She is seated in a café near her home in the city's upscale, vibrant Basel neighborhood, greeting acquaintances with a radiant smile, a strikingly attractive woman with a mane of light brown curls framing her delicate features.
Twenty-eight years after she was plucked off the Angers rail tracks, Bercovitch is busy training for the 2013 Paracycling World Championships in Canada in August and—after representing Israel in the London Paralympic Games last summer—has her eyes set on the 2016 games in Rio de Janeiro. She is up at 5 A.M., riding her specially designed bike around a Tel Aviv track for three hours, six days a week. This is her fourth competitive sport, after gymnastics, swimming and rowing.
The 45-year-old French immigrant is also an accomplished journalist, author and documentary filmmaker whose work has taken her all over Europe and Africa. And she is the mother of two young daughters, whom she is raising with her partner, Oz Skop, an athletic coach. Her greatest sense of accomplishment, however, comes from having achieved all this in Israel.
That choice is not an obvious one for a girl who grew up in a typical French Catholic milieu, not even aware of her Jewish ancestry—her father is Jewish, her mother is not—until she was 10. And even then, it was a topic that was not discussed at home. She was 30 before she learned that part of her family had perished in the Holocaust. "I discovered I was Jewish when I came home one day with a symbol I drew that alarmed my parents—a swastika. That's when they told me, and suddenly everything made sense," Bercovitch recalls. By 13, she was listening to a French Jewish radio station under the covers at night.
Although she grew up knowing little about Zionism, Bercovitch is in many respects a born Zionist. She is a single-minded, no-nonsense idealist who seems driven by the words of a man she had never heard of during her childhood in a drab working-class suburb of Paris: "If you will it, it is no dream."
Seven months after becoming a paraplegic, Bercovitch defied all odds—as well as skeptical relatives and aliya emissaries—by doing exactly what she had planned to do before the accident: She joined the Israel Defense Forces.
She had spent the previous summer cleaning tanks at an IDF base, an experience that reinforced her decision to make aliya and serve in the Army as soon as she completed high school in France. General Aharon Davidi, head of the IDF's Sar-el program, in which she had volunteered, had promised her a place on the same base. But that was before the accident. Davidi corresponded with Bercovitch regularly after her injury. Then, one day, he showed up at the hospital in Paris where she was recuperating and told her that if she still wanted to enlist, the Army was ready to take her "under his wing."
"The first time I visited Israel I found it too hot, full of rude people and different from everything I had ever known. I just knew that it was my place," Bercovitch says, grinning. "In France, I always felt that I didn't fit in.
"The openness and the chutzpa I found in Israel suited me," she continues in rapid-fire Hebrew, laced with a faint French accent. "I knew I had to live there. And after Davidi's visit nothing could stop me."
And so, weighing just over 70 pounds, Bercovitch, arrived in Israel in the summer of 1985 with a suitcase, a wheelchair, 2,000 shekels and about three words of Hebrew.
The Jewish Agency and other aliya-promoting bodies had urged her not to make the move. "Who needed another ward of the state who would depend on handouts, they thought," she says, laughing. With her charisma, humor and directness—not to mention her good looks—Bercovitch projects anything but helplessness.
She served on Army bases for a year and a half as a volunteer, picked up fluent Hebrew and fell in love with a paratrooper, the first of several romances.
During her Army service she also converted to Judaism, something she regarded as a formality.
Bercovitch is a serial dreamer who doesn't let anything stop her. The day she woke up convinced that journalism was her calling, the new immigrant in a wheelchair was knocking on doors until, just days later, she had landed a position at a French Jewish radio station and from there moved on to French television. With the outbreak of the Gulf War in 1991, she was reporting and producing news for a host of foreign television outlets. She turned an article she wrote for Paris Match on a deaf Bedouin boy in the Sinai who communicates with dolphins into the best-selling book The Dolphin Boy, published in 17 languages.
Her television work eventually led to documentary filmmaking in far-flung places, including Three Hundredths of a Second, a prize-winning film on the Israeli Paralympic swim team. After several years, Bercovitch tired of globetrotting. "I had a new dream," she says, "to become a mother."
She gave birth to her older daughter, Eden, 11 years ago; she has since separated from Eden's father, a French journalist who returned to France. She met Skop, whom she calls her life partner, eight years ago. Together they are raising their child, Mika, 3, and Eden in their Tel Aviv apartment where Bercovitch has lived for the last decade.
Like much of her life story, the chapter on love seems to defy belief. Skop is a national coach for the Israeli climbing team: Bercovitch met him when she decided to learn to climb. "It's not easy in my condition and a friend suggested I approach Oz for help." The two became friends instantly, but it was a year before they became a couple. "He is a good-looking, athletic guy, 10 years younger than me, who was used to dating stunning blonde models with long legs," Bercovitch says. "And here I was with no legs and a 3-year-old daughter. His friends and family were shocked. Even my friends said it would not last. But the bond between us conquered everything else."
Bercovitch never doubted her ability to be a mother. "I worry like any mother whether I am good enough, but that has nothing to do with being in a wheelchair," she says. She has even invented various gadgets to make life easier for paraplegic moms, among them, a baby seat that she attaches to the wheelchair, over her lap, enabling her to take Mika everywhere.
Bercovitch has always loved sports. As a girl, she was a long-distance runner and excelled in gymnastics. After her accident, she learned to swim and soon qualified for the Israeli paralympic swim team. She has also tried downhill skiing (on a special board), water skiing, climbing, horseback riding, skydiving and wheelchair tennis.
Bercovitch prefers individualistic sports to team efforts. "I like to have full responsibility for the failure or success," she says.
In 2008, when she was 40, the Israeli Olympic committee called her to see if she would train for a new Olympic sport, academic rowing. With the avid support of Skop, she pushed herself to qualify, and four months later was on her way to the Beijing Olympics, where she finished what was for her a disappointing eighth.
A few years later, she took up hand cycling "to keep in shape, and it was accessible. I can just head to a park 10 minutes from my home." It wasn't long before a leisure activity turned into a more professional pursuit.
Last year, Bercovitch was rated the No. 3 hand cyclist in the world (in her category for athletes with lower limb disability). She came in sixth at the London Paralympic Games last August—a result she hopes to better at the next games in 2016.
Vladimir Novodvorets, until recently one of her coaches, describes her as "stubborn, determined, completely committed to the goal. She never gives up, she doesn't complain."
Sometimes he says he even forgets she is disabled. "When we were in Italy once for a competition, it was pouring rain. I mentioned that my shoes were soaked, and I asked her: 'What about yours?' I just totally forgot that she is in a wheelchair and has no feet," says Novodvorets. "Pascale is also special because she loves people, and that love is returned to her. But her most outstanding trait is her willpower."
In a sense, competitive sports are minor challenges for Bercovitch, whose greatest test of willpower came when she had to compete in the real life game of survival. She credits all she is today to the 47 minutes she spent on the tracks hovering between life and death. "I could have just relaxed and let it happen, but I chose life," she affirms.
From that moment on, Bercovitch fought fiercely, screaming until someone finally noticed her on the tracks, struggling not to lose consciousness.
"The accident turned out to be an incredible opportunity," Bercovitch says. "I resolved then to make every moment of my life into a pearl. Every morning is a challenge for me, to squeeze all I can out of the day."
Bercovitch's story has made her a popular motivational speaker—in Hebrew, English, French and German, and in several countries. In a talk she gave to workers from a struggling Israeli high-tech firm, she told her mesmerized audience, "The most important thing is to realize your dreams. And there is no way to realize a dream without paying the price."
While some members of the audience held back tears, Bercovitch was unsentimental about her fate: "Other people have it much harder than I do. Legs aren't really so important in life."
Bercovitch has certainly traveled a long way without them, stringing days like pearls along the way.