Q&A with Novelist Jami Attenberg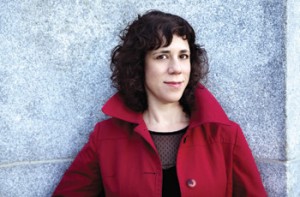 Thousands of books are published in the United States each year, but only a little more than 50 are reviewed on the front page of the weekly New York Times Book Review. Jami Attenberg's latest novel, The Middlesteins
, achieved that renown recently. The book tackles a vexing problem, the growing obesity of Edie Middlestein, a mother, successful lawyer and a diabetic facing serious surgery. Edie, the matriarch of a caring family, can't control her food excesses, which puts the family in a pickle as they struggle to help her. Attenberg explores the family dynamics with understanding, tenderness and literary skill. Not to mention Jewish touches here and there.
In an interview at the Miami International Book Fair and in e-mail exchanges, the witty (and not at all overweight) Attenberg described her writing career: fiction and nonfiction on subjects as diverse as sex, technology, design, graphic novels, books, television, relationships and urban life. Her writing has appeared in The New York Times, Salon, Print, New York and the Huffington Post among many publications, zines and Web sites. Not to mention her on-again, off-again work as an advertising copywriter. Her debut collection of stories, Instant Love, was published by Crowne/Shaye Areheart Books in 2006. She is also the author of the novels The Kept Man and The Melting Season, both issued by Riverhead Books. The Middlesteins
 was published by Grand Central Publishing.
Q. Your parents are active adults, very different from the characters in the book, correct?
A. My parents are still married, they don't weigh 350 pounds and they go to the gym all the time.
Q. What events from your childhood or teen years stand out in your memory and why did you choose to use them or not use them?
A. Well, my diet. I was in charge of my diet, and at one point I was overweight. I used that. There was junk food in the house. In high school I was a runner. Robin [Edie's daughter] is closest to me at the beginning. She is an alternate universe version of myself. She'll never be happy in her life, but she's capable of loving. I love Edie a lot. The first chapter of the book—which I didn't write first— was thinking about people I knew. I knew I had a character who is unhealthy, but when you're writing about a group of characters, you go along and then interact with the characters.
I live a very different life. Tiny little incidents in my life were incorporated into the book. I get inspired by conversation, by eavesdropping a lot, by my drive across the country. My mind picks up anything, all these little details. But the characters represent no one in particular.

Q. Why did you choose to write about or create such a dysfunctional family?
A. I was writing this as more of a family trying to take care of a sick person. Every character has a difficult time with Edie. In writing this book, I felt more connected with my past, to my family. At one point in my life I had a job I hated. And I hit rock bottom. Now I feel I understand more about myself.
Q. What is morally uplifting about somebody hitting rock bottom?
A. It's very tricky. I'm not a therapist, not a social worker. I'm a fiction writer telling a story I wanted to tell.
Q. Several non-Jewish reviewers have called this "a masterpiece of Jewish family life." Agree? Or is its message universal?
A. I hope it's more universal. People can relate to that. I think it feels more universal about a normal family. There are always new relationships going on. Maybe it's a call to arms to these characters. Edie's problem was with food but it could have been cigarettes. We have to learn to extend compassion to one another.
Q. Before your current success, you traveled across the country and slept in 26 different homes till you reclaimed your own. What was that like?
A. It was incredibly hard to make a living, so I rented out my apartment until I reclaimed it. It took seven months and it made me feel like I can just about handle anything. It's very hard to make ends meet without a job. The experience was sometimes fine, sometimes exhausting. Now I have money and I hope I don't have to do that again.
Q. What writers have influenced you?
A. I love Grace Paley, Raymond Carver and Flannery O'Connor. I was greatly influenced by Jonathan Franzen's The Corrections. It forced me to go back and restructure The Middlesteins.
Q. How do you write? What inspires you?
A. Originally I wasn't focused on writing. I had done essays here and there but I was not learning how to write. Once I started with books, I just knew things would work out. I have friends who inspire me and guide me. We exchange e-mails several times a day. They're personal but are like real conversations. I'm part of a great creative community, so I don't feel alone out there. We read each other's works. It's terrific to have access to great editors and thinkers.
Q. What kind of Jewish education did you have? How do you view your Jewish roots?
A. I went to Hebrew school. The Chicago suburbs are super-Jewish–Skokie, Highland Park. Judaism is important to me from a cultural point of view, and I believe faith is an amalgamation of many things. I'm not a member of a temple. I spend Passover with my family. It was great to write this book and identify more with my Jewishness.
Q. Did the New York City skyline from Williamsburg give you insight for the Midds?
A. I've been living in Brooklyn for about 10 years. I can see Manhattan from there. For me, New York City is just a big fountain of energy.
Q. You work in a bookstore?
A. Yes, it's in Williamsburg near my home and it's called Word. I'm there one day a week. No one works in a bookstore for financial reasons. I make $10 an hour. I use the money to buy books. But I'm part of a community of readers. It's not about my books. It's heartwarming to meet readers. I love recommending books to people. The bookstore is like a home away from home.
Q. Can you tell us something about your next work?
A. I was inspired by a character in a book by Joseph Mitchell of The New Yorker called Up in the Old Hotel. [My book] will be called Saint Maizie, and it's a fictional memoir based on the real Maizie Phillips, a really flawed person who ran a movie theater until midnight and then walked the streets of the Bowery helping the homeless. She was fascinated by Catholicism but was really Jewish.