Brief Reviews: Philosophy and Fatalism
FILMS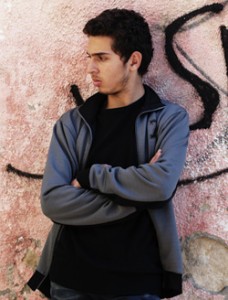 Bethlehem
Israel's entry in the 2014 Oscar competition for best foreign-language film, this nail-biter on the conflict between Israelis and Palestinians—and Palestinian factions—pits Shin Beit agent Razi against terrorist leader Ibrahim. In the middle is Sanfur, Ibrahim's teenage brother, who Razi has recruited as an informer. Named for the West Bank town that is the setting for most of the action, Bethlehem is a remarkable film, the more so given the inexperience of the participants.
It is the first film for both Israeli director-writer Yuval Adler and his cowriter, Ali Waked, a Palestinian journalist, and all the actors are nonprofessionals. The characters they portray are, in Adler's words, "compromised, extreme and not easy to like. I tried to bring their contradictory viewpoints into a single whole, without taking sides, without judging them." Adopt Films (www.westendfilms.com). —Tom Tugend

The Gardener
Celebrated Iranian director Mohsen Makhmalbaf shot this surrealistic docudrama in the gardens of the Baha'i World Center in Haifa, while engaging in edgy discussions on the good and evil of religion and celebrating the care of flora as a form of worship. The movie is marked by stunning photography and heavy symbolism and has earned the exiled director the ire of Iranian authorities for filming in Israel and declaring his friendship for its people. KDK Factory (www.makhmalbaf.com). —T.T.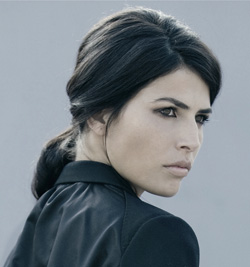 Brave Miss World
Seven weeks before she won the 1998 Miss World title, 18-year-old Linor Abargil, representing Israel, was brutally raped by her Israeli travel agent. After winning the crown, she embarked on a dual mission to see her attacker convicted and imprisoned and to serve as a global advocate in the fight against sexual violence. The documentary, produced and directed by Cecilia Peck, daughter of actor Gregory Peck, includes horrifying first-person testimony of rape victims, including that of a 14-year-old African girl. REIF Entertainment (www.bravemissworld.com). —T.T.
Aftermath
In July 1941, the citizens of a Polish village under German occupation round up some 300 Jewish neighbors, men, women and children, lock them in a barn, set fire and incinerate those inside. Some 60 years later, two Polish brothers unlock the village's dark secret and are met with violent hostility. The powerful and provocative Polish film by writer-director Wladyslaw Pasikowski has triggered intense controversy in Poland, including death threats against lead actor Marciej Stuhr. Menemsha Films (www.menemshafilms.com). —T.T.
Unorthodox
Anna Wexler, a rebellious intellectual from a Modern Orthodox family in New Jersey, gets a tongue piercing and grows dreadlocks. As an intern at WGBH in Boston, she embarks on a film project, following three Orthodox students struggling with their faith as they study in Israel. Curious about the land's spiritual influence on young adults, Wexler's documentary is filled with surprises as she confronts her own choices. Unorthodox Productions (www.unorthodoxmovie.com). —Sara Trappler Spielman
EXHIBITS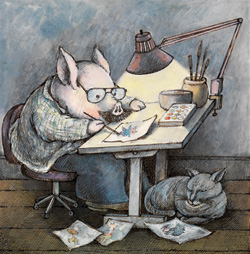 Frog and Toad and the World of Arnold Lobel
Arnold Lobel (1933-1987) wrote and illustrated nearly 100 children's books, featuring not only the beloved Frog and Toad but a menagerie of camels (in ballet slippers), elephants, pigs and kangaroos. Lobel also created books on Jewish themes (prayers, Hanukka). Books and drawings are on view through March 23 at San Francisco's Contemporary Jewish Museum (www.thecjm.org). —Renata Polt
Hanan Harchol: Jewish Food for Thought
This entirely black-and-white exhibit uses ancient Jewish teachings to create a modern dialogue about faith, forgiveness, envy, repentance, gratitude, love, humility and fear. Large comic strips on canvas highlight philosophical discussions and reflect the clips from Harchol's animated film that screen nearby. Six paintings and other Expressionist sketches ponder life and the power of self-transformation. At Hebrew Union College–Jewish Institute of Religion Museum, New York (www.huc.edu) through June. —S.T.S.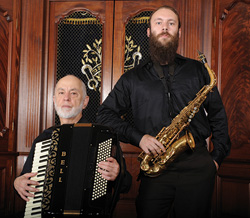 MUSIC
The Sy Kushner Jewish Music Ensemble, Volume Four: Klez, Kush & Son
Klez, Kush & Son features Sy Kushner (accordion) and his son, Aaron (alto saxophone), alongside a diverse group of brass, strings and percussion. Melodies range from mournful to jolly, beats from traditional to daring. Highlights include the lilting "Stratford Waltz," named after Sy's childhood Bronx street; Aaron's reflective melody and Sy's arioso solo in "Reflections II"; and vigorous rhythms on the doumbek (goblet drum), riq (tambourine) and Latin percussion. CD and sheet music available at www.nulitemusic.com. —Seth Weinstein
DVD
A History of Israeli Cinema
This two-disc set should be titled "A History of Israel Through Cinema," since director Raphael Nadjari presents film through a sociopolitical lens rather than as art. It is entertaining, but Nadjari disregards critical topics, such as the effect of the 2000 Cinema Law on domestic production and the rise of masterful international coproductions (www.kinolorber.com). —Judith Gelman Myers
Web Sighting
Maori self-proclaimed prophet Te Ua Haumen, who battled settlers in New Zealand in the mid-1800s, thought he was Moses and spared the lives of Jews captured by his forces. General Arapeta Awatere, whose battalion fought beside the Jewish Brigades during World War II, advocated kibbutz developments for the Maori. These stories are part of "Te Jewry" at the Jewish Online Museum, https://jewishonlinemuseum.org, about the connection between New Zealand's Maori and Jewish populations. "Te Jewry" is the inaugural exhibit of JOM, New Zealand's first Jewish—and online—museum. Divided into History, Lives, Arts, Faith, Holocaust, JOM highlights a small but vibrant part of the Jewish world. —Leah F. Finkelshteyn