A Talk with Ari Shavit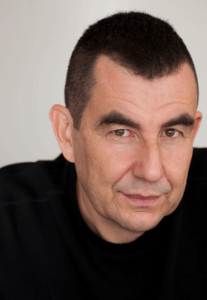 After his book, My Promised Land: The Triumph and Tragedy of Israel
, was published, it sparked popular discussions and Israeli author and journalist Ari Shavit could be seen and heard on myriad talk shows. Here is Stewart Kampel's conversation with Shavit.
For several decades, Ari Shavit, author of  My Promised Land
 (Spiegel & Grau), has been a leading journalist and columnist for the Israeli daily Ha'aretz. He writes in English and Hebrew. Shavit, who is also a commentator on Israel's public television channel, traces his Israeli roots to his great-grandfather, Herbert Bentwich, a well-to-do British lawyer who led a group of Zionist pilgrims to Palestine from London in 1897. Bentwich was a Cambridge-educated pedagogue who helped develop Israel's education system after settling in the wine-producing region of Zikhron Ya'akov, and his father was a chemist at the center of Israel's nuclear program.
Born in Rehovot in 1957, Shavit served as a paratrooper in the Israel Defense Forces and studied philosophy at the Hebrew University of Jerusalem. At the time of the Oslo Accords in 1993, Shavit headed the nonprofit Association for Civil Rights in Israel and served as an unofficial spokesman for Israel's political left. But in 1995, as suicide bombings became a monthly routine in Israel, Shavit broke with the left and wrote columns blasting the Oslo Accords as a "fraud" foisted on Israel by the Palestine Liberation Organization. Today, Shavit is considered a centrist. He is married, has a daughter and two sons and lives in Kfar Shmaryahu.

Q. Your book is getting strong reaction in the United States, from a warm embrace by Thomas Friedman of The New York Times, a friend, to misgivings from Jews who believe your "promised land" is off the mark. What is your reaction to the book's response?
A. What happened during the first week of my book's publication went beyond anyone's expectations, beyond my dreams. Four leading American Jewish intellectuals—David Remnick, editor of The New Yorker; Jeffrey Goldberg, national correspondent for The Atlantic; Leon Wieseltier, literary editor of The New Republic; and Tom Friedman—praised the book with generosity and enthusiasm, even love. It is a remarkable phenomenon. They are menschen, and I am deeply grateful.
Q. And what of the substance of the book?
A. For such a long time, the conversation about Israel has been corrupted by elements of tribalism, hate and gamesmanship, among other things. People who basically love Israel have been frustrated that it did not live up to expectations because of the occupation or ultra-Orthodox influences. This created a deep thirst. What I do in the book is to bring back a deep love of Israel in a realistic way.
Some commentators say that Israel can do no wrong or no right. Let's relax. Let's take a step back. Israel is a remarkable phenomenon and deserves our admiration. Because I'm such a committed Zionist, I'm very secure in my loyalty and commitment that I have no problem discussing Israel's flaws. Zionism tried to create a nation as legitimate as any other nation. I see this as a mission. I want the book to be a launching pad to reach out to the American Jewish community. I want a fresh, new debate.
Q. How do you put the history of Israel in context?
A. We have to understand that the 20th century was the most dramatic century in Jewish history. The first half was the worst ever. One-third of our people died in the Holocaust. The second half represents a dramatic shift. There were two Jewish miracles. The first was that we created Jewish sovereignty in Israel. Such a miracle from a persecuted minority! And in North America we created the perfect diaspora. The Jews of the 21st century have today what their great-grandparents could only dream of: equality, freedom, prosperity, dignity.
Q. Will this last?
A. In the 21st century these two miracles are in danger—and we must work together and stay committed to helping reach out to keep our children and grandchildren Jewish. One reason I want members of Hadassah to read this book is to spread its message around. I hope it will spark more discussion among your sons, daughters and grandchildren. My real hope is that it will give youngsters the feeling about Israel that has been lost. The reaction from young people is very meaningful to me. I want them to say that the book gave them the vocabulary to love Israel again. It helps bridge the differences. If we don't understand the history and the context, Israel won't be able to have an alliance with American Jewry. We are opening the hearts of young Americans, so we are one, brother and sister.
Q. How important is the relationship between Israel and the United States?
A. The most important. We face an ironic and sad situation. When communication was difficult (no Internet, limited phone service), Jews in the United States retained their deep passion for Israel and Jews in Israel did, too. [Today] kids in the U.S. and Israel are so similar, yet are drifting away. It is possible to bring them back from clichés. For too long, young Jews in the United States have been exposed to anti-Israel propaganda. I'm trying to bring back an energetic and authentic discussion that we've lost. Israelis must face the problems with Iran, but just as important is building love between the U.S. and Israel. We should all mobilize to get back to basics.
Q. What if Israel has to defend itself against 100,000 Iranian rockets under Hezbollah control in Lebanon?
A. I am very concerned about the Hezbollah threat to Israel. The good news, though, is that Hezbollah is deterred by Israeli might. I cite the 2009 attack on the nuclear facility in Syria. We've now rebuilt our strength to counter Hezbollah. The quiet on the northern border is misleading. Hezbollah has built enough military might to attack any city in Israel. In the next war, there will be many casualties in Tel Aviv. Ben-Gurion Airport will be out of commission. But we will prevail. We're not existentially in danger, but we should not be overconfident. Physically, we'll be O.K. There is no doubt we will win.
Q. How will the Israeli public react?
A. We will have to build up morale, our national spirit. Israelis—hawks and doves, peaceniks and settlers—have lost sight of the bigger picture. We need people who have inner strength. I want an Israel more moderate in its policies but stronger in spirit. It is not enough to have successful high-tech companies. Our neighbor is not Mexico. We must always be ready, always on alert.
Q. Do you think Israel will be able to dismantle settlements on the West Bank in return for Palestinian statehood?
A. That's a trillion-dollar question. It will be very difficult to reach an overall peace agreement. I don't think we should go with the current settlement policy, for all the good Zionist reasons, like building statehood. The Gaza pullout was difficult. To do so on a vastly larger scale is nearly impossible. We have to freeze the settlements and prepare for a deal without destroying homes. I don't think it will be possible to evacuate 100,000 settlers like we did when we uprooted 8,000 of them. We have to think outside the box.
Q. Can Israel ever end Arab hate for Israel—or vice versa?
A. That's the bad news. The conflict is very deep, not just about the occupied territories. It has deep religious and historic roots. It is a multilayered conflict. On the other hand, there is the astonishing phenomenon that most Arab Sunnis are in alliance against Iran and al-Qaeda and Muslim extremists. So the Saudis and Israel have mutual interests. The Middle East is a land of surprises. When things go well, sometimes they then go poorly. And I have no illusions about the Arab Spring. The Arab nations are weaker today. The Syrian threat is all but gone. But let's not be naïve. There is deep hostility there toward Israel. But wise people can do things to diminish the conflict.
Q. Can you assess the role of the ultra-Orthodox in Israel?
A. Israel faces internal challenges. There is a growing ultra-Orthodox minority. I am not an ultra-Orthodox hater. But we should not allow them to impose their values on Israel. We should let them join our society. They have to pay taxes. They have to serve in the Army.
Q. What are your hopes for the future?
A. If Israel is to succeed, it needs the help of young American Jews. My fear is of Jewish isolation. I want a Jewish peace corps for schools, camps, etc. There is an amazing energy and vitality if we move out of the political sphere. I want a fresh discussion with American Jews. Israelis have lost our narrative. We're so bogged down by internal debates that all of us lost sight of the big picture.