As It Was Written: Burial in Babylon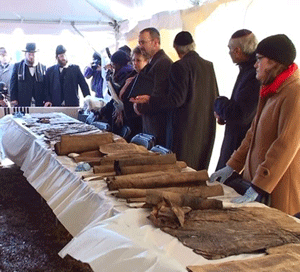 On a blustery December day, I stand with 100 Jews of Iraqi descent at Section Five Block Two of the New Montefiore Cemetery in West Babylon, New York, 6,000 miles from the primal Babylon. I can't help but think of the ironic confluence in names—coincidental, redolent and so appropriate to the occasion.
We are gathered together to bury 49 Torah and Megilla fragments from among the 2,700 books and tens of thousands of documents, manuscripts and scrolls recovered by a United States Army team in 2003 from the flooded basement of the Mukhabarat, the headquarters of Saddam Hussein's intelligence services. The materials, in Hebrew, Arabic, Judeo-Arabic and English, belonged to synagogues and Jewish organizations in Baghdad but were confiscated by the Iraqi government. They were shipped to the National Archives and Records Administration in Washington, D.C., for preservation, under an agreement with the Iraqi government that they would later be returned.
Ten years and $3 million later (spent by the United States government with additional funding from private donations), most of the documents of the Iraqi Jewish Archive have been repaired, conserved, catalogued and digitized. These fragments, however, are too badly damaged by water and mold to be restored. In accordance with Jewish law, they are being buried out of respect.
In a tent constructed for the ceremony, I am sitting next to Tikva Mahlab, born in Iraq, raised in Israel and now a resident of New York. "This is very emotional," she says. "My mother always told us our grandfather had a Torah in Baghdad that we were afraid to take out. I wonder if one of these scrolls was his."
Iraqi Jewish history is, in fact, a history of riches. Iraq is the site of ancient Mesopotamia, where Abraham was born; birthplace of the Babylonian Talmud and famous academies of Jewish learning. In modern times, under kings Faisal I and II, the vibrant community of 150,000 Jews played leadership roles in Iraqi society. But anti-Zionist and Nazi sympathies led to pogroms (the farhood of 1941) and persecution until, in 1951, the majority of the community was airlifted to Israel, forced by the Iraqi regime to leave most of its possessions behind.
My own family had left Baghdad long before: My paternal great-great-great-great-grandfather Eliyahu, grandson of the nasi (head of the community) of Baghdad, settled in Calcutta in 1820; my maternal grandfather, also from a rabbinic family, arrived in Calcutta in 1902. I love my Baghdadi heritage, and I cherish my own family Torah scrolls, which we are privileged to have in safekeeping.
I think back to earlier in the week, when I visited "Discovery and Recovery: Preserving Iraqi Jewish Heritage," the exhibit of the conserved manuscripts and scrolls at the National Archives in D.C. The mammoth nature of the preservation project is clear in a photo of the documents' discovery in Iraq—strewn on the ground like so much garbage.
Maurice Shohet, president of the World Organization of Jews from Iraq, played a pivotal role in negotiating with Iraq the burial of the fragments. He escaped Iraq at the age of 21. Many Jewish groups have expressed opposition to the return of the archives to Iraq, charging they are stolen goods and that they belong to the worldwide Iraqi Jewish community (only five Jews are left in Iraq today). The Iraqi government says the documents are Iraq's, an integral part of its history.
If controversy is on anyone's mind, it is not evident at the cemetery, where the religious ceremony trumps politics.
"This is a sign of the new Iraq," says Lukman Faily, Iraq's ambassador to Washington. "We are here to respect and protect the heritage of Jews and other minorities. We want to open this rich history." Faily and several American and Iraqi dignitaries empty the sealed metal box that contains the scrolls onto a series of long tables, and members of the Jewish community walk by to view the blackened, torn and wrinkled deerskin parchments.
Phrases from the scrolls rise up to meet my eyes: The Ten Commandments: Do not take God's names in vain. On Shavuot you will offer a new sacrifice to God. Shavuot, 49 days from Pesah; 49 documents to be buried—the date of the farhood, Shavuot 1941. And God blessed Abraham with everything. Rashi equates the numerical value of the Hebrew term for everything, bakol, with ben, son. Children are everything.
Today, we are witnessing the closure of this chapter in the story of Abraham's children. The scrolls are stacked, swaddled in talitot, placed in a coffin and lowered into the grave in the section belonging to the Iraqi community. I anticipated a purely solemn occasion. But it turns out to be a social reunion, too. Iraqis and Jews chat with each other in Iraqi Arabic and Judeo-Arabic and shovel dirt from a mound of earth onto the coffin while religious adviser Aaron Abrahams chants the Kaddish and psalms. You have the same eyes as my father. (God is the fortress of my life, whom shall I fear?) Did you know my father? He was a doctor.
"It's a double feeling, mourning and celebration," says Alice Aboody, who was born in Iran and is past president of the sisterhood of the Babylonian Jewish Center in Great Neck, New York. "There is sadness for the destruction of our community…. But it's also a celebration of something that never dies. Our Torah is alive. Muslims and Jews were together today." The scrolls, she says, "are part of the heart and prayers of my ancestors that I cannot visit anymore. We buried them like human beings. I felt I'd lost a precious part of my family. I'm glad I can come visit when I visit my parents and husband, who are also buried here."
Yitgadal ve-yitkadash.