Florida's Foodies: Growers, Grocers & Gefilte Fish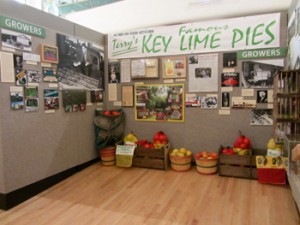 "I think this exhibit is fabulous," said Esther Solomon Gordon at the new exhibit "Growers, Grocers & Gefilte Fish: A Gastronomic Look at Florida Jews & Food." The display opened October 15 at the Jewish Museum of Florida-FIU in Miami Beach.
Gordon was reliving her youth in West Palm Beach. Her family opened Palm Beach County's first health food store in West Palm Beach in 1949.
Food has long been a priority among Jews, and that passion has blossomed in Florida. Most Jews know about the famous delis and restaurants like Joe's Stone Crab. But this show shares Jewish identity and history that influenced the food industry, much of it not well known.
For many visitors, the restaurant and deli displays bring back memories. That hot spot of Miami dining, the iconic Joe's Stone Crab Restaurant, is celebrating its centennial this year. It was Miami Beach's first restaurant, opened by Joseph and Jennie Weiss. They moved from New York in 1913. A 1917 lobster bib reminds guests of the restaurant's signature dish.
Of the re-created 1950s-restaurant counter, designer Ira Newman says, "Sit on the right-hand stool and let someone take a photo from the right side; it looks like you're sitting at the counter at Wolfie's." Wolfie Cohen also owned Pumpernik's and the Rascal House, also represented. An old Pumpernik's children's menu shows a hot dog and baked beans meal costing 60 cents. Its menus recall the days of gefilte fish, corn beef on rye or, maybe, blintzes. And there's china from The Famous and the Royal Palm Hotel.
Another famous eatery, the enormous 350-seat Bern's Steak House in Tampa, began as the 40-seat Gator Juice Bar in 1951. It is still owned by the Jewish Laxer family. International fast-food founders include Ben Stein of Jacksonville who created Burger King, and Miami-based Larry and Stuart Harris who founded Pollo Tropical.
Sheldon's Drug Fountain luncheonette in Surfside claimed an important role: In 1978, Isaac Bashevis Singer was eating there when he received word that he had won the Nobel Prize.
But Jewish life wasn't always easy in the early 20th century. Stuart Newman, 91, who grew up in Fort Lauderdale, recalled the difficulties. "Back in the 1920s, '30s and '40s," he said, "the only place you could get pastrami was the Rosedale in Miami. The Jewish contingent in Fort Lauderdale ran cooperative trips to Miami for their fix." His sister, Nancy Newman Simons, 82, recalls the Hollywood Beach restaurant Joe Sonken's Gold Coast, "a hangout for the less respectable members of local society."
Yet the Jewish food connection stretches much further back. For instance, among Florida's early ranchers and farmers, who would have thought that one of the world's largest citrus producers was the Jewish Dr. Philip Phillips? He settled in Central Florida in 1911. He wound up with 5,000 acres of citrus groves, shown in an aerial photo, stretching across nine Central Florida counties. Dr. Phillips was responsible for several key innovations in the processing and packaging of orange juice.
(And my own Arost cousins were citrus brokers in Orlando since the 1950s. When I asked my cousin what it was like growing up there back then, he answered, "Do you mean when they burned crosses on our lawn?")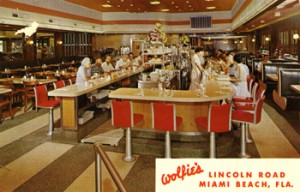 Another agricultural reminder is the re-creation of wooden chicken cages from the Gross Farms, dating from 1939-1953 in Fort Lauderdale. Ralph Gross created a new way to transport chickens via wooden chicken coop carts.
Other early food entrepreneurs are represented as well. In 1911, Benjamin and Nathan Bear were the first to offer pasteurized milk, first delivered by bicycle, then horse and wagon. There were Jewish-owned fisheries, such as Jacksonville's Meyer Fish & Produce. Al Roth opened New River Groves in Davie in 1964, for picking oranges and grapefruits and sending gifts; it's still family operated. The family premiered Terry's Key Lime Pie, owned by Terry Roth. And the sixth-generation Davie Dairy in Okeechobee still operates on 960 acres.
So why did this exhibit grow? "The museum had a small exhibit on Florida's food industry, and people just kept giving us more and more artifacts," said Jo Ann Arnowitz, the museum's executive director. The special collection encompasses 1,400 square feet, all but the perimeter permanent exhibit. The collection represents 250 families and businesses through 100,000 items.
Designer Newman said, "It always happens that people are surprised at the extent of Jewish participation."
Other Jews have affected the tourism industry. The 1925 Palm Beach Hotel was converted to a kosher hotel in 1946 by the Seiden family; it now houses the New Synagogue of Palm Beach on the penthouse floor. The South Beach Food & Wine Festival was founded by hotelier Lee Brian Schrager in 2001.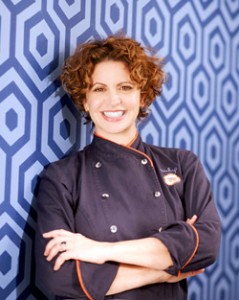 Additionally, notable chefs have influenced the food industry. Miami-born chef Michelle Bernstein is spotlighted. She is a James Beard Foundation award-winning chef who frequently appears on televsion. Bernstein, daughter of an Argentine-Jewish mother and a father with Italian-Jewish lineage, has won considerable kudos for the traditions she blends in her cooking. Gourmet Magazine declared her restaurant Michy's one of the "Top 50 restaurants in the country" and Food & Wine Magazine proclaimed it "Best New Restaurant 2006."
Another James Beard Foundation award-winner, Allen Susser, is also highlighted. One of the originators of the Mango Gang, which created fusion gastronomy that blended Latino influences with local foods, he formerly owned Chef Allen's in Aventura and chaired the Miami Taste of the Nation event for 24 years, fighting childhood hunger with Share Our Strength.
Michael Schwartz, of Michael's Genuine Food & Drink, is another James Beard award-winning chef-owner honored in the exhibit. He participates in programs helping school children learn about nutritious food.
The late Art Ginsburg of Weston, known as Mr. Food, brought quick and easy recipes to his cookbooks and television shows. He always signed off by saying, "Ooh, it's so good!"
The exhibit runs through October 5, 2014. Housed in the 1936 Congregation Beth Jacob building, the museum will also sponsor a walking tour of South Beach twice a month featuring Jewish foods, plus cooking demonstrations titled "Jewish Without Brisket: Vegan Cooking Demo with Ellen Kanner."
Here are some recipes from these masters:
Recipes from Joe's Stone Crab (Courtesy of Joe's Stone Crab)
Joe's Creamed Spinach
Serves 4.
2 10-oz boxes frozen chopped spinach, thawed
1 1/2 cups light cream
1 tsp salt
1/4 tsp nutmeg
2 tbsp unsalted butter
2 tbsp all-purpose flour
Gently squeeze spinach, discarding excess water. Place spinach in non-aluminum saucepan and cook over low heat, stirring constantly, for five minutes, until beginning to become tender but still bright green.
Add cream, salt and nutmeg, and simmer for 5 minutes, until the cream has bubbled and reduced slightly.
Meanwhile, melt butter in small skillet; add flour and cook over low heat, stirring, for 3 or 4 minutes, until opaque. Stir this roux into spinach mixture. Simmer for 4 or 5 minutes longer, until creamy and smooth but still bright green. Correct seasonings and serve hot.
Joe's Mustard Sauce
Makes 1 cup
1 TBs plus 1/2 tsp Colman's dry mustard
1 cup mayonnaise
2 tsps Worcestershire sauce
1 tsp A-1 sauce
2 TBs each heavy cream and milk
Salt
Place mustard in a mixing bowl or bowl of electric mixer. Add mayonnaise and beat for 1 minute.
Add the Worcestershire, A-1, cream and pinch of salt, and beat until mixture is well blended and creamy. If you'd like a little more mustardy bite, whisk in about ½ tsp more dry mustard until well blended. Chill sauce, covered, until serving.
Recipes from Michelle Bernstein (courtesy of The Chicago Tribune):

Whole Roast Fish with Toasted Garlic, Oranges and Chiles
Serves 8.
1/2 cup olive oil
5 garlic cloves, thinly sliced
Juice of 2 oranges
Juice of 2 limes
1/4 tsp ground cumin
1 serrano chile, thinly sliced
1/4 cup chopped cilantro
1/2 tsp salt
Freshly ground pepper
2 whole yellowtail snappers (1 1/2 pounds each), gutted and scaled
2 fennel bulbs, sliced into 1/4-inch thick strips
Heat the olive oil in a saucepan over medium heat. Add the garlic; keep the pan moving, swirling it over the heat, until the garlic turns golden brown. Remove from the heat, and carefully add orange and lime juices, cumin, chile, cilantro, 1/4 teaspoon salt and pepper to taste. Taste for seasoning. Allow to cool to room temperature.
Place the fish in a large bowl; pour in the garlic-oil-citrus juice mixture. Slather the mixture all over the fish. Marinate at least 20 minutes, or up to 2 hours in the refrigerator.
Heat the oven to 375 degrees. Arrange the fennel strips in a single layer in a roasting pan; season with salt and pepper to taste. Position the fish over the fennel; drizzle the marinade over the fish and fennel. Cover the pan with foil; bake for 15 minutes. Remove the foil; raise the heat to 400 degrees. Bake until the fish is cooked through, 12 to 18 minutes.
Honey Mango Upside-Down Cake
Serves 10.
Topping:
1/2 stick (1/4 cup) butter
1/4 cup each brown sugar and honey
2 ripe but somewhat firm mangoes, peeled and thickly sliced
Cake:
1/2 cup each canola oil, brown sugar and honey
3 eggs
1 1/2 cups flour
2 tsps baking powder
1/2 tsp each baking soda, kosher salt, and allspice
2 tsps ground cinnamon
2/3 cup sour cream
1 tsp grated orange zest
1 tsp vanilla
Spray sides and bottom of a 9-inch cake pan with nonstick cooking spray. Cut a circle of parchment paper that fits into the bottom of the pan. Lay the parchment circle into the greased pan; spray the paper with nonstick cooking spray.
For the topping, melt the butter in a small saucepan over medium heat; add the sugar, stirring. Once the sugar and butter have melted together, stir in the honey. While it's warm, pour into prepared pan. Top the caramel with mango, slightly overlapping the slices.
Heat oven to 350 degrees. For the cake, combine the oil, sugar and honey in a large bowl. Add the eggs; mix until combined. Sift all dry ingredients together in a second bowl. Combine the sour cream, orange zest and vanilla together in a third bowl. Add dry ingredients to the egg mixture one-third at a time, alternating with one-third of sour cream mixture.
Pour batter into the prepared pan. Bake until cake is golden brown and a wooden skewer comes out clean when inserted into the center, 25-35 minutes. Allow the cake to cool in the pan on a wire rack until just warm to the touch. Unmold the cake onto a serving platter while it's still warm.
Matzo balls:
4 eggs
1 teaspoon kosher salt
2 tablespoons fresh dill, chopped very fine
1 cup unsalted matzo meal
2 tablespoons chicken broth
6 tablespoons chicken fat, melted and cooled
Whisk the eggs, salt and dill together in a medium size bowl. Using a rubber spatula, mix in the matzo meal and chicken broth. Mix in the chicken fat. Cover the dough with plastic wrap. Refrigerate until firm, 2 hours. Roll about 1 tablespoon of dough into little perfect round balls (I like to add a little chicken fat or oil into my hands so it doesn't stick at all). Cook in simmering chicken soup (recipe below), covered for about an hour.
Chicken Soup:
1 organic chicken, about 4 pounds, rinsed, patted dry and cut into 6 pieces
1 large Spanish onion, minced
1 celery stalk, finely diced
1 large carrot, finely diced
1 bay leaf
4 cups chicken stock or low sodium chicken broth
1 cup dill leaves
Kosher salt and freshly ground pepper
Place the chicken, celery, carrots, onion, bay leaf and pinch of salt in a large stockpot and just cover with chicken stock. Bring the stock to a boil and then lower the heat to a simmer and simmer until the chicken is tender, about an hour.
Use tongs or a slotted spoon to transfer the chicken to a plate and set aside to cool. Add the matzo balls. Once the chicken cools, shred the meat cooled and return it to the pot after the matzo balls are cooked. Heat through and serve.
4 cups thinly sliced Spanish onion (from about 2 large onions)
3 cups peeled, coarsely chopped carrots (from about 2 medium carrots)
3 cups chopped celery (from about 2 stalks celery)
2 cups grain mustard
2 envelopes Lipton's onion soup mix
1 brisket, preferably "first cut," 5 to 6 pounds, with a good amount of marbling
1/3 cup Worcestershire sauce
1/3 cup red or white wine (whatever is open)
1/3 cup canola oil
1/4 cup minced flat-leaf parsley leaves
5 cloves garlic, minced
2 bay leaves
Kosher salt
Freshly ground black pepper
Preheat the oven to 400°F. Line the bottom and sides of a roasting pan with aluminum foil.
Put the onion, carrots, celery, garlic and bay leaves in a large mixing bowl and toss.
Spread the mustard all over the brisket. Sprinkle 1 envelope of soup mix on each side. Put half of the vegetables in the pan. Place the brisket, fat-side up, on top of the vegetables, then top the meat with the remaining vegetables. Pour the wine, Worcestershire, and oil over the meat and vegetables.
Cover the pan tightly with aluminum foil, and cook for 2 hours.
Lower the temperature of the oven to 350°F and cook for 2 1/2 hours.
Remove the pan from the oven, and uncover. Lower the heat to 325°F. Cook, uncovered, until the meat is tender, about 30 minutes, being careful not to let it dry.
Baste the brisket several times in its own juice.
Remove the pan from the oven, and let the brisket cool to room temperature.
Slice the meat against the grain, as thinly as possible. Put the sliced meat back into the sauce and vegetables.
To serve, sprinkle with the parsley and cover the pan with aluminum foil. Heat the brisket in a 325° F oven until hot.