Cut & Post: Israel Tourism News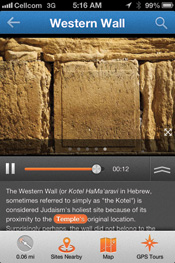 An App for Visiting Jerusalem
American olim Yaakov Lehman and Joel Padowitz want you to be your own Israel tour guide. Their company, JewIQ, has created Israel App (www.theisraelapp.com), a mobile program that goes far beyond any guidebook or map.
"We understood that building an app to convey useful info about Israel would be powerful," said Lehman, from the company's base in Beit Shemesh. Their aim is to "ultimately be thedigital platform for the Israel tourism experience," he added.
JewIQ is a "mostly religious" company; Lehman and Padowitz both study part-time in yeshiva. We are "excited that we can be a bridge between the society and a community that many see as a burden," Lehman said, calling their work "a wonderful tikkun for society." Their programming team is 80 percent women from the Beit Shemesh area.
The app features more than 300 sites in Jerusalem, chosen by seasoned tour guide Ken Spiro. GPS-based guided tours navigate through the city with audio and photos and make additional site suggestions near your location. The current iteration covers all of greater Jerusalem, including the Old City, City of David and a walk-through of the Jerusalem Zoo. The app will even help you find a car or cell phone rental and book a hotel or a flight.
The programming template will allow for translations into Spanish, Italian, Russian and more. Future updates will incorporate social features, like uploading your own tour for other users, and will expand to include Masada, Caesarea, Tel Aviv and Eilat. —Randi Sherman
Land of Milk, Honey and Tourists
So much for any kind of tourism boycott of Israel! A record number of tourists—3.54 million—visited Israel in 2013, up half a percent from 2012.
This and other encouraging signs of continued enthusiasm for travel to Israel from around the world were revealed when Israel's Central Bureau of Statistics (www.cbs.gov.il) released 2013 tourism figures earlier this year. Other notable data include:
December 2013 witnessed the highest number ever of visitors per one-month period, 272,000—14 percent more than December 2012.
53 percent of visitors were Christian, while 28 percent were Jewish.
Americans made up 18 percent of tourists, with 623,000 visiting the Jewish state; 603,000 Russians and 315,000 French came to Israel.
Tourism is big business is Israel, with roughly $11.4 billion contributed to the economy in 2013. —Libby Barnea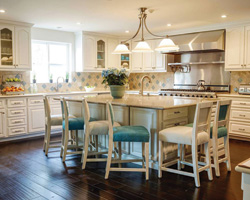 Out of the Ashes, A Dream House
When Robin Wilson didn't receive a holiday card from her Los Angeles friends, Steven and Cindy Ambers, in 2011, she called them.
"You didn't hear?" Steven Ambers asked her, his voice choking up. "Our house burned down." On the sixth night of Hanukka, their child's preschool menora caught fire. The family escaped with their three children (then 5, 2 and 3 months old) and the clothes on their back. And their wedding ketuba.
"I realized she had just lost her entire nursery," said Wilson, who had just discovered she was pregnant with her first child. "I had to help."
Wilson, a New York-based architect who has designed spaces for President Clinton and Robert F. Kennedy Jr., helped them rebuild their house as an eco-friendly home. Enlisting corporate donors to the tune of about $300,000, the new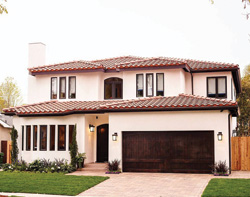 Beverlywood eco-bungalow (https://ecobungalow-la.com) features nontoxic, energy-efficient and sustainable material.
Furnished by donations from their Temple Isaiah community, the family moved into their new place after nearly two years of subletting. "It's incredible that we have a friend that would help us do something like this," Cindy Ambers said. "And the way everyone rallied around us was a testament to how good people really are." —Amy Klein
Sixth in the City
Rabbi Shira Stutman wanted to infuse a little Gospel-style ruah into the prayer service at Sixth & I Historic Synagogue (www.sixthandi.org), a nondenominational congregation in Washington, D.C. So she reached out to her African-American colleagues at the Turner Memorial African Methodist Episcopal Church in Hyattsville, Maryland.
The Sixth in the City Chorus was born last June under the direction of Turner's choir director, Marty Lamar. The group has attracted up to 25 members, who have performed Jewish texts at High Holiday services, at an interfaith Martin Luther King Jr. commemoration (with the Turner choir) and at other events.
The musical relationship is innovative but the two communities have a shared history: Sixth & I's 1908 building—originally a synagogue—was home to Turner AME for over 50 years. It reverted back to a synagogue in 2004.
"Through singing people are able to get closer to God. Through listening people are able to get closer to God," says Stutman, who claims her voice isn't good enough to sing with the chorus. "I just stand in the back and clap and look really happy." —Rahel Musleah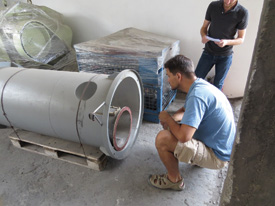 Jews with Spirit
A crowdfunding campaign has pushed a group of Israeli whiskey pioneers one step closer to creating Israel's first single malt certified-kosher whiskey distillery. The group has raised $75,000 to open Milk & Honey Distillery (www.mh-distillery.com), "$10,000 more than our goal," says cofounder Simon Fried.
Fried was out drinking with five other whiskey lovers in 2012 when one of them half-jokingly said that Israel should have its own whiskey. Now, with a cow dressed as a bumblebee logo—a play on the milk-and-honey depiction Israel is famous for—the team has signed a lease on a building in Tel Aviv-Jaffa, next door to Bloomfield Stadium.
Construction that will turn the building into an environmentally responsible distillery is just about complete. Now, the team—which just hired a local distiller who is being trained by world-renowned Master Distiller James Swan—will bring its handmade copper spirit and wash stills from a warehouse near Ashdod port to get started.
"We love whiskey, we love Israel and we want our whiskey to be an ambassador for our country," reads a Milk & Honey statement. "We'll make a Holy Land spirit to enjoy, to celebrate with and to be proud of." —Milly Ada Abraham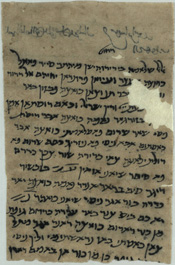 Fragments Reveal Details of Ancient Silk Road Jews
A cache of ancient Jewish manuscripts found in a cave in northern Afghanistan in 2011 has provided a glimpse into Jewish life a thousand years ago along the Silk Road, the main trading route between Europe, the Middle East and China.
The National Library of Israel (https://web.nli.org.il) has purchased 29 fragments, which Haggai Ben-Shammai, the library's academic director and an expert on the Afghan Genizah, estimates to be five percent of the collection scattered around the world.
The documents are written on paper in Hebrew, Arabic, Judeo-Persian and Aramaic and include legal, commercial and financial records as well as biblical commentary and poetry. One manuscript on display at the library is a previously unknown commentary on the Book of Isaiah by the 10th-century rabbi and philosopher Sa'adia Gaon.
Ben-Shammai said the collection is comparable to the famous Cairo Genizah and is of tremendous value to researchers. —Shoshana London Sappir