Stem Cells in Mind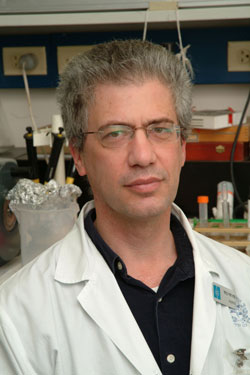 In January 2012, the chairman of Alzheimer's research at Mount Sinai Hospital in New York e-mailed a man he had yet to meet with an offer that man could not refuse.
"It occurred to me," wrote Dr. Samuel E. Gandy to Dr. Tamir Ben-Hur, head of the Department of Neurology at the Hadassah–Hebrew University Medical Center in Jerusalem, "that we may be positioned to form a consortium, and I hope you will be willing to join us as an inaugural member of this group."
It was a proposal that instantly resonated with Dr. Ben-Hur. "We have long believed stem cells hold enormous therapeutic promise for degenerative brain diseases, and we were being offered $100,000 for the project's initial year to explore this further—a substantial sum for a modest lab like ours," says Dr. Ben-Hur. "As if that were not attractive enough, the 'us' we were invited to join are among the world's leading Alzheimer's researchers." The offer was to join the Stem Cell Consortium of the Cure Alzheimer's Fund.
Dr. Gandy himself is an international expert on the metabolism of the sticky amyloid that clogs the brains of Alzheimer's patients with devastating results. His consortium colleagues are Scott Noggle of The New York Stem Cell Foundation; Kevin Eggan of the Harvard Stem Cell Institute; Rudolph Tanzi of Harvard Medical School and CAF's chief scientific officer; Doo Yeon Kim, also of Harvard Medical School and Massachusetts General Hospital; and Rockefeller University president and neuroscientist Marc Tessier-Lavigne.
"We are aiming," explained Dr. Gandy in his e-mail to Dr. Ben-Hur, "to gain better understanding of Alzheimer's disease through brain stem cells. Hadassah's part would be deciphering the properties and function of these cells to learn whether and how they may safeguard the brain from developing disease."
This is, as the consortium knew, an area in which Hadassah has considerable expertise. Dr. Ben-Hur has been studying how brain stem cells can be used to heal since the field was new, almost 20 years ago. "No one knew much about stem cells when we started out, and we were naively optimistic," he recalls. "[Stem cells are] primitive cells that ripen into those specific to the body's different organs and tissues. We expected to use stem cells as replacements for missing or defective brain cells, and so cure the brain's diseases. It has proved far less simple."
Stem cells drawn from embryonic tissue were the first major source of what early researchers anticipated would become a cure-all. For more than a decade, scientists learned to grow human embryonic stem cells and direct them to mature into various types of adult brain cells. Hadassah researchers, led by Dr. Benjamin Reubinoff, have had substantial input in these efforts. Then came the discovery that tucked away in most of the adult body's major organs are pools of surviving stem cells. This was followed by a new technology that, in effect, creates stem cells: It "pushes" adult cells from any part of the body back into a stem cell state and then forces them to mature into adult cells of different types. Known as induced pluripotent cell technology, it takes, for example, an adult cell from the skin, forces it back to an immature stem cell and then grows it into a brain cell—so providing human brain cells for the laboratory, without need of brain biopsy.
While all this was happening, another discovery was made—to which Dr. Ben-Hur's lab at Hadassah made an important contribution. The Hadassah team was first in the world to find that neural stem cells have healing qualities that ameliorate harmful inflammation in the brain and protect it from injury—something that Dr. Ben-Hur believes "will likely prove more important to medicine in certain diseases than the potential use of stem cells to replace missing or damaged tissue."
Stem cells, the Hadassah team discovered, perform two separate and central therapeutic tasks: protect surrounding cells from injury and induce natural repair; and inhibit inflammatory processes in the brain—processes that play a role in disorders that include Alzheimer's and Parkinson's diseases, multiple sclerosis and amyotrophic lateral sclerosis.
Based on this discovery, the team developed a stem cell therapy for MS and conducted the world's first clinical trial at Hadassah, with encouraging preliminary results. Work on this MS therapy continues, while a broadening of focus to Alzheimer's disease with the consortium is a natural way forward, according to Dr. Ben-Hur.
"In MS and in several other neurodegenerative diseases, the damage is localized to specific types of brain cell or brain system, whereas in Alzheimer's the process is widespread with the entire brain shrinking," he says. "This makes the question of the role of stem cells both relevant and complex. In addition, of course, is the fact that Alzheimer's is the world's most common neurological disease, with huge and ravaging impact on patient, family and society."
One of the most costly diseases in the developed world, last year, Alzheimer's drained some $200 billion from the United States economy and was the sixth leading cause of death in the country. First identified more than a century ago by German psychiatrist Alois Alzheimer, this devastating illness already affects one in every 20 people aged 65 to 85, and almost half of those older than 95—some 24,300,000 people worldwide. "Its increasing prevalence with age is such that the question is not whether the disease will develop, but when," says Dr. Ben-Hur. "With the baby-boom generation aging, it is set to gain epidemic proportions."
In this most common of all dementias, nerve tangles in the brain become coated by a protein-like substance known as amyloid plaque, which damages their function and substance. Over a thousand clinical trials have tested Alzheimer's therapies, but none do more than provide short-term improvement and delay the memory loss, confusion and cognitive decline that can extend over years and even decades. Among its well-known American sufferers have been former President Ronald Reagan; actors Rita Hayworth, Peter Faulk and Charles Bronson; composer Aaron Copland; and boxer Sugar Ray Robinson.
The consortium believes that studying the properties of Alzheimer's brain cells may help unlock the disease's secrets, and so develop effective treatment. "At Hadassah, we will be studying the therapeutic properties of Alzheimer's disease neural stem cells obtained from animal models and human sources," says Dr. Ben-Hur. "Their failure does not cause the disease, but our hypothesis is that it allows it. Since Alzheimer's is an illness that develops with age, we have posed three basic questions: First, do the resident stem cells harbored by the brain have the healing mechanism of young stem cells? Second, if so, why do they fall down on the job and allow disease to develop? And, third, how can we make them work properly?"
The first of these questions has been relatively simple to answer. The Hadassah team compared stem cells from adult brains in animal models with those from young and developing brains and concluded that stem cells in older brains most likely do have healing properties.
"We are looking at the next question from a different angle," says Dr. Ben-Hur. "We are asking why people don't develop Alzheimer's. What protects them? A possibility is that functional brain stem cells do not sit awaiting injury, but play an active and continuous role in protecting the brain, so preventing the development of the neurodegenerative process."
Verification of this hypothesis will be long and painstaking. In Hadassah's lab, postdoctoral student Nina Fainstein, doctoral candidate Yossi Nishri and M.S. students Ilona Wagman and Avital Luz are performing the hundreds of necessary cell cultures and transplantation experiments. They also conduct behavioral tests, histopathology and molecular biology analyses on stem cells from both the developing brains of animal models and, eventually, on human brain cells induced from skin cells by a consortium team member.
We are looking to see which stem cells are immunologically deficient in their healing properties," explains Fainstein. "We are comparing the properties of brain stem cells from two animal models with neurodegenerative disease with those from healthy animals. Next, we plan a comparison between induced pluripotent human cells carrying the mutation associated with Alzheimer's disease with those of normal human brain stem cells.
"We have the technology to do this at Hadassah," she says, "and the collaboration gives us a cell package generated by our United States partners—part of a stem cell bank created during this project, which will be available to researchers around the world."
If resident stem cells in the brain are, as the team anticipates, found to be protective, it will have an impact far beyond those ravaged by Alzheimer's. "Neurological illnesses affect one in every five people," says Dr. Ben-Hur. "They include Parkinson's and Huntington's diseases, multiple sclerosis, epilepsy, chronic pain, depression, schizophrenia, motor neuron disease and stroke. Most are progressive and without effective long-term treatment.
"A primary aim of our work with the consortium is to wake the injured brain's resident stem cells from their quiescent state and urge them into regenerative mode," he notes, "thus developing a clinical reality that will heal these devastating illnesses of the mind."