Diabetes on the Go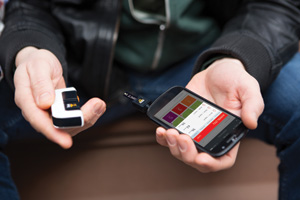 A new smartphone application will soon join some 25,000 already out there, and it just may save your life. Called Dario, this new generation in diabetes monitoring will check blood glucose levels on your smartphone.
"Living with diabetes is a daily struggle with confusing blood sugar changes, requiring management of the impact of every meal, physical activity and emotional stress," says Erez Raphael, CEO of Dario's creator, Caesarea-based LabStyle Innovations, whose scientific advisory board is headed by Hadassah's Diabetes Prevention Center director, Dr. Itamar Raz.
Comprising a tiny blood glucose meter with lancet and 25 disposable test strips, Dario (https://mydario.com) plugs directly into any mobile device where the companion app records not only the new blood sugar levels, but also tracks past readings, predicts blood glucose control and monitors responses to different meals, medications and activities. The data appear both on the phone and on a webpage that can be accessed by physician and caretaker. Dario is set to launch in New Zealand, Australia, Italy and the United Kingdom later this year, with accelerated American Food and Drug Administration regulation now being sought.