Poignant Side to Dreyfus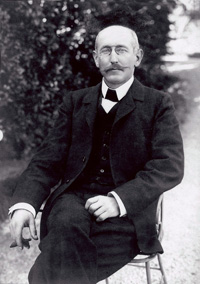 A sensitive artist, philosopher and devoted family man are not what usually come to mind on hearing the name Alfred Dreyfus. But visitors to the current exhibit at Tel Aviv's Beit Hatfutsot (www.bh.org.il) museum—which runs until September—emerge with a very poignant personal picture of the French Jewish army officer whose false conviction for treason in 1894 made him an international symbol of anti-Semitism.
The father of two lived until the age of 75. Family photographs; passionate love letters between him and his wife, Lucie; sketches he drew while isolated on Devil's Island; and the couple's ketuba are just a few of the artifacts that reveal the man behind the symbol and chart the lives of his descendents up to today.
One of them, great-granddaughter and Paris fashion designer Yael Perl Ruiz, is the driving force behind the exhibit, called "Dreyfus–The Story of a French-Jewish Family." Among the visitors: Martine Le Blond Zola, great-granddaughter of writer Emile Zola of "J'accuse" fame.