Prime Minister of Tours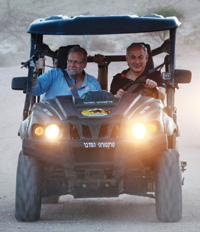 I don't know if there has been an uptick in travel to Israel since Israel: The Royal Tour began airing on PBS March 6, but it wouldn't be surprising. Israel: The Royal Tour is the latest of veteran CBS travel journalist Peter Greenberg's popular documentaries that feature heads of state as tour guides.
Greenberg, aka "the Travel Detective" (www.petergreenberg.com), joins a relaxed and charming Prime Minister Benjamin Netanyahu on a tour that extends from high-tech Haifa to Rosh Hanikra's stunning grotto to a spectacular panorama of Jerusalem from atop the Mount of Olives. In Tel Aviv, Netanyahu and his wife, Sara, stop in at the Vicky Christina nightclub, where they are greeted by their soldier-son, Yair. Some highlights—Caesarea, the Dolphin Reef at the Red Sea, the Negev and Masada as well the Dead Sea—are reached via helicopter, cable car, boat, dune buggy and bicycle.
But this film does not aim to just show pretty places; along the way, the prime minister relates Israel's history, its current political situation and even personal stories, such as the effect on him of his brother Yonatan's murder in the raid on Entebbe in 1976.
If you missed the one-hour program, which covers six days, it is available on DVD with a bonus hour of behind-the-scenes footage (www.shoppbs.org).