Sally Becker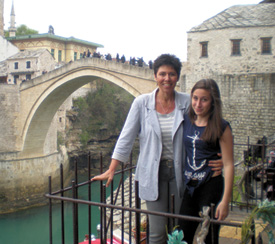 As Selma Handzar walked down the aisle in a New York hotel in 2009, her long blonde hair perfectly styled and wearing an ivory satin wedding dress, she was "stunning, gorgeous," says Sally Becker, a guest at the ceremony. She could have added, "miraculous."
Sixteen years earlier, in 1993, 10-year-old Handzar was lying in a dirty hospital bed in Mostar, Bosnia, her face burnt and pitted by shrapnel. Her right arm had just been amputated without anesthetic, as she had insisted her brother receive the little pain relief available. As her mother cried, Becker, an aid worker, told her that the doctors would make Handzar beautiful again one day.
"I didn't really believe it though," Becker says. "She was in the most terrible state. I only said it to reassure her mom."
The next day, Becker, a British Jew, evacuated Handzar, another four children and their mothers to safety, earning her the nickname "the Angel of Mostar" and turning her into an overnight celebrity. Over several years, she ran Operation Angel, rescuing around 270 children from all sides of the Balkan conflict while being feted, and later attacked, by the British media. Now she has documented the experience in a memoir, Sunflowers and Snipers (The History Press; her website is www.sallybecker.co.uk).
Becker, 53, with short brown hair and large, warm brown eyes, says she never set out to be a hero. "It was completely an accident," she says. "When people talk about heroics, it makes me laugh."
In fact, her role in the conflict grew out of her Jewishness. She initially went to the Balkans in May 1993 to work in a camp for displaced families on the edge of Mostar, where Croats and Muslims were battling for control. Soon the Jews on the west side of the town heard of her presence; she was approached by a young Jew, Damir, whose grandfather had been shot and urgently needed antibiotics.
She procured the medicine and, with the help of the head of the Jewish community, received permission to travel freely in West Mostar—a rare privilege. After delivering the antibiotics, she decided to concentrate on helping the local Jews.
"By the time I came to Bosnia it was six months since they had received any aid," she says. "The community's warehouse was in a woman's front room. There was one sprouting potato on the floor. It made sense to focus on them; I couldn't afford to help larger groups."
But that is exactly what she ended up doing when a United Nations officer asked her to use her connections to evacuate a sick child from East Mostar, where 50,000 Muslims were under siege. She got permission to save all wounded children and entered the east side with a convoy of ambulances that was shot at despite a prearranged cease-fire.
When Becker appeared by Handzar's bedside, "I had just 48 hours to live," says Handzar, 29, today a recruiter at Google in Mountain View, California. "My parents were in such shock. Both of their children were injured, and out of nowhere comes a woman who says she can save us."
Becker's attempt to evacuate children like Handzar, however, was complicated by the presence of a United Nations convoy, which had been surrounded by local women in order to keep the soldiers in the vicinity. The convoy was effectively being held hostage. The officers proposed conditioning the children's evacuation on the release of the convoy. While Becker was at first shocked that they were willing to risk the lives of wounded children for their own safety, she eventually agreed to help if the United Nations would arrange for helicopters to meet the patients.
"I hadn't thought what I'd do with the children once we got them out," she says. "I was truly naïve." The medical evacuation was filmed by news teams who had entered the city with the United Nations, and when they reached safety, television crews lined up to interview Becker.
Three days later, she returned to rescue the children who were wounded on the day she left as well as an elderly Jewish couple. She was treated as a local celebrity and, when she flew back to Britain, was greeted at the airport by a press gang—which became a regular occurrence.
But she had no time to consider how her life was changing. "I was too caught up in trying to help the children," she says. "Once I saw them, nothing else mattered."
Becker grew up in a Jewish family in the seaside town of Hove, where she still lives (see travel story on Brighton & Hove). At 16, she abandoned her studies to live in Israel; she worked on a kibbutz and later in an art gallery and nightclub in Tel Aviv. But after five years she concluded that, although she loved the country, she could not afford to live there, and she moved around Europe, mostly trying to paint for a living.
Her first near-exposure to a war zone (other than Israel, when it invaded Lebanon in 1978) came during the Gulf War, when she joined the Gulf Peace Team trying to shield civilians inside Iraq. She says she had no interest in politics but was interested in protecting the innocent.
Because she was Jewish, the group left her in Amman, but she proved crucial when the other volunteers found themselves stuck in Baghdad. Becker was able to contact Jordan's Queen Noor, who arranged for two buses to bring the volunteers to the Jordanian border.
Two years later, in Spain, she happened to see a television report about the war in the Balkans, featuring a woman trying to cross a junction in Sarajevo nicknamed Sniper Alley. "Why is nobody doing anything to help us?" the woman pleaded. For Becker, the words had particular resonance. "I could only think of the Holocaust," she says. "When I heard the woman, I felt that I would go and do something, no matter how small."
After her initial forays into East Mostar, she used the attendant publicity to gather more aid, recruit volunteers and take convoys across the battle lines. There was rarely time to screen volunteers adequately, and some caused trouble by complaining to the media that they had been placed in danger, when they had not. Becker had a rocky relationship with the United Nations, which in the book she accuses of sabotaging her efforts and not doing enough to help civilians. Ultimately, the British media turned against her, denouncing her for publicity seeking.
Nowadays, Becker is stoic. Some of the volunteers, she speculates, were encouraged by their local papers to produce controversial stories. And she now has far more sympathy for the United Nations than she did at the time.
"I didn't understand why they didn't just go in and get the kids out," she says. "Now I realize that organizations like that have so much red tape. There were times the United Nations did things that were uncalled for—they tried to discredit me and succeeded—and managed to stop a lot of evacuations. But it was certain individuals," rather than the organization as a whole.
The behavior of the media clearly still riles her. The publicity she sought, she says, was never for herself, but for her cause: "Without the media, how was I supposed to highlight what was happening to the kids, or buy aid? I couldn't fund it myself." The media scrutiny ultimately led her to resign from Operation Angel in 1998 to protect its reputation, and she went back to working by herself.
That same year, she endured a month in a Serbian prison and was shot in the thigh by a masked gunman in Albania. She was nursed back to health by former British army officer Bill Foxton, who headed a European Commission monitoring missions in the region. With red hair, a hook instead of an arm and a booming voice, "I can't say I was immediately attracted," says Becker. But the two grew close, and she reveals in her book that Foxton—who was halakhically Jewish—was the father of her daughter, Billie.
Tragically, in 2009, Foxton took his life after losing his life savings in the Bernard Madoff scandal.
"I always thought I might hear one day that he had been shot or blown up in some far-flung field because of the life he led," says Becker, who had broken up with Foxton soon after she became pregnant. "I never dreamed he would take his own life on a lonely park bench."
Billie, 14, has no patience for what she calls her mom's "boring old war stories." To protect her daughter's welfare, Becker tries to avoid war zones, although she did return to Israel in 2006 during the Second Lebanon War, delivering food to shelters in northern Israel.
"There were katyushas falling every day," Becker recalls. "At one point I ran in the boiling heat to get to the door of a shelter, and when I got to the bottom of the steps, the woman peered into my container and said, 'What's for lunch? Schnitzels again?' It was like a Jewish joke."
She recently became a Goodwill Ambassador for Children of Peace, a multifaith charity that runs programs for children in both Israel and the Palestinian territories. According to Richard Martin, the charity's chairman, "It was a no-brainer. Sally is a remarkable woman whose work in Kosovo speaks volumes about her courage and love of life and, in particular, her commitment to helping children in distress." He says that Becker, who heads the charity's Youth Ambassador program, is very hands-on, with good name recognition even in the Middle East. The group gained a particular boost when Becker was one of eight people who carried the Olympic flag into the stadium in the opening ceremony of the 2012 London Games and was introduced to the global audience as their ambassador.
For Becker, being chosen as a flag-bearer brought some peace after years in which she felt rejected by the British. "It means that somehow people had looked beyond the criticism and seen that I acted for the best of reasons," she says. "This was the first time I realized that my work truly meant something to people."
In view of her history with the United Nations, she was especially pleased that one of the other flag-bearers was Secretary-General Ban Ki-moon. "He shook my hand and said thank you for everything that I did. I was so touched," she says. "I really felt that I had come full circle."