"Control" Alternating with "Delete"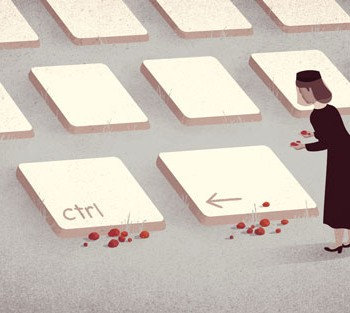 Lisa Samick was 35 when she watched her younger sister, a new mother, die of metastatic breast cancer.
Judah Schiller was 35 when he was left to raise three kids alone when his wife suddenly died of massive internal bleeding three days after giving birth to their third child.
Gabrielle Birkner was 24 when she got a call at work informing her that her father and stepmother had been murdered in a home invasion.
We all contend with loss, mourning and grief. Everyone confronts the death of a loved one at some point. But for some of us it comes sooner rather than later. While no one is truly prepared for loss, young adults in their twenties and thirties feel even less prepared. With few—if any—of their peers having gone through a similar experience, they are left charting their own course through the emotional and practical challenges that come in the wake of an immediate family member's death.
Some young Jews find comfort in age-old Jewish rituals and in their local Jewish community. However, in the Internet age, when we live so much of our lives online, those experiencing loss often turn to Google in search of relevant and resonant resources. They may sit shiva but also reach out to their social media circles for support.
In response to her own experience with her father and stepmother's deaths a decade ago, Birkner, a journalist, recently launched Modern Loss, an online hub with the tagline: "Candid conversation about grief. Beginners welcome." Birkner, 34, is collaborating on the venture with her friend and colleague Rebecca Soffer, 37, who lost her mother seven years ago in a car accident and her father four years later to a heart attack.
"We weren't seeing articles, essays and resources in one place that spoke to us as young adults," the New York-based Birkner says in explaining the idea behind Modern Loss. "We wanted to provide a central address for people to come and get real about grief and talk about things people don't want to hear."
Young adults come to Modern Loss (which, although its founders are Jewish, is nonsectarian) to learn how to write or respond to a sympathy note, plan a funeral and sort through a dead loved one's belongings. They also come to share their feelings of guilt, enduring sadness and what it is like to have a baby and become a parentless parent.
Los Angeles writer and Jewish community professional Esther Kustanowitz, 42, wrote with poignant humor for Modern Loss about the moment she decided to delete her deceased mother from her Gmail address book. Otherwise, every time she wrote a message to her father and brothers, Gmail would ask whether she also wanted to send it to Shuly Kustanowitz.
"First, I deleted her e-mail addresses from my contacts in Gmail. Then, I tried to call my brother from my iPhone, typing in his first initial, 'S,' and seeing my mother's contact pop up, this time imported from Facebook. Her Facebook contact would have to go, too," Kustanowitz wrote.
"I cried as I laughed about the ludicrousness of this modern life. It forces you to delete your deceased loved ones several times over in order to move forward without daily emotional disruption by a Google script that's meant to be helpful. Because the truth is [that] autocomplete can be very helpful. Until someone dies."
When her mother died in May 2011 after suffering from multiple illnesses for 15 years, Kustanowitz got support from her online and offline networks. An early devotee to blogging and social media, she is in touch with thousands worldwide. "It's not an either-or situation for me," she says about receiving both face-to-face and online support. "The advantage to an online community is that someone is always online at any given minute of the day."
At the end of the day, after sitting shiva in the traditional sense in her parents' home in New Jersey, she would go upstairs and hold a virtual shiva on Skype with friends in Los Angeles, Israel and the United Kingdom.
Samick's sister died before the advent of social media. Not having any friends who had lost a sibling, she felt extremely isolated. "Losing a sibling is very different than losing a parent," she says.
An early childhood educator in New York, Samick wanted to know, "What happens now? Who am I supposed to be in my relationship with my parents, as the surviving sibling?" But she had no one to ask.
"When you think about loss when younger age groups are involved, you think about the notion of future," notes Rabbi Eric Weiss, director of the Bay Area Jewish Healing Center in San Francisco. Young adults in grief highlight a common experience: The loss of the future presence of that dead person in life events.
Weiss laments the fact that today's young people don't have the opportunity to process that sense of future loss. "Our culture mistakenly thinks we shouldn't bring up dead people. But we do need to invoke them because we are thinking about them anyway," he suggests.
Sarah Tuttle-Singer, a social media professional who recently made aliya from Los Angeles, was 23 when she lost her mother to ovarian cancer nine years ago. She says that her grief still sometimes washes over her out of nowhere. She deals with the emotions by writing about her relationship with her mother.
"I rewrite our history, because I never knew her as an adult," she says. "I take only the good things I want to remember. I'm not ready to write about conflicts I had with my mom when I was a teenager because she's not here to defend herself or dialogue about it."
Tuttle-Singer describes her relationship with her mother as a case of arrested development. "We were just getting to the point of our relationship changing when she died," she says.
It is painful for Samick that her sister is not here to see her daughter grow up, or to meet her niece, Samick's own 3-year-old daughter, Jenna. Samick, a single mother, named her daughter for her late sister. "Every time I say my daughter's name, it is a bittersweet reminder of the loss," she shares.
Samick also notes that had her sister not died, she may not have had the strength to have her daughter on her own at 40. "Who cares what people think? Life is short. I can do it," she told herself.
As young adults process the loss of a future with their loved one, they may also have to deal with unexpected responsibilities in the present. When his wife died, Schiller, founder and CEO of a San Francisco design innovation firm, found himself the single parent of three children, including a newborn. He did not even have a bottle since his wife had planned on breastfeeding.
"On the morning of my baby son's eighth day of life, we had his brit mila and, in the afternoon, we buried his mother," he says. That day, and every day after that, he kept himself together for the sake of his children. "If it hadn't been for the kids, I would have lost it. A lot of people…do very well [in providing support] for the first six months. Then people move on and you find yourself very lonely."
Being a young man in mourning was difficult, notes Schiller. "It is rare to lose a wife in childbirth in the United States, so it is hard to find a perspective on it. I joined an online group of people who lost spouses, but many of the people were older and I was the only male, so I felt out of place and didn't continue with it."
Rabbi Audrey Marcus Berkman of Newton, Massachusetts, was a 24-year-old graduate student when her father died suddenly, and she was the one who had to clean out his apartment and close up his law practice. Her parents had divorced a year earlier, and Berkman, the eldest daughter, was her father's next of kin and had to make all the difficult decisions, including whether to perform an autopsy. "I decided against the autopsy, and I have regretted that ever since," she says.
According to Birkner, young Americans (and Americans in general) are not just death averse, but also fear averse. "We don't want to think it will happen to us," she claims.
Berkman says that was not the case for her. At the time of her father's death, she was studying for a master's degree at Harvard Divinity School and had studied post-Holocaust theology before that in college. "I was already wired to be fascinated by loss," she says. "I was not going along, 'La-la-la, all is permanent.' The thing I was most scared of actually happened."
Berkman utilized the connections she had made with the divinity school's faculty and at Harvard's Hillel to help guide her to Jewish sources. Her boyfriend at the time took her to Israel for the summer. "It was tremendously healing," she recalls. "Life is so disorienting, so it is good to…root and center yourself in your inheritance."
Even secular Jews in Israel find Jewish mourning rituals helpful. "These traditions are followed religiously even by those families who do not identify as religious," says Shai Moshe, a social worker with OneFamily, an Israeli organization dedicated to the rehabilitation of victims of terrorism and their families.
Unfortunately, because of terror attacks and Israel's history of wars, it is not uncommon for young Israelis to deal with loss.
In America, too, the Jewish community makes itself available to those who have suffered loss. However, it is evident from the success of online resources that young adults are going to their computers more than to synagogues and community agencies.
"People in their twenties and thirties are resourceful about finding what they need," says Weiss. He reports that the Bay Area Jewish Healing Center, recognizing the importance of online and mobile points of access, is forming a think tank to develop protocols for using technology in issues of death and grief. At the same time, he warns that technology is not a panacea for dealing with emotions, though it can be an evocative tool to support integration of loss into one's life.
Birkner and Soffer know the limitations of the Internet and plan to branch out to in-person Modern Loss events. But they still believe in the value of an online address for themselves and their peers.
Toronto author David Sax, 34, writer of Save the Deli: In Search of Perfect Pastrami, Crusty Rye, and the Heart of Jewish Delicatessen (Mariner Books) and of one of the first pieces on the website, agrees. "Death brings a lot of stuff out: some of it sad, a lot of it funny, most of it kind of mixed," he says. "It's great that there's a place that highlights this, and people can go, contribute, or even just read and think, "O.K. my life isn't as f—-d up as I thought it was."
Renee Ghert-Zand is a freelance journalist covering Israel and the Jewish world. She lives in Jerusalem.