At Home Kitchensurfing, Kosher Style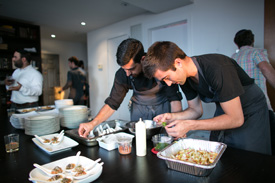 Want to plan a dinner party without stressing over the kitchen prep or being haunted by a sink full of pots, pans and dishes? Kitchensurfing, a two-year-old company founded by Chris Muscarella, will take these worries away, matching you with a chef who will do everything from ingredients shopping to cleanup. Better yet, they've just expanded to kosher.
"We want to get people out of the mindset that having a chef come to your house is something only rich people do," says Yuda Schlass, head of Kitchensurfing's kosher division, which launched in early July with a 30-person, seven-course meal in a Brooklyn loft.
Schlass has trained 20 New York-based chefs, many not Jewish, in ingredient substitution and laws of kashrut, to offer kosher menus spanning the globe from traditional Shabbat dinners and Israeli cuisine to Korean and Indian. Ingredients come from vetted kosher sources. Kosher chefs are available in every Koshersurfing city, including Los Angeles, Boston, Chicago and Washington, DC, but the focus right now is New York.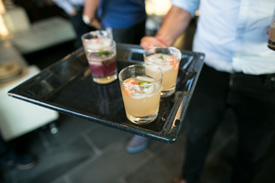 "From what I see, the kosher palate has quite expanded, but at the same time they have very limited access to try new stuff," said Schlass. "To tell a kosher consumer you can have a chef from Eleven Madison Park to come cook kosher in your house is amazing and exciting."
Meals average $65 per plate and the typical guest list is eight people. Kitchensurfing clients can access chef résumés on the website and contact individual chefs for menu proposals, or can reach out to Kitchensurfing staff to match them with a chef that fits their needs.
Fish à la Provençal and Tarragon-Flavored Wild Basmati Rice
Recipe from Kosher Kitchensurfing's Chef Ygael Tresser.
1 cup semi-dry white wine or rosé
1 lemon, juiced
1 teaspoon Dijon mustard
1 large garlic clove
3 tablespoons extra-virgin olive oil
15 basil leaves, julienned
salt and pepper to taste
2 large filets Red Snapper or Striped Bass
Combine all the ingredients except the fish in a bowl, theb whisk until the mustard has been diluted. Place the fish filets flesh side down in a roasting pan; pour marinade over the fish and let marinate 2-4 hours.
Preheat oven to 375 degrees. Cook fish in roasting pan for approximately 15-20 minutes. Check the fish after 10 minutes to evaluate how much time is needed to finish cooking.
You can also cook the fish on a grill using wooden planks (à la Plancha). Soak the wood in water for 1 hour and preheat your grill to 450 degrees. Lay the fish on the plank skin-side down, then close the grill and cook until the fish is done, time varies depending on thickness and heat of the grill, 12-25 minutes. It is preferable to cook using medium heat to avoid burning the plank; do not be alarmed if the wood catches fire, which will only give the fish extra flavor.
For the Rice
1 small onion finely chopped
1 bunch tarragon, minced
1 clove garlic, diced
2 cups basmati rice
1/2 cup wild rice
3 tablespoons extra-virgin olive oil
5 cups water
In a pot, sauté 1/4 of the onion in 1 tablespoon of olive oil until golden brown. Add half of the tarragon and half the garlic and the wild rice. Keep stirring for 2 minutes then add 1 1/2 cups water. Bring to a boil, then let simmer for about 1 hour to cook.
In a second pot repeat the same process as above using remainder of onion, tarragon, garlic, 2 tablespoons olive oil and the basmati rice. Stir rice for 2 minutes then add 3 1/2 cups of water and salt. Once you have added the water do not stir; set heat to low and cook until holes are present in the rice and the water is evaporated. Turn off heat and cover the pot for approximately 10 minutes. Check to see if the rice is cooked, then combine with the wild rice and add a dash of Virgin olive oil when serving with the fish.
Serve the fish and rice with a seasonal grilled or broiled vegetable.