Beloved Children's Series Reissued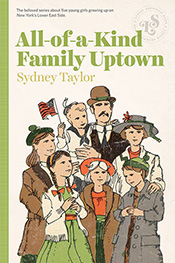 Get ready to be swept up again in the nostalgic charm of the Lower East Side and the Bronx pre-World War I and just after, thanks to the reissue of the All-of-a-Kind Family books by Sydney Taylor. While the first volume of five, All of a Kind Family, is still in print from Random House, the follow-up story collections—More All-of-a-Kind Family, All-of-a-Kind Family Uptown, All-of-a-Kind Family Downtown and Ella of All-of-a-Kind Family—had just gone out of print when publisher Lizzie Skurnick got the rights to reissue the sequels under her own imprint.
Reread the lovable, teachable-moment antics of the five daughters, Ella, Henny, Sarah, Charlotte and Gertie, and their little brother, Charlie, as well as the gentle parenting of Mama and Papa and the family camaraderie with Uncle Hyman and Aunt Lena.
The new volumes feature forewords by Jane Cummins, a professor at the National Center for the Study of Children's Literature at San Diego State University, who is writing a biography of Taylor. Taylor, who based the series on her own Lower East Side childhood experiences, is often credited with creating the genre of Jewish children's literature.