Israel Offers Top-Tier Tourists New Places to Stay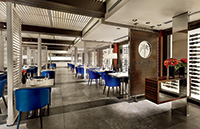 Well-heeled tourists to Israel have reason to rejoice: Two luxury hotels belonging to international chains have opened recently and a third is set to open in 2015. Two of the three are in historic structures, and all three have adjacent luxury apartments. The Ritz-Carlton Herzliya, which bills itself as providing a "luxury urban resort experience" at the Herzliya Marina, was the first of the three, opening in December 2013. Its proximity to the heart of the country's high-tech industry is a boon for business travelers, and the balconies and sea views are an attraction for all. The décor combines wood, stone and leather with modern lines. It is the first kosher hotel in the Ritz chain and has a rooftop pool and bar. The Waldorf Astoria Jerusalem opened its doors in April. The hotel retains the façade of the Orientalist Palace Hotel, built  in 1929 by the Grand Mufti of Jerusalem, Haj Amin el-Husseini, who later became a supporter of Adolf Hitler. It served as a hotel for only a few years and then was used for government offices. The arches and elaborate stone carving on the exterior have been restored, and the atrium lobby, with its glass roof and arched porticoes, mimics a Jerusalem street. Some $2 million was invested in crystal chandeliers alone.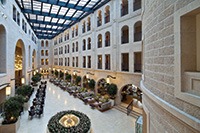 What the hotel lacks in views it makes up for by location (five minutes' walk from the Old City, 10 minutes' walk to downtown), personal concierge service and spa. In Jaffa, Tel Aviv's southern half, RFR Holding and Starwood Hotels & Resorts Worldwide will open a luxury boutique hotel under the W brand in 2015. It is being built in a converted 19th-century building that once housed the French Hospital in the city's port area, overlooking the sea.