Holiday Spirit in Your Glass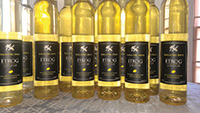 Some people say: When life hands you lemons, make lemonade. Marni Witkin says, when life hands you etrogs, make liqueur.
For years, after Sukkot concluded, Los Angeles-based Witkin would collect the lemon-like etrogs from friends and family; in her kitchen, she would brew the fragrant yellow fruit into a luscious liqueur to return as a gift later on.
"It grew from the holidays," Witkin recalls. "It's something you drink together with friends, sharing love, friendship and the idea of family and friends gathering as the holiday winds down."
In late 2013, Witkin, with husband, Howard Litkin, launched the Limoncello-like liqueur as a commercial product, under the Sukkah Hill label.
As artisan liqueur makers, the Witkins have created some very specific (and delicious) liqueurs, modeled on symbols of their Jewish faith.
In addition to the sunny yellow Etrog Liqueur—now made with fruit sourced from a California etrog orchard—the spiced, richly aromatic Besamim Liqueur takes its inspiration from the havdala spice box that marks the conclusion of the Sabbath. Howard Witkin describes it as "an emotionally evocative flavor" that is "the smell of Shabbos in a bottle."