Meet the Veep: Frieda Rosenberg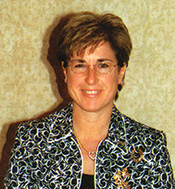 Frieda Rosenberg and her sister, Leslie Rappaport, grew up with Hadassah. They were surrounded by their grandmother and mother, Gertrude Mandel and Alyce Unger, and their passionate Hadassah colleagues. Their extraordinary gift to Hadassah was that all four of them became Hadassah presidents.
Rosenberg started her Hadassah career as president of Junior Hadassah. As an adult she led a young women/young leader's group and later became president of the Merrick-Bellmore chapter in Long Island, New York. She fulfilled many challenging assignments in the Nassau Region and eventually became region president. She is proud of Nassau and believes that, within the region, the leadership rely on, strengthen and inspire each other.
Rosenberg is well aware that, today, there are many different paths to leadership. "In order to accomplish the goals of our mission, we need to be flexible," she says. "To involve today's woman, we need to instill passion, inspiration and understanding of the mission."
She enjoys being a part of something that makes a difference in the lives of people around the world. Rosenberg is most passionate about the stem cell research at Hadassah Medical Organization that, she prays, will lead to new techniques and cures for cancer and neurodegenerative diseases.
Though educated as an attorney, Rosenberg says that, "Hadassah is the career of my heart." As the national vice-coordinator of the Development Division and a member of the Executive Committee, she has the opportunity to utilize the problem-solving skills she honed as an attorney.
Rosenberg shares her life journey and her Hadassah journey with her husband, Alex. He is very supportive of her volunteer commitment. They have traveled together to Israel many times, and their children, Aaron and Jessica, have visited Israel with their parents on missions.
Frieda and Alex Rosenberg are generous Centennial members of the Circle of Founders as well as Keepers of the Gate.