Breasts and Blessings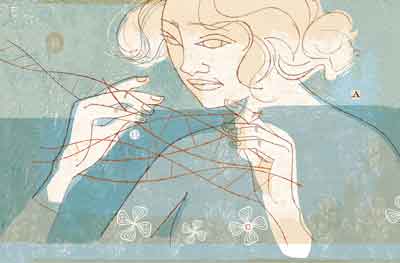 I just got a call from my health insurance company informing me that it was time for a mammogram. "I really don't need one," I said evenly.
"But you do," the caller said with a tinge of alarm in her voice. "It doesn't look like you've had one in years."
"That is true, but if you don't have breasts, you don't need regular mammograms. In fact, I can pretty much promise I will never need another mammogram again."
Before I was scheduled for a double mastectomy at the age of 60, I knew I was infinitely blessed: The breasts I was preparing to sacrifice were (as far as I knew) healthy. And though it was (sometimes literally) a crying shame to give them up—even at my age—when friends exclaimed over the difficulty of my decision, I was obliged to correct them. In fact, it was the easiest choice I ever made.
Because, as life-affirming as these organs are designed to be, since testing positive for a BRCA mutation, I had begun to regard them, in the words of my daughter, as "twin ticking time bombs."
When I mention BRCA and someone appears puzzled I usually say, "Lucky you. Ignorance is bliss." But even as those words come from my mouth, I know they are not 100 percent true. They are, to be exact, 97.5 percent true if that person happens to be an Ashkenazic Jew. For the other 2.5 percent of us, ignorance can, in fact, be fatal.
On the face of things, Angelina Jolie and I have little in common. She is a successful actress with a gorgeous body. I am not. But we both had to wrestle with a difficult decision: whether or not to remove body parts that a science still wet behind the ears told us might turn on us. All because of a mutation in our genetic code unheard of a generation ago that dramatically increases our risk of breast and ovarian cancers.
The first of the three main BRCA mutations was found in 1994. Two more were soon identified—one on the same chromosome, BRCA1, and another on the chromosome called BRCA2.
Turns out that, instead of 12 percent, the risk of breast cancer for those of us who are positive for the BRCA gene mutation is about 60 percent (so says the National Cancer Institute), and these women tend to get it at a younger age, which is why Jolie had her breasts removed at age 37.
Think that sucks? Try this one: Our chance of developing ovarian cancer is more than 10 times that of the average woman.
Ashkenazic Jewish women are at higher risk than other populations, with a BRCA mutation rate of 1 in 40, more than 10 times what most others face.
Read enough statistics on the genetic mutation snaking through the branches of my family tree and you would also itch for a trip to the O.R. I say that now but, in truth, it took 14 years and losing two kind, funny, creative and loving little sisters to cancer (Tobi at 45 to ovarian, Susan at 55 to breast) to get me in there.
Of course, even then I was no dismantling virgin, having already had my ovaries out 12 years earlier after Tobi left us, and knowing that I had tested positive for a BRCA1 mutation.
Equally easy was another decision. I knew that reconstruction, a blessing for so many women, was not for me. One of my sisters worried that I was refusing reconstruction to atone in some way for the suffering of our other siblings. In truth, I had dragged that particular psychological fish out of the water myself, inspecting it carefully before tossing it back.
But it was a story out of a nudist camp that brought tears to my eyes and strength to my heart in the weeks leading up to the surgery. A doctor friend told me of a woman he and his wife had once encountered at a clothing-optional beach in Florida.
From behind, she looked like your average naked middle-aged woman riding a bike along a sun-drenched beach. But as she pedaled by they were horrified at what they saw: an angry, jagged red scar radiating down her chest where her left breast should have been. "It had been a radical, really a deforming mastectomy, and, by the looks of it, a recent one," he told me. Even more radical: the woman's huge grin and friendly wave as she pedaled by.
"Dear Lord, let me be like her," I prayed. Not that I am ever likely to bike in the nude, but yes to her savoring life in all its imperfection.
My father likes to say, "I don't live in the past but the past lives in me." One woman I met at a Boston-area FORCE (Facing Our Risk of Cancer Empowered; www.facingourrisk.org) meeting told us that when she shared her positive test results with her father, he revealed something he had previously neglected to mention. "All I could say was, 'Gee, Dad, this sure is a funny way of telling me we are Jewish.'"
What I saw that day at the FORCE meeting was a demonstration of the wide variety of strategies women settle on after getting a positive BRCA mutation result: from the surgical (Take it out now so I never spend another sleepless night surfing the web for something—anything—that could make this nightmare go away or at least tell me what to do) and intensive surveillance (a constant rotation often made up of frequent mammograms, MRIs and ultrasounds) to the Alfred E. Neuman approach: What, Me Worry? (I will eat macrobiotic, ride my bike, take vitamins and pretend I never heard of BRCA).
There is a plethora of support and advocacy out there. Besides FORCE, online groups abound, such as Facebook's Previvor group. For others, help comes gift-wrapped as Sharsheret, www.sharsheret.org, offering young Jewish women with a diagnosis or significant risk factors not only resources but a genetics counselor and Peer Support Network. Hadassah has also begun its own awareness program called The Uplift Project.
One reason my decision to remove my breasts was relatively easy is that my kids were all grown. I did not have to face the idea of never being able to breastfeed my baby or, in the case of ovary removal (oophorectomy), not even being able to become pregnant. This is an especially lousy kick in the pants to many Jewish women who postpone babies to advance educations and careers.
Many young BRCA-mutation-positive women opt for an intense program of surveillance because there is so much at stake. They may go in for screening twice a year, utilize more sensitive tests including breast MRIs and ovary ultrasounds. Some also take Tamoxifen, a drug sometimes prescribed for the treatment and prevention of breast cancer.
However, for parents, there is no pill for the guilt. "The first thing we usually hear with a positive test result in an older woman is, 'What about my daughters?'" says Dr. Michal Sagi, a senior genetic counselor at the Hadassah–Hebrew University Medical Center in Jerusalem who has worked with many BRCA mutation carriers.
A child of a parent who has the BRCA mutation (mom or dad, it  does not matter) has a 50-percent chance of inheriting it. It is just that sometimes it seems higher than that. My dad and both his siblings have it and 65 percent of their children and grandchildren. Though my sisters Tobi and Susan were never tested, we are assuming they were positive, as am I.
And our two younger sisters? Both spared.
Even a negative result can be painful, especially if a sister or other relative has tested positive, explains Dr. Sagi. "When [someone feels] survivor's guilt, they may not allow themselves to express too much happiness, too much relief."
Sooner or later every BRCA-mutation-positive parent asks themselves, if I had known I had this mutation would I have had kids? As the Torah reminds us, we need to choose life and hope—and pray for the best.
Within some Orthodox communities in the United States and Israel, Dr. Sagi reports, women refuse the test since a genetic problem could jeopardize all of their children's chance of a good shiddukh (marriage match).
Women needing a grounding in how Orthodox halakha sees BRCA mutations can turn to yoatzot halakha, women trained in the intricacies of Jewish law as it relates to women's reproductive health.
Working with genetic counselors and doctors, yoatzot halakha bridge religious authority, medical expertise and emotional support for women dealing with BRCA, whether or not they have a cancer diagnosis. "One woman I counseled had a prophylactic double mastectomy at 34," says Atara Eis, who was trained at Nishmat's Keren Ariel Yoatzot Halacha fellowship program in Israel and now teaches other yoatzot. "And she did it with her eyes wide open, knowing where Jewish law stands as well as the latest medical research.
"In Judaism, pikuah nefesh, saving a life, is the highest value, especially when it's your own," she explains. "You know the old joke with the punch line 'But I sent you a helicopter, a plane and a boat.' For many BRCA women, surgery is the helicopter, the plane and the boat."
By virtue of its prevalence, BRCA has once again cast Jews as lead dog. "We are often the ones open to new medical knowledge," says Eis. "The one whose job it is to do the research and then teach the rest of the world."
One lesson just may be to face BRCA head-on: How would you feel, for instance, if you failed to "burden" your daughter or niece with your family's history and she ended up with a BRCA-related cancer that could have been prevented or caught early?
Genetic flukes like the BRCA mutation got traction, explains Jon Entine, author of Abraham's Children: Race, Identity, and the DNA of the Chosen People (Grand Central Publishing), as a side effect of our greatest strength: unity. "This mutation is a price we pay for our insistence on staying together no matter what, which is why and how we have survived. For me, it is not just a scientific or historic fact but a spiritual journey, too."
That journey may start with Why Me? Syndrome; then the anxiety and anger at our parents, fate and God roll in. And, as soon as that begins to leave, you are struggling in a quicksand of statistics and risk factors and a host of unappealing options, each with its own set of risks and costs.
At the end of the day only you can decide what is right for you. So you have received test results you did not want; now you do your homework and consider all opinions—from health mavens who tell you to avoid sugar to the surgeon who looks you in the eye and warns you to waste no time having this or that body part removed. After you take it all in, sit down and talk to people you trust and who understand you—your sister, your spouse, your rabbi or your best friend.
Now here comes the hardest part: After you have spent weeks, months or even years researching, after you have stayed up late surfing the net and have by turns felt overwhelmed by conflicting opinions and frustrated by the lack of hard numbers (remember this is still baby science), then, with a firm hand, TURN OFF the information tap. As open and seeking as you have been up to this point, you have hit the wall where you have to stop listening to everyone else.
After giving myself permission to shed a few more tears, this time for my sisters and all the other women who were not blessed to make this decision when healthy, I was finally able to thank God that I could. Then and only then could I know what was the right decision for me.
Two years after waking up in the hospital recovery room and gingerly feeling my bandaged chest, I have slowly emerged from my stubborn flat-is-beautiful stance to wearing the occasional padded bra in public. This after one particularly frank friend put it: "People were looking at you and feeling there was something off and they could not figure out what." I prefer to think of the padding not as false advertising but just something minor that makes me feel more… whole. And, as much as I wish I never had to make these decisions, I feel blessed to live in a time when I could know the risks and be able to actually do something about them.
When the bandages come off and you wipe away the last tear, wisdom of the past remains, a potent reminder that being a Jew has always meant accepting the pain with the joy, the curse with what is ultimately the greater blessing.