Democracy, Judaism and War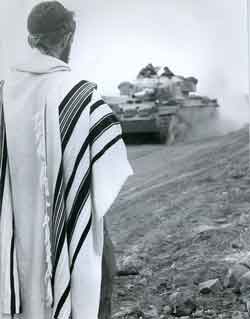 It has become fashionable—even among Zionists—to view Israel as caught between conflicting democratic and Jewish impulses. This summer, during the Gaza operation, critics accused Israel of undemocratic and un-Jewish "disproportionality" in defending itself against Hamas's rockets and terror tunnels. Ironically, the fight against Hamas demonstrates that, while Jewish, Zionist and democratic values may sometimes clash, they often reinforce one another too.
American democracy originated in the Torah's egalitarian nature and just aspirations. The ancient Jewish notion that all are equal before God helped spawn the American Revolutionaries' liberal-democratic insight that all humans have equal rights. Deuteronomy 16:20 further radicalized this revolutionary idea about human dignity by suggesting doing good as the mission of Jewish community—and Jewish statehood.
"Tzedek, tzedek, tirdof," the Torah famously commands: "Justice, and only justice, you shall pursue, that you may live and possess the land that God gives you."
Thousands of years later, this link between pursuing justice and living in Israel shaped the democratic Zionist movement. Zionism seeks Jewish sovereignty as a particularistic platform for the universal ideal of tikkun olam, bettering the world, not just saving Jewish lives.
The Torah understands that life, unfortunately, is messy. A justice-seeking people may nevertheless sometimes be compelled to resort to ugly wars to survive. Still, even in the heat of battle, even while suspending normal morality as soldiers kill to avoid being killed, they must distinguish right from wrong. "When you go forth against your enemies and are in camp," we learn in Deuteronomy 23:10, "then you shall keep yourself from every evil thing."
That ability to continue making distinctions, to continue seeking goodness and purity even amid war's insanity, preserves our sanity, our souls and our mission's sanctity. Soldiers who keep themselves from "evil things" will understand the need to minimize civilian deaths, even while fighting an enemy who cowers behind civilians.
In January 1948, as the War of Independence intensified, the man who became Israel's first prime minister updated these ideas as Zionism faced its great test. "…The peculiarity of war," David Ben-Gurion noted, "is that it subordinates everything, absolutely everything, to its needs." This cruel but realistic view, however, "requires one vital distinction, and this distinction reveals the difference between the concept of people of peace, like ourselves, and the concept of men of war like the [Grand] Mufti [of Jerusalem] and Hitler." Such totalitarians see "in war the highest goal of mankind." But Jews, Zionists and liberal democrats "resort to war out of lack of choice—because it is forced upon us."
Once compelled to fight, we are morally obligated to civilians, soldiers—their parents—to apply great force and to then triumph. But whereas totalitarians like Hamas delight in war and sacrifice all—their children, our children—to serve their absolutist ideas, we fight reluctantly, while building for peace whenever possible.
In fighting Hamas this past summer, in smashing five years' worth of terror tunnels in four weeks, Israel fulfilled its responsibility to choose life. The social solidarity, communal generosity, mass mourning for losses on both sides and missions aborted to minimize civilian deaths showed that even while fighting we continue pursuing justice and preserving our souls.
Gil Troy, professor of history at McGill University in Montreal, is currently teaching at the Interdisciplinary Center in Herzliya. His latest book is Moynihan's Moment: America's Fight Against Zionism as Racism
 (Oxford University Press).