Liz Claman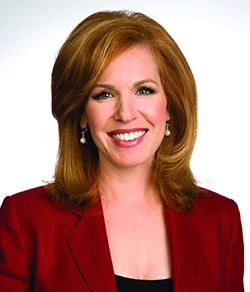 Emmy Award-winning television journalist Liz Claman, 50, joined Fox Business Network in 2007, where she headlines Countdown to the Closing Bell every weekday and cohosts After the Bell. She previously anchored for CNBC and also worked for local affiliates of CBS, NBC and ABC. She lives with her husband and two children in Edgewater, New Jersey, and is active in many Jewish and other charitable causes.
Q. How do you understand the term 'start-up nation'?
A. For me, Iscar [manufacturer of metalworking tools] is the emblem of what makes Israel's economy so special. Warren Buffett said to me, 'If you could ever see Iscar, you will see something amazing.' When Warren bought Iscar he [said], 'If this is what the Israelis can do under pressure from all of the warring nations around them who would love to see them disappear, imagine what they will be able to do in peacetime.' Even more important, he said, 'The Israelis are the smartest people I have ever done business with.' So about four years ago [when] I was in Israel…I reached out to Eitan Wertheimer at Iscar and went for a full-day tour. I was so overwhelmed, not just by Iscar itself but by Eitan's effort to bring the Druze villagers in [to help them develop] their own businesses. Eitan is a firm believer that peace will flow from positive economic change.
Q. What other companies have invested in Israel?
A. Paul Otellini, who was the CEO of Intel, said this: 'It was simple. We opened a plant in Israel because the workforce is so motivated and highly educated.' You also have Yahoo there and other top plants. Mike Splinter of Applied Materials [producer of semiconductors and other products], which is huge there, can't say enough about their decision. Microsoft has one of its first-ever operations outside the U.S. in Israel. Why? I credit the Israeli military in part, as service is required and the young people are immersed in the high-tech spirit. They only need to be given an order once and they figure out how to follow that order. But, even more important, they are genuine thinkers and problem solvers. To me this is the essence of the value of Israel and Israeli business: its people.
Q. What is the best investment advice you ever received?
A. Warren Buffet rarely strays from some core rules of investing: Understand the business and let the management who are smart in running it stay in charge. And when you are picking stocks don't overpay, and look for companies that are either No. 1 or No. 2 in what they do.
Q. How did you first connect with Buffet?
A. When I first tried to convince him to give me an interview he had never done a long, live sit-down one. He asked me to tell him about myself, and I said I'm from Beverly Hills but my father was the son of poverty-stricken Russian Jewish immigrants. I could hear Warren's voice jump up and he said, 'I bought two of my best businesses from poverty-stricken Russian Jewish immigrants'—the Nebraska Furniture Mart and Pourshins. He was so enamored by that I finally said, 'My gosh, being Jewish finally got me something.'
Q. Any financial tips?
A. Watch Best Buy and JCPenney and Sears. Can they turn it around? Sometimes I think these brands are not salvageable. But then I remember that sometimes it's the jockey and not the horse. And in the end I bet it's because of a visionary leader at the helm who never said, 'Going belly up, it's not going to work, I can't do it.'
Q. When did you first visit Israel?
A. When I was in seventh grade, because my dad [urologist Morris Claman], a surgeon, was asked to teach at Hadassah Hospital. He operated on then-President Ephraim Katzir. We stayed in the Hadassah residences for doctors, in the middle of charming Ein Kerem. Israel in the early '70s was a bit raw. We would be invited to doctors' houses for dinner [and]…we made a joke about getting ready for more oranges and figs. The menus may not have impressed me, but the spirit of the people really did.
Q. First impressions?
A. Israelis…may seem rough when you ask them for directions, responding, 'How could you not know that?' But then they will drive 20 minutes out of their way to show you how to get there! My mother would take us to the Old City while dad worked. We would get lost, immersing ourselves near the Yaffa Gate. We would just look and see and experience and feel. I have to thank Hadassah for giving us that opportunity to see Israel.
Q. You're a California girl?
A. Beverly Hills High School 90210. Both my parents came from Canada, my mother is of Romanian descent and my father Ukrainian. They grew up in Saskatchewan, which didn't have a lot of Jewish people. My dad was totally committed to raising his children in an atmosphere free of anti-Semitism, because he had dealt with more than his share. [In his family] all three boys became world-renowned surgeons, and the six girls opened a beauty salon to pay for the boys to go through medical school. My mother [June Claman] was a Royal Academy of Dramatic Arts-trained theater actress—strange and amazing.
Q. Were you religiously traditional?
A. My father worked until 11 P.M. weeknights, but on Friday nights we celebrated Shabbat as a family. We're Conservative, although my dad was raised Orthodox. He would go around the table [of] five kids and ask, 'What was the best thing that happened to you this week? What's the worst thing that happened to you this week? How did you overcome that?' And in a way he began to teach us how to ask open-ended questions, which planted the seeds of my desire to pursue journalism. My mother would yell at us in iambic pentameter in Shakespeare. It was never you're unappreciative, it was 'How sharper than a serpent's tooth it is to have a thankless child' from King Lear. We would talk about politics and society and everything during Shabbat.
Q. Your dad helped you find the way to your profession?
A. He would encourage us to question things and to fight the conventional wisdom if we felt something wasn't right. That's a very Jewish-spirited thing to do…[the way] Talmudic scholars would fight over the Talmud.
Q. One annual highlight is your exclusive interviews of leaders at the Davos conference in Switzerland, sitting down with the world's best and brightest. What stands out?
A. I interview many different types of leaders, but the ones that make me go "wow" are incredible individuals like the Howard Lutnicks of the world, who talks about the remarkable destruction 9/11 had on his firm, Cantor Fitzgerald, [and its rebuilding]. One might conclude from some of the stories that success is nothing more than standing atop a huge pile of failures. These people were never afraid to either start at the bottom or endure failure.
Q. Any others who come to mind?
A. Rich Gelfond. His first job was when he was 8 years old, a nice Jewish boy who shined shoes at the local barbershop. Rich is today the CEO of IMAX and he's grown it from $100 million to multibillion dollars. He is one of the first businessmen able to strike media deals in China. He's a kid from public schools in Long Island, whose dad never made more than $25,000 a year.
Q. I read that the Shabbat in Davos during the economic conference is one of your favorite experiences?
A. I'm so proud that when you go to Davos and are sitting there on Shabbat with all the Israeli leaders and Elie Wiesel singing the Israeli national anthem, and there are all the Jewish journalists who show up—and there aren't a lot of us—then suddenly you see all the bankers who come to take part and all of the leading businesspeople. This Shabbat has gotten very big. Security is very tight, but of all the events that week, that is my favorite. When Klaus Schwab—who runs Davos and is quadruple-booked every night for fancy events—shows up to Davos Shabbat, it creates a special atmosphere. It makes you feel really, really proud and good.