An Ancient City in Sickness and in Health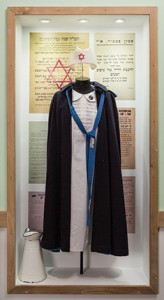 A new exhibition in Jerusalem contrasts old and new approaches to well-being. "Health. Strength. Patience." These key qualities required of a nurse are the first entries in a notebook belonging to Zip-pora Finkelstein, a Hadassah nursing student  from 1919 to 1920. The notebook is one of the exhibits in the large new show, "Jerusalem: A Medical Diagnosis," at Jerusalem's Tower of David Museum.
The exhibition weaves together themes of faith and healing, showing how throughout history illnesses and epidemics were seen as divine punishments. Displaying some 300 items, many of which the public has never seen, the show also presents important moments in the history of modern medicine in Jerusalem, including an X-ray machine similar to the first one in the city, introduced by Hadassah Hospital.
Visitors can see a 1930 Hadassah nurse's uniform, complete with cap and blue cloak. Also on display is a photo album dating to 1925, showing all departments of the hospital and, most important, its new X-ray room. The album was presented to Baron Edmund de Rothschild—founder of the clinic that became Hadassah Hospital in 1918—on his 80th birthday.
The exhibition and related tours will run through April 2015.