Bar Belle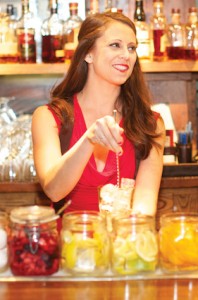 At The Dead Rabbit, located in New York's financial district, most nights you will find bartender Pamela Wiznitzer behind the bar.
That is, when she's not working toward her master's degree in food studies at New York University, serving as president of the New York chapter of the United States Bartenders' Guild or even teaching the occasional kosher mixology class at The Kosher Institute in Brooklyn.
Kosher mixology? Yes, that's right.
In addition to the expected skill sets—a deep knowledge of Irish whiskey (The Dead Rabbit's specialty) and a ready smile—Wiznitzer's training also includes two bachelor's degrees (from Barnard College and the Jewish Theological Seminary). And the latter has been particularly helpful behind the bar, she says.
"A lot of things I learned there also apply to the hospitality industry," she explains. "I learned about interacting with people, making people feel comfortable."
Since The Dead Rabbit opened in 2012, the bar has been pulling in praise, including the World's Best New Cocktail Bar title at the Tales of the Cocktail 2013 Spirited Awards. So what's it like working at one of the best bars in the world?
"The accolades push you to do your best," Wiznitzer says. "You push yourself every day to make it a great experience for others."