Film Noir's Dark Legacy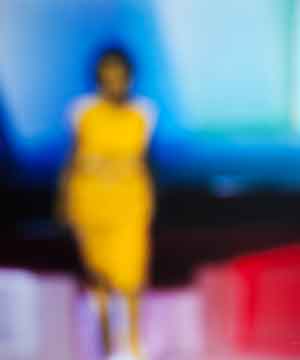 "The Noir Effect," a companion exhibit to "Light & Noir" at the Skirball Cultural Center, reinforces the themes of the main exhibit by tracing noir's contemporary artistic incarnations. "Noir is very adaptable, always reinvented," says assistant curator Linde B. Lehtinen. "Noir permeates our culture."
And within walls painted lurid shades of red, purple and gray, it is easy to see the legacy of the style. With sections devoted to story, characters and the city, "The Noir Effect" has a kaleidoscopic impact. One wall highlights the use of word play, flashbacks and dream sequences in noir by featuring the art of Ed Ruscha, for example, whose 51% Angel/49% Devil mirrors characters' often dual nature. There are also moody photographs from the "Film Noir" series by Bill Armstrong (above) and works by artist duo Rouse & Jones, who begin their creations by writing scripts that actors perform, then documenting the event with photos and video.
The atmosphere is accented with an office setting in the center of the room. Think Sam Spade in The Maltese Falcon waiting for a blonde to sashay in with a problem. You can sit at a desk and thumb through noir-inspired books like Raymond Chandler's Farewell, My Lovely and Creepy Carrots! (Simon & Schuster), a children's book, or read Marvel's Spider-Man Noir, which features the familiar comic book hero in a slightly different guise. Or you can begin your own tale by following the prompts on note cards.
Another wall shows off a huge photo of an alleyway, emphasizing Los Angeles as a focus of the dramatic black-and-white photos by Helen Garber, Ronald Corbin and Daido Moriyama, who all find inspiration in the neighborhoods and landmarks of the city.
The effect on style and fashion—particularly portrayals of antiheroes and femme fatales who often spell doom for male protagonists—is reflected in advertisements and issues of Vogue. And there are also colorful posters and some film clips that chart cinematic interpretations of noir, from the cartoon-and-live-action Who Framed Roger Rabbit to the sci-fi Blade Runner and the classic Chinatown.
Since the 1980s, noir has also been translated into video games and mobile apps. A final nook has interactive screens where visitors can try excerpts from some of the games.
"At first the games were more psychological," says Lehtinen, and though some have turned more violent, most still involve strategies that rely not just on style but also on the genre's underlying concepts. "'Light & Noir' is history," says Lehtinen. "With 'The Noir Effect,' you can be more playful."