Q&A With Boris Fishman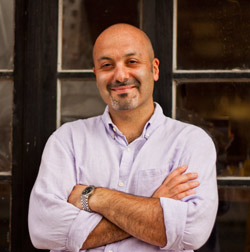 Minsk-born Boris Fishman, author of A Replacement Life, has led several lives on the road to literary success. He has worked as a hiking guide, a farm laborer, a market researcher, an editor, a fact-checker and the editorial director of a tech start-up. More impressive are his academic and editorial accomplishments. After immigrating to the United States at the age of 9 in 1988, he received a degree in Russian literature from Princeton University and a master's in fiction from New York University, where he was a New York Times Foundation Fellow.
Since then, he has received residencies and fellowships from the New York Foundation of the Arts; the Fine Arts Work Center in Provincetown, Massachussetts; Mesa Refuge and Djerassi Resident Artist Program in Northern California; the Edward Albee Foundation in Montauk, New York, and many more. His journalism, essays and criticism have appeared in The New Yorker, The New York Times Magazine and Book Review and many other publications. He now lives on the Lower East Side of Manhattan.
This interview took place at Ben's Kosher Deli in Midtown Manhattan.
Q. Achieving fame at 35 belies the years of work that went into producing A Replacement Life. Did you expect this overwhelmingly positive response to your novel?
A. Honestly, when you're writing you really have no idea. You hope, you work like crazy but you need an incredible amount of confidence. The best fiction comes from a sense of play. You lose track of yourself. The writer assumes another identity. That's when I knew I was getting somewhere.
Q. How does a first novel come together?
A. This book originated with my grandmother's experiences. She was a Holocaust survivor but couldn't apply for reparations till she got to the United States. In the 1990's, because I was the family's most fluent English speaker, I was given the paperwork to fill out. She had never told me about her Holocaust experiences but for this she started talking.
Q. Some people think a novel just pops out of a computer. You have said that the novel went through nine drafts before an agent read it and three more before your publisher saw it. What were some of the objections and how did you resolve them?
A. The novel used to have parallel stories dealing with reparations fraud after the Holocaust and Hurricane Katrina (Fishman co-edited the U.S. Senate report on Katrina). My agent said New Orleans was interesting but had to go. That was 100 pages. So I deepened the events in Brooklyn. The women traveled the most distance as characters. For instance, Vera, a friend from childhood who reunites with Slava, the main character, had no nuance initially. But Yevgeny, the grandfather, was fully formed, from the start.
Q. Yevgeny is a man who knows how to work the system. Does he have a real-life counterpart?
A. Temperamentally, Yevgeny shares the spirit of my real-life grandfather, who was an incredible hustler in the Soviet Union. A heroic, resourceful man, he got what he needed to get in a difficult place.
Q. Why did your family leave the Soviet Union? Anti-Semitism?
A. We left Belarus because my parents did not want me to go into the Red Army, as everyone was required to do. And we did experience anti-Semitism. You could be in a supermarket looking at bread, and you could hear people grumble, "Look at them palming the bread with their grubby Jewish fingers!" Even as a child, I knew that bigger kids might show up in our yard and demand last names to fine out who was Jewish and needed a beating. At 6 I had a Slavic surname to give them, not Fishman.
Q. In World War II the Soviet Union fought Germany but fewer there experienced the Holocaust first-hand the way European Jews did. Did Jews suffer at home, as Yevgeny states?
A. Russia has a long, sad, rich history of anti-Semitism. Jewish veterans would have medals for service in the Army, but even they were often hectored, "Where were you during the war, kike?" The assumption was that Jews had figured out how to sit out the war because Jews were wily.
Q. How much time did you spend in the Soviet part of Brooklyn?
A. I grew up in Brooklyn, in Bensonhurst, but we moved to New Jersey because my father said he didn't come to the United States to be with other Russians. Nevertheless, most of my parents' friends are Russian speakers.
Q. Have you been back to the old country?
A. I was inspired to return after reading Turgenev's Fathers and Sons. I wanted to go back to my homeland. But I found life there difficult. In the summer of 2000 I took a job as an intern at the U.S. Embassy in Moscow. The job was supposed to last 10 weeks. I left after 9 weeks. Some things were heady, and extremely comforting in a Proustian sense. But civility did not exist there 13 years ago. There were, and are even more so now, increasing inequality and disparities in wealth and income. They are always looking for scapegoats. And Jews are on the top of their list. The United States is far more generous and trusting of its citizens than Russia, where you live in constant paranoia; there, that breeds constant suspicion and paranoia among the people themselves.
Q. Have you been to Israel? How does that affect your thoughts about your Jewish identity?
A. I've been to Israel twice. Culturally, I am very Jewish. Religiously, less so. I was circumcised at 9. It was very painful. But for my bar mitzva, there was nothing more than a cake in the shape of a Torah scroll. However, I dated a Modern Orthodox woman for eight years, so I learned a lot about Judaism from her.
Q. Do you think this book will resonate with a non-Jewish audience?
A. I hope so, of course. I'm grateful to The New York Times for assigning my book to non-Jewish reviewers.
Q. What did you not like about some reviews?
A. Criticism is a true art. Some critiques have an excessive plot summary. Some critics review the book that they may have wanted me to write rather than my novel.
Q. You have praised your time in the master's program at New York University because it instilled discipline. Writing is your occupation now. How do you manage your time?
A. I get up at 8 A.M. and am reading by 8:30. I read someone else to get excited about what fiction can do in a broad sense. Then I do my own writing for several hours. By 2 or 3 I have to move to the second shift of the day‑whatever work is paying the bills at that moment. Incredibly, fiction is doing that right now, but until very recently that usually meant several hours of editing, fact checking or some kind of journalism. By 5 or 6, I am desperate to move my body, so I go for a run or something else of that sort. And then, I am a dog panting for human contact. The night is for seeing people.
Q. Aside from friends and instructors like Joyce Carol Oates, which living writers do you admire?
A. I rarely get to read anything by living writers—there's too much to catch up on. The exceptions are JM Coetzee, the South African writer, and the Americans Russell Banks and Jim Harrison. And going back to the dead, Graham Greene and William Styron. I love traditional realistic stories.
Q. You have been compared to Bernard Malamud and have written an essay about him. What intrigues you about him?
A. I love his melancholy. He writes with a deep awareness of how much suffering life likes to leave at your doorstep. (Very different from Philip Roth, with whom he is always unhelpfully grouped). Then I love the incredible, rock-solid compression of his prose. Not an extra word in there. It starts to read like myth because it is so essentialized, in the good sense of the word. Finally, the gorgeously mangled syntax of his dialogue and prose. I aped it (a word he loves) in A Replacement Life.
Q. Have you been back to Belarus and what do you think of it?
A. I was deeply curious about my birthplace. I went back for a weekend during my summer in Moscow. Well, it was the same mix as Russia: certain things spoke to the soul in a way nothing in America ever has. But otherwise it was a foreign place, brutal and frightening.
Q. Why did you feel compelled to list all the sources for phrases you borrowed in the novel?
A. I started my career as a fact-checker at The New Yorker. I just wanted to point out that writers beg, borrow and steal—itself a phrase I'm stealing from the title of a recent memoir by a writer—we pull material from anywhere, and I wanted to formalize that fact. I wanted to give away my sleight-of-hand, my literary tricks.
Q. And how did you become a writer?
A. I guess it started at the dinner table when I was 3 or 5 or 7. I'm an only child. When I spoke at the table, my parents never told me to shut up. So I grew up feeling that the things I had to say were worth saying. A gift.
Q. In the acknowledgements you thanked your parents for not giving up on you.
A. Yes. It took them a while to say I should go for it.