A 'Restless Spirit' Takes Hold in Greece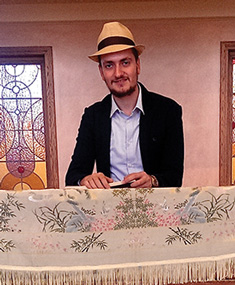 If there's an expression that characterizes the new 26-year-old head rabbi of Greece, Ga­­briel Negrin, it's a restless spirit. Even as a child at the Athens Jewish School, Ne­­grin yearned to learn whatever he could about Judaism and Greek-Jewish customs.
He now has the opportunity to put his love of learning to work as he replaces retiring Chief Rabbi Isaac Mizan. Having finished his ordination studies in Jerusalem, Negrin represents the population of around 5,000 Greek Jews, 3,000 of whom live in Athens.
A deep knowledge of Jewish studies and pride in Greek-Jewish history (the Jewish presence in Greece stretches back 2,000 years) has made Negrin eager to connect with Jews worldwide. He also brings to the position a love of music; he has recorded community eld­ers chanting nearly forgotten Greek melodies and he is a musician himself.
In ad­­dition to his rabbinic duties, he finds "great joy and strength," Negrin says, teaching at the Jewish school, "es­­pe­cially in the children's smile."