Tampa Bay
The red-brick clock tower of the J.C. Newman Cigar Company pierces the Tampa skyline, a reminder of the city's numerous Jewish-owned factories that hand-rolled millions of cigars until the 1950s.
The aroma of tobacco has largely disappeared save for a few wafts from retail shops, but the region's Jewish community continues to thrive, its approximately 25,000 residents drawn to robust commercial centers, bustling cultural venues, a diverse population and nearby white-sand beaches.
Tampa Bay encompasses a wide metropolitan area of four million—the second largest in Florida—and includes the cities of Tampa, St. Petersburg (often shortened to St. Pete), St. Petersburg Beach and Clearwater. The city sharpened its national profile when it hosted the Super Bowl in 2009 and the Republican national conven-tion in 2012.
St. Petersburg, located in Pinel-las County on a peninsula between Tam-pa Bay and the Gulf of Mexico, fits into the stereotypical Florida beach and retirement destination. Its reputation has been tempered by a more recent influx of younger residents, a vibrant arts scene and a new status as one of America's most livable cities. Its 234 miles of coastline and seven-mile waterfront park system includes Fort De Soto, which has been rated the No. 1 beach in America.
History
Tampa was founded in 1824, soon after the military outpost of Fort Brooke was established in the newly acquired Florida territory. Emaline Quentz Miley, who lived in the area from 1846 to 1907 with her non-Jewish farmer-husband, William Miley, and their 12 children, was probably the first permanent Jewish resident. Emaline's parents had emigrated from Europe to Charleston, South Carolina; she married William after extracting his promise that he would sell his slaves and buy no more.
The arrival of the railroad in 1884, the relocation of the cigar industry from Key West two years later and the discovery of phosphate, which has since grown into a billion-dollar industry, helped the city flourish by the early 1900s. German-, Romanian- and Austrian-Jewish im–migrants settled among the Cuban cigar workers in Ybor City (named for Spanish cigar manufacturer Vicente Martinez-Ybor) and in the South Tampa neighborhoods of Seminole Heights and Hyde Park. They entered commerce and politics and opened dry goods, notions and grocery shops.
Men's clothier Herman Glogowski served as mayor of Tampa for four terms from 1886 to 1893. He oversaw the construction of a bridge and hotel and led the coalition that lobbied for the incorporation of Tampa as a city. Henry Brash was elected mayor of Marianna in 1879, the first Jewish mayor of a Florida city; he later moved to Tampa.
Abe Maas opened his first department store in Tampa in 1886; his brother Isaac joined him a year later. Maas Brothers grew to a chain of 39 stores throughout Florida until it was bought by Burdines in 1991.
Schaarai Zedek, an Orthodox congregation, was es–tablished in Tampa in 1894. After political dissension and a lawsuit over internal "dirty tricks" by "Reformers" to take control of the congregation, the synagogue split in two in 1903: Schaarai Zedek became Reform and a new Orthodox congregation, Rodeph Sholom, was founded. The Y.M.H.A., begun in 1906, later became the Jewish commu-nity center; a Hadassah chapter and Jewish fraternities were organized in the 1930s. Tampa's shipyards and nearby MacDill Air Force Base made the city a key center during World War II.
Jewish merchants from Germany and Key West settled in St. Petersburg in the early 1900s, overcoming discrimination to open grocery, jewelry and bicycle shops. They traveled to Tampa for religious services until 1923, when Conservative Congregation B'nai Israel was chartered, followed by Reform Temple Beth-El in 1928. In recent decades, Russian Jews relocated to St. Petersburg, perhaps comforted by the ring of home in its name: St. Petersburg's cofounder Peter Demens had spent half his youth in the Russian city.
Community
Fourth-generation descendents of Tampa's original settlers still live in the area. Migration from the north, especially from Michigan, Ohio, New Jersey, New York and Pennsylvania, spurred the further development of the Jewish community, which spread out as it expanded to developments and gated neighborhoods. The Tampa and St. Petersburg communities operate separately today, and even Tampa's Jewish residents are divided geographically. About half live in South Tampa and are gravitating back to the downtown cultural area. They do not frequently venture north, where the Maureen and Douglas Cohn Jewish Community Campus is located (13013 Community Campus Drive; www.jewishtampa.com).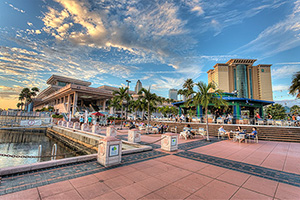 To unify the community, the JCC is currently developing a new facility at the historic Fort Homer Hesterly Armory in South Tampa, an unused 72-year-old facility where Elvis Presley and many others performed, and where President John F. Kennedy spoke four days before his assassination in Dallas. The grounds are still used by the National Guard. Plans include a kosher café, a venue for weddings and b'nei mitzva celebrations, a gym, wellness and visual arts centers, preschool, theater and pool. The groundbreaking is scheduled for April 2015 with the goal of opening in 2016. In addition, the Jewish federations of Tampa, Orlando and Pinellas administer a joint philanthropic foundation to pool their funding resources; the foundation has given over $100 million in grants in the 30 years since it was established.
Between Tampa and St. Petersburg, visitors can choose among numerous synagogues of all denominations. In Tampa, Rodeph Sholom's functional yellow-brick façade may be unexciting, but the synagogue, now Conservative, is spectacularly located on Bayshore Boulevard, which borders Hillsborough Bay and has a six-mile sidewalk, the long-est continuous one in the world (www.rsholom.org). The cornerstones from Schaarai Zedek's 1899 and 1924 buildings are embedded in its present building at 3303 Swann Avenue (www.zedek.org). Temple Beth-El (400 Pasadena Avenue; www.templebeth-el.com) in St. Petersburg was built in the early 1960s by Miami-based architect Morris Lapidus, who designed The Fountainbleau and Eden Roc hotels as well as other iconic Florida buildings. The sanctuary reflects his work, known for whimsical details like curved glass walls and nonlinear shapes.
Two day schools serve the area: Hillel Academy (2020 W. Fletcher Avenue; www.hillelacademytampa.com), a community school, and the Chabad-run Hebrew Academy (14908 Pennington Road; www.hebrewacademyoftampa.com).
The 21-acre JCC campus is home both to the Jewish Federation and to Weinberg Village Senior Residences, which houses a pictorial exhibit about Tampa's Jewish history. The exhibit was the Tampa module of "MOSAIC: Jewish Life in Florida," which opened in 1990, traveled to 13 cities, and evolved into the Jewish Museum of Florida in Miami Beach. Prior to "MOSAIC," Florida's 250-year Jewish history was largely undocumented.
In St. Petersburg, facilities for the elderly include Menorah Manor and the Jewish Towers. The Jewish Press Group of Tampa Bay publishes two newspapers, one in Tampa and one in Pinellas County.
Sights
Ybor City is no longer the cigar manufacturing capital of the world: All its 230 factories except J.C. Newman have closed—and the Food and Drug Administration may soon introduce strict, expensive regulations that could force J.C. Newman to shut down, too. Today, the district is a funky blend of old Romanesque-style buildings that have been converted into bars, tattoo parlors, restaurants and a few upscale shops. The area's renovation is being spearheaded by Hillsborough Community College, which has an Ybor City campus. Some of the Spanish-style grillework, second-floor balconies, ornate cornices and five-globe street lamps remain, but many buildings were modernized or demolished altogether with little thought to historic preservation during federal urban renewal efforts and interstate highway construction in the 1950s and 1960s.
Visitors can still re-create Ybor City's historic aura with a copy of "Florida Jewish Heritage Trail" in hand. The booklet, published by the Jewish Museum of Florida (www.jewishmuseum.com), delineates 82 historic sights, beginning at Rodeph Sholom's former educational center on Ninth Avenue off 19th Street, now a Hindu community center that caters to Tampa's sizeable Indian population.
For a briefer tour, walk down Seventh Avenue, designated one of America's "Great Streets" by the American Plan-ning Association. Start at 14th Street and end a few blocks later at the gorgeously tiled Columbia Restau-rant. The expansive buildings yield information about Ybor City's former Jewish denizens, who lived above their shops side by side with Spanish, Cuban, African, Italian and German workers. Isadore Kaunitz, the first Jewish merchant in Ybor City, named his store El Sombrero Blanco after the white hat he always wore. A movie theater is on the site today.
Romanian immigrant Max Argintar's name is immortalized in tiled lettering on the sidewalk entrance to the pawnshop and clothing store he opened in 1908 at 1522 E. Seventh Avenue in Ybor City.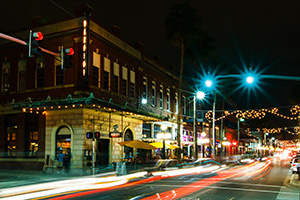 Hexagonal-shaped sidewalk pavers available for purchase to celebrate any person or occasion create Ybor City's own "Walkway of the Stars." Reading the stones will bring smiles ("Elisa and Sarah, best kids ever"; "Sugar, my love is eternal") and the discovery of Jewish names like Doris and Sam Verkauf. Quotes by "Fight Doctor" and Muhammad Ali's personal physician Ferdie Pacheco, who grew up in Ybor City, also grace the sidewalk.
Look up to the tops of the buildings, where more Jew-ish names are etched in stone: Stein, Buchman (both former furniture stores); E.H. Steinberg (dry goods). The Home Port Gallery is part of the revitalized arts scene (www.hpartgallery.com). J.C. Newman, just outside the walking tour (2701 N. 16th Street; www.jcnewmanonline.com) began in Cleveland in 1895, relocated to Ybor City in 1954, bought the Regensburg factory with its clock tower and purchased the well-known Cuesta-Rey brand.
The Tampa Bay History Center (801 Old Water Street; www.tampabayhistorycenter.org) displays Nellye Israelson Friedman's Women Air Corps World War II uniform and other memorabilia from Tampa's early Jewish history. Its collection also features a sterling silver trowel used by Glogowski at the groundbreaking of the Tampa Bay Hotel in 1891. Funded by railroad magnate Henry Plant, the hotel's Moorish architecture, opulent furnishings and tropical gardens attracted celebrated guests from Theodore Roosevelt to Sarah Bernhardt and Babe Ruth. Today, it is open to visitors as part of the Henry B. Plant Museum, on the campus of the University of Tampa (401 W. Kennedy Boulevard; www.plantmuseum.com).
The Glazer Children's Museum, located in a museum district on Tampa's Riverwalk, was created in 2010 through a $5 million donation from the Glazer Family Foundation, committed to bettering the lives of children all over Florida (110 W Gasparilla Plaza; www.glazermuseum.org). Rochester, New York, transplant Malcolm Glazer purchased the National Football League Tampa Bay Buccaneers in 1995; his son Bryan is currently cochairman.
St. Petersburg's museums range from the Salvador Dali Museum (www.thedali.org), which houses the largest Dali collection outside Europe, to the Florida Holocaust Museum, the fourth-largest Holocaust museum in the United States (55 Fifth Street S; www.flholocaustmuseum.org). The permanent exhibit includes an original boxcar from Poland and an art collection. The museum was the vision of philanthropist and businessman Walter Loebenberg, who escaped Nazi Germany in 1939.
Day Trips
Most strawberries in the country were once grown in Plant City, a half-hour east of Tampa. Stop and buy a flat at Wish Farms, founded by Polish immigrants Harris and Yetta Wishnatzki, who used to market their produce with a Magen David on the label (100 Stearns Street; www.wishfarms.com). Continue an hour further on I-4 to Orlando's numerous theme parks. Look for the Orthodox couple under the huppa at Walt Disney World's "It's a Small World" ride and genetic engineer Stanley Cohen's name on a paver in front of Epcot's "The Land" pavilion. Epcot's Moroccan pavilion is reminiscent of a shuk and serves vegetarian falafel, hummus and couscous platters.
Personalities
Tampa's Jewish residents remain active in political life, in sports, science and the arts. State legislators have included Helen Gordon Davis, Ron Glickman and Richard Hodes. Sandra Warshaw Freedman served as the first female mayor of Tampa. Elinor Rosenthal Ross sang at the Metropolitan Opera in New York in the 1960s. Jeffrey Vinik owns the National Hockey League's Tampa Bay Lightning. Lt. Gen. David Fridovich was deputy commander of the United States Military's Special Operations Command.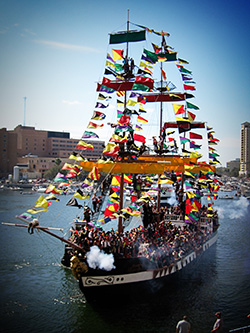 Books
Journalist, former NPR editor-producer and Tampa native Marcus Rosenbaum found his grandmother's diaries in an old closet and published them as Heart of a Wife: The Diary of a Southern Jewish Woman (Rowman & Little-field). His mother was the Georgia-born Helen Jacobus Apte, who lived in Tampa in 1910-11 and then again in the 1940s.
Jews of Tampa (Arcadia Publishing) is a photo-documentary book by Marcia Jo Zerivitz, founding executive director of the Jewish Museum of Florida, and Rob Norman, a physician, writer and Tampa leader.
Ybor City: The Making of a Landmark Town by Frank Trébin Lastra (University of Tampa Press) and The Christmas Eve Cookbook: With Tales of Nochebuena and Chanukah (University Press of Florida) by Ferdie Pacheco and Luisita Sevilla Pacheco feature references to Ybor's Jewish community and stories about its personalities.
Anthony Pizzo wrote several books about Tampa's history, including Tampa Town, 1824-1886 and Tampa–The Treasure City.
Recommendations
The Tahitian Inn is a short drive from several Tampa synagogues (601 Dale Mabry Highway; www.tahitianinn.com).
Options for kosher vegetarian dining include Grass Root in Tampa, which has an online order form and will deliver to your hotel or residence (www.thegrassrootlife.com), and the Mediterranean-inspired Meze 119, near the museum district in St. Petersburg (119 Second Street; www.meze119.com).
Eat in or take out at Jo-El's Delicatessen and Marketplace (2619 23rd Avenue N in St. Petersburg; www.stpetedeli.com) or order weekday as well as Shabbat meals from Dina's Kitchen, run by the Chabad of South Tampa (202 S. Audubon Avenue #1; www.chabadsouthtampa.com). Kosher Kaddy (www.kosherkaddy.com) and The Kosher Grill in the Orlando area (www.koshergrillorlando.com) also deliver.
Burlesque dancers, rock bands and keyboardists who croon the Beatles's classic "Back in the USSR" entertain visitors at St. Petersburg Nights, a restaurant-night club owned and operated by Russian-Jewish immigrant Ilana Sakvich (6800 Sunset Way, St. Petersburg Beach; www.stpetersburgnights.com). The restaurant is not kosher but features vegetarian selections.
Visit Tampa in the winter, of course, when temperatures average around 70 degrees. The annual Gasparilla celebration, a Floridian version of Mardi Gras, takes place in late January or early February. The pirate ship Jose Gasparilla "invades" the city with cannons blazing and bright flags waving. Hundreds of smaller ships escort the pirates ashore. The century-old celebration with floats and marching bands draws 40,000 adventurous spectators, as the captain and his krewe share their spoil: glittering beads, doubloons and other treasures.
There have even been Jewish participants—David Falk was King Gasparilla in 1938 and Jerome Waterman was grand marshal in 1964.
Flag the Tampa Bay area as a captivating sun-and-fun destination, a treasure all its own with plenty of Jewish heart. Make way, mateys!
Rahel Musleah's website is www.rahelsjewishindia.com.