Tempest Tossed to Hollywood: Classic Films, Jewish Directors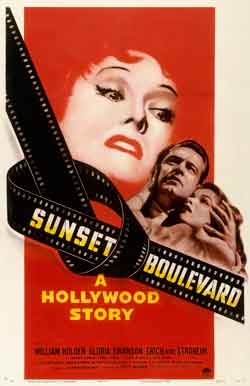 The posters line the red-carpeted hallway, eliciting memories of a glorious Hollywood era.
There is a headshot of a brooding Paul Muni as the star of The Life of Emile Zola; a swashbuckling image of Errol Flynn from The Adventures of Robin Hood; and a portrait of Greer Garson as the British hero in Mrs. Miniver, the inspiring story of the British homefront in World War II. The artwork showcases a bit of everything, from comedy to romance to drama. And, while the illustrations are eye-catching, they also set the stage for "Light & Noir: Exiles and Émigrés in Hollywood, 1933-1950" at the Skirball Cultural Center in Los Angeles (the exhibit and two accompanying installations are on display until March 1). What is significant about these movies is that they all earned an Oscar for someone involved in the project, and those honorees had come to California from Europe to escape Nazism. With their talent, cinematic skills and life experiences, these immigrants immeasurably enriched the movie industry for generations to come.
The oscar hallway, as curator Doris Berger calls it, leads to the exhibit entrance, a golden wall with the faces of 60 immigrants—just a few of the estimated 800 (Jewish and not)—who worked in Hollywood. Many are familiar from the silver screen: Peter Lorre, Hedy Lamarr, Paul Henreid. Others, like Billy Wilder and Fritz Lang, sat in directors' chairs, while Franz Waxman composed scores that sent chills down audiences' spines. There are lesser-known names, too, like that of screenwriter Vicki Baum or editor Rudi Fehr.
The exhibit—copresented with the Academy of Motion Picture Arts and Sciences—"reveals the brilliant legacy bequeathed by European Jewish filmmakers to Hollywood," says Robert Kirschner, Skirball museum director. "Yet through the lens of the cinema world, it sees the wider world: the plight of exile, the obstacles to immigration, the social and cultural challenges of adaptation in a momentous, turbulent era."
That story starts in 1933, with the Nazi rise to power in Germany. The film industry there was thriving, so much so that Hollywood studios had branches in Berlin. But one of the new regime's first acts was to prohibit Jews from working in the industry; even the famous figures behind German Expressionist cinema—directors like Robert Siodmak and Lang—felt compelled to leave. Actors, directors and producers alike began an exodus.
Meanwhile, in Hollywood, three key figures, immigrants themselves, were working to aid the refugees. In the first of the exhibit's eight rooms, photos and memorabilia focus on that story, beginning with Carl Laemmle, who arrived in the United States in 1884 and founded Universal Studios in 1915. A 1938 Christmas card from "Uncle Carl" notes that greetings that year would be bare bones, as funds were needed elsewhere. Laemmle was helped in his efforts by director Ernst Lubitsch, creator of sparkling comedies with a European accent, and, especially, by Paul Kohner, whose talent agency provided a home for the European Film Fund. Behind an Art Deco façade, visitors can sit behind a photo- and script-laden desk in a replica of Kohner's office and visualize the plight of those struggling to reach America.
There is plenty of evidence on display of the difficulty of that journey. Would-be immigrants needed affidavits and letters of support. These were filled out in the United States, usually while the applicant was on a visitor's visa. Then he or she had to leave the country until permanent status was approved. Returning to Germany meant imprisonment or death. So, some went to Mexico, notes Berger, crossing the border on foot. Others flew to England and traveled to the United States by ship. Herman Kosterlitz—who would change his name to Henry Koster and direct Harvey, among other movies—filmed his own immigration journey. On display are clips from his "home movie," showing him and his wife boarding a train in Hungary, then on the deck of the Île de France, disembarking in New York and, finally, on the train to sunny California.
From there, it is just a few steps to enter the world of Casablanca. Directed by Michael Curtiz (emigrated 1922), the film is filled with exiled stars playing desperate refugees trying to elude the Nazis' grasp: Henreid is center stage, of course, as the heroic Victor Laszlo; S.K. Sakall is the waiter Carl; Peter Lorre is Ugarte; and Conrad Veidt portrays the evil Major Strasser. Other émigrés are among those who pass through Rick's Café. An enormous photo of the club serves as a backdrop for props from the movie, including a carved inlaid screen, a small table, chairs and an ornate hanging lamp. You can sit in a row of theater seats and watch film clips, or get a closer look at photos and posters on the wall. There are costumes, too—Victor's light tropical suit, Rick's subtly checked one and Ilsa's paisley-printed blouse and dark skirt, worn in the scene where the singing of "La Marseillaise" brings the nightclub guests to their feet (and movie-watchers to tears).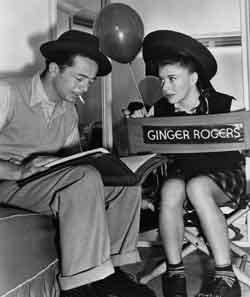 The material in this room alone attests to the wide-ranging contributions of Jews to the film industry. Objects and documents came from the motion picture academy, several Hollywood studios and institutions as distant as Berlin as well as local archives and the personal collections of the descendents of émigrés. "They were generous to loan us things never seen before," says Berger.
Not everyone in the united States welcomed the refugees or admired the Jewish heritage of the film moguls. In the next room, a vitriolic pamphlet urging Americans to boycott Hollywood movies reflects homegrown anti-Semitism. In response, there were speeches and rallies, but perhaps the most effective countermove came through cinema.
Warner Bros. tried to make anti-Nazi movies during the 1930s but was thwarted by the notoriously anti-Semitic Hays Code censor Joseph Breen. Finally in 1938, the discovery of a ring of Nazis in the United States tilted things in the studio's favor. The result was Confessions of a Nazi Spy, ironically with Jewish immigrant Martin Kosleck cast as Joseph Goebbels, thanks to his pronounced German accent. To Be or Not To Be, Lubitsch's anti-Nazi satire about a Polish theater troupe (starring an unlikely Jack Benny), from United Artists, followed a few years later.
And while the filmmakers were clearly attuned to plots about Nazis and World War II, they applied their imaginations to all genres of moviemaking, from serious drama to lighter fare. At this point, visitors have a choice as to what path to follow. A sky-blue space in one direction beckons to the comedic gems of the era. In the opposite direction, dark blue walls enclose dramatic and noir masterworks.
Comedy is represented by five classics, and though clips and artifacts convey these films' humorous tone, there is nevertheless a serious undercurrent. "All the movies have a double edge," says Berger, "that reflects the polarity of the émigré experience. They're happy to flee, but it's still hard to adapt [to a new country] and hard to make a living." Among the posters, press books, photos and film clips, Lubitsch's Ninotchka, from 1939, catches the eye. There is also Koster's It Started with Eve; his director's chair adds a personal touch. Wilder's mastery shines in The Major and the Minor, his first American foray. A few years later, he directed Marlene Dietrich in A Foreign Affair, a romantic comedy about a singer in post-Nazi Germany. One of Dietrich's costumes—on display—happens to be the same paisley evening gown that the star wore when she entertained American troops in 1941.
Perhaps nothing epitomizes the era of film noir more than the moody psychological morality tales whose looming shadows and extreme camera angles recall German Expressionist cinema, albeit with distinctly American characters and plots. Film noir was one of these writers' and directors' most important cultural legacies.
Among the riches on display are the trailer and concept drawings from The Killers and another trailer and one of Joan Crawford's surprisingly petite black suits from Mildred Pierce. There are also posters and artifacts from Lang's Scarlet Street, Edgar Ulmer's Detour and Fred Zinnemann's Act of Violence. Wilder's dark side—he excelled at both light and noir—shows up in the classics Double Indemnity and Sunset Boulevard, whose details are enhanced by sketches for Gloria Swanson's costume as Norma Desmond, excerpts from Waxman's score and Wilder's Oscar statue.
If an aura of foreboding lingers as you move on, that is appropriate. As 1950 approached, the McCarthy era cast its shadow over Hollywood and, in a cruel twist, on those who had fled oppression in search of freedom of expression.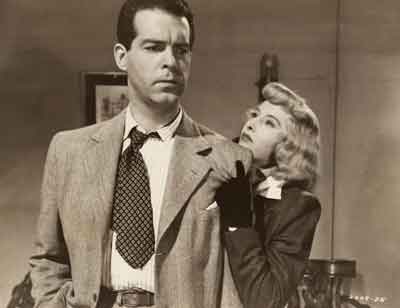 Henreid had become a citizen but was blacklisted in 1948 for joining the Committee for the First Amendment, which had protested actions by the House Un-American Activities Committee the year before. Lion Feuchtwanger, an ardent anti-Nazi novelist and playwright, had been granted political asylum in 1941, but his political beliefs made him a target of the F.B.I., as a redacted document in the exhibit demonstrates. Similarly, playwright Bertolt Brecht and composer Hans Eisler were both called to testify before the HUAC. Video footage shows Eisler at his congressional hearing; forced to leave the United States as an undesirable alien, he departed for East Germany in 1948.
It would be a mistake to overlook the social ties and customs that united the immigrants and their families even as they remade their lives in California. Screenwriter Salka Viertel's Sunday salons in Santa Monica were popular for movie folk, writers and musicians, as was Villa Aurora, Feuchtwanger's home in Pacific Palisades.
The final room of "Light & Noir" gathers furniture from Villa Aurora amid family photos, books and Christmas cards. (Though most of the émigrés and exiles were Jews, they largely led secular lives, both in Europe and in the United States.) Here, you can sit on the sofa, listen to the music from an old-style radio and contemplate the chain of events that led from the evil that was Nazism to the cinematic masterpieces we cherish today.