What's the Fare? $28—Plus a Mitzva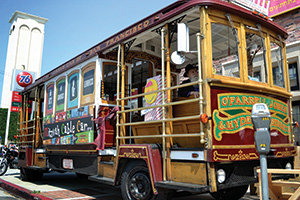 You board a "genuine reproduction" motorized cable car and you're off on a two-and-a-half-hour San Francisco tour emphasizing Jew­ish sights. There are the usual tourist staples—Fisherman's Wharf, Union Square, "the crooked­est street"—but also San Francisco's only Israeli kosher restaurant (in Chinatown), the two oldest synagogues, Beat poet Allen Ginsberg's hangouts and Jewish-owned stores such as Nie­man Marcus.
The only stop is at the Jewish Community Cen­­ter, the oldest JCC west of the Mississippi. Operated by Chabad of San Francisco, the tour requires a mitzva plus the $28 fare, and Rabbi Moshe Langer circulates to collect promises. And bring a cushion and a sweater, those wooden benches can be chilly if you sit outside.