Current Exhibits: Borscht Belt and Beauty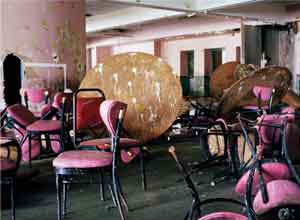 Echoes of the Borscht Belt: Contemporary Photographs by Marisa Scheinfeld
Scheinfeld's photos of resorts in the Catskills Mountains are both haunting and beautiful. After entertaining Jewish vacationers from the 1920s to the 1960s, these recent images capture abandoned hotels, like The Pines and Grossinger's. Until April 12 at Yeshiva University Museum, New York, then traveling to the Yiddish Book Center. —Sara Trappler Spielman
Voices of the Vigil 
As part of the struggle to free Soviet Jews, the Washington Jewish community maintained a 20-year daily vigil (1970 to 1991) opposite the Soviet Embassy. A photomontage recalls protests with text, images and objects such as bracelets with the names of Prisoners of Conscience such as Ida Nudel. At Adas Israel in Washington, until March 2, then traveling (www.jhsgw.org). —Barbara Trainin Blank
Partner of the Anne Frank House in Amsterdam, the small permanent space in New York re-creates the bedroom where Anne hid through life-size photography, audio excerpts and interactive computer displays retelling her story. There are facsimiles of her original plaid diary and photo albums, a timeline, images of Anne and her sister, Margot, taken by their father, Otto, as well as a miniature of the Secret Annex.  —S.T.S.
Present at the Creation:  Rudi Weissenstein
Weissenstein was the official photographer for the signing of Israel's Declaration of Independence and 30 images capture the spirit of the rapidly developing nation. Two examples are Ben-Gurion in 1948 and Golda Meir at the opening of Highway 2 in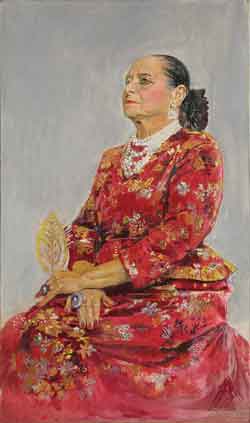 1950. Until April 1 at  Congregation Or Zarua, New York. —Stewart Kampel
Helena Rubinstein: Beauty Is Power 
The cosmetics entrepreneur from Poland rose quickly in the fashion, art and advertising world, challenging conventional beauty while reinventing the early-20th-century modern woman. On view are designer clothing, jewelry, miniature period rooms, beauty products and photographs as well as African and oceanic sculptures and works from her collections of Picasso, Matisse and Miro. Through March 22 at The Jewish Museum in New York.  —S.T.S.