Feeling Is Believing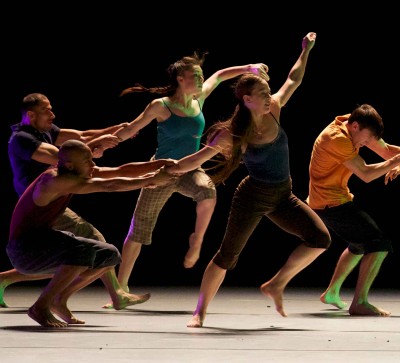 The dancers in Sadeh21 appear onstage one by one, moving with a limber, spider-like gait, simultaneously sharp and fluid.
As the 21 scenes (or fields, English for sadeh) shift, solos give way to pairs, groupings, circles and chorus lines. Yet the images of the individual dancers—members of Israel's Batsheva Dance Company—are the ones that remain after the show at the Brooklyn Academy of Music is over.
The dancers' movements are transfixing: One dancer's body shakes so rapidly that it seems closer to a jagged vibration on a video screen, a trick of technology rather than a live human; another thrums her legs against the floor as she lies on the stage. A virile dancer in black delivers a stream of high-pitched gibberish, and a female dancer shows off her muscles—a masculine gesture—until a male dancer pulls her pants off.
The dancers' wondrous elasticity combined with unexpected, sometimes comic motifs is Batsheva's hallmark, honed by Ohad Naharin, 62. The acclaimed choreographer has been the artistic director for half of the 50-year-old company's existence and has infused the work of the Tel Aviv-based contemporary dance company with an aesthetic that feels intimate and provocative, ancient and avant-garde. He has choreographed over 20 works for Batsheva and its junior division, Batsheva Ensemble, which feeds into the company. His dances are performed worldwide.
What we do is such an ephemeral art, a disappearing act, yet it has continued for so long," says Naharin in an interview at the New York Marriott at the Brooklyn Bridge. "The idea of changing, learning something new and giving up old ideas for better, new ones, is important to achieve longevity. Change brings progress."
Founded in 1964 by the Baroness Batsheva de Rothschild and Martha Graham, the first artistic adviser, Batsheva is Israel's largest dance company and has built its international reputation under Naharin. According to the BAM website, Naharin is "one of the most original choreographic minds of our time—a modern guru." A film by Tomer Heymann, currently in production, is titled Mr. Gaga, a reference to Naharin's pioneering innovative movement language that explores self-awareness to free the body. The primary training method for Batsheva dancers, Gaga is taught worldwide; its many practitioners include actor Natalie Portman, who trained with Naharin for her role in Black Swan, for which she won an Oscar.
The art of composition allows Naharin to immerse himself in a playful fusion of content and form—including elements of structure, timing, volume, texture, music and space. "I like to put form and content in a blender so you don't know where I begin and end," Naharin says.
But ask Naharin what his dances are about and he balks. "If you can describe a dance, it's a bad dance," he says. "It's like gossiping about it. You can describe how you feel about it." He suggests audiences "be open and available" and let go of preconceptions.
"Sadeh21 bypasses conscious understanding," writes reviewer Jana Perkovic in The Guardian, an Australian newspaper. "Throughout the performance, I found myself deeply affected, yet unable to describe my reactions, even to myself."
Naharin points to the nearby bridge to elaborate the idea of narrative in his work. "Look at the bridge. It has many stories: when it was built; the material and length; the dirt between the bricks; who fell off it. Dance has its own story, too, but it's not like the narrative in a book."
Dances like hora or mabul (flood) may suggest Jewish or Israeli themes, but Naharin says his compositions are more personal and universal. They are built of varied elements—a song learned from his grandmother or a text he encountered growing up. "The elements are the bricks—but not the building," he says. "The art of composition is how you put it all together."
Tall and with a fashionably grizzled beard, Naharin is dressed casually in a gray sweatshirt over a black T-shirt and jeans. He is gentle and understated, charismatic, reflective, playful and a bit mysterious. "I'm available for things to happen—to feel things, sense things, learn things, change my mind, convince the other, to snap," he says.
As he loosens up, his sense of mischief emerges. His heroes, he says, include Popeye (the first cartoon he ever saw) and Tarzan; his father and mother, grandparents and elementary school teachers. Upon being asked, he adds Graham. A smile crinkles his face. "I'm starting a shopping list. It's really long and I'm half joking—but only half. Maybe they are not heroes but people who touched my life."
Humor, says Naharin, is his way of living with himself and facing life's challenges. He points out a scene in his dance Anaphaza (named for anaphase, a stage of mitosis) in which he appears onstage in a long red dress and black top hat, singing and playing an electric guitar. "It's the only piece in which I have a role. It's about the ability to laugh at myself; it's about exaggeration and creating tension between different elements on stage. The red dress creates tension. And I look really good in it."
Why he choreographs is also how he choreographs. "The dance…expresses my sensuality, anxiety; it sublimates my demons," he says. "The fuel that creates my work is the connection between my passion, skill and imagination." He repeats that sentiment when describing his dancers. "I fall in love with them. There is no typical dancer but they share a good combination of passion, imagination and skills. The work is about their interpretation."
The ensemble and company currently feature 34 dancers ages 18 to 34. Over the years, it has welcomed dancers from over 25 countries and nationalities. "The specific moves or steps aren't as meaningful as the overall aesthetic or approach," says dancer Bret Easterling, 26, originally from Palo Alto, California. "We generate the movement but Ohad can keep cutting until he finds what he's looking for." The company dancers from the 2010 to 2011 season were Naharin's full partners in creating Sadeh21.
Easterling first saw Batsheva at BAM in 2007, when he was a student at the Juilliard School in New York. "I was blown away," he says. "I loved the idea that everyone was celebrated for their individuality. They were tapped into something I hadn't learned yet at school."
The challenges and rewards of being a Batsheva dancer are one and the same, says Easterling: "We are allowed so much freedom and trust. It's really a gift. But because there is so much freedom, you have to discipline yourself to stay curious and keep investigating, learning and growing."
Gaga provides the tools for the dancers to explore the intersection of freedom and control. Naharin developed it after a back injury; he later named it Gaga to mimic the quality, sound and look of childish gibberish. He calls it both a philosophy and a workout, adding that it is the "art of listening to your body before you tell it what to do." It teaches yielding and collapse, alertness and a delicacy that enables dancers to be quick and explosive, with an animalistic efficiency of movement. The result is an astonishing athleticism that is also emotionally resonant.
"Gaga is about the discovery of what we don't know," he explains. "We help ourselves be in touch with our places of atrophy and our movement habits so we can go beyond the familiar on a daily basis."
In an online preview of Mr. Gaga, Naharin encourages his dancers: "Guys, this is a moment when you need to translate how excited you make yourself, how available, how fragile you make yourself. Yeah? It's about doing very little and feeling so much."
Gaga's most revolutionary aspect is that dancers work without a mirror. "Anything practiced in a room with a mirror is wrong," Naharin states bluntly. "You shouldn't connect to your reflection but to the universe."
"The idea is not what you look like but how you are feeling and how that materializes into physical movement from the inside out," says Easterling, who has the fast shaky solo in Sadeh21.
"Ohad treats us as human beings—not just as dancers," says Israeli-born Maayan Sheinfeld, 22. "He has a rich knowledge and is very generous. He says the right word and pushes the right buttons for each and every one of us that opens up many things. My body can go to many places beyond the boundaries I thought I had."
Trained in classical ballet, Sheinfeld auditioned at Israel's major dance companies and turned down other offers to join Batsheva. "Batsheva's work blew my mind," she says. "It felt so different and right and interesting—and I was drawn to it. It's an international company but we also represent Israel."
About one-third of Batsheva's budget comes from government funding. That does not stop Naharin from speaking out about Israeli politics, especially in the context of letting go of old ideas—the core of his work. "That's what's missing in the politics of Israel," he says, "but it exists in our company. We represent a part of Israel that is diminishing; where religion, nationality and ethnicity play a very small role." He views Batsheva as an oasis of what society should be, united by "love, passion, respect, skills, the power of the imagination, collective wisdom and creativity."
Anti-zionists do not perceive the distinctions. Protests have disrupted performances both inside and outside theaters as far from Israel as New Zealand—and the company even rehearses its response to potential problems. "The anger feels so misplaced," says Easterling, who is not Jewish. "If anything, we can really help bring people together. Our ability to share our work is completely separate from any political agenda."
Naharin remains optimistic about Israel's existence. "I'm part of a growing number who will hopefully bring change. I'm very sentimental," he adds. "I remember running around the kibbutz [Mizra, in northern Israel] where I was born…." He stops mid-sentence, but with encouragement, allows the olifactory memory of freshly mown grass to emerge. "It's illogical. I can easily leave. But I love Batsheva and what we've done in 25 years. I'm not ready to give that up. It's important for everyone—and me—to remember where we come from."
Naharin's grandparents were from Russia and Poland. His grandfather Hebraicized his name—Rheinvine (river of wine, nahar yayin) with the help of his friend, poet Shaul Tchernichovsky.
Naharin did not train as a dancer as a child, immersed instead in music, painting and writing. But his mother, Tzofia, a dancer and choreographer, and his father, Eliav, a Habima actor who later became a psychologist, recognized his talent. Just before his release from military service, his mother arranged for him to take a class at Batsheva, even packing his bags for him. He choreographed a two-minute solo for Graham based on the Jacob and Esau story, and was accepted.
During his first year with Batsheva, Graham invited Naharin to join her own company in New York. He studied at the School of American Ballet, furthered his training at Juilliard, polished his technique with master teachers Maggie Black and David Howard and went on to perform with Israel's now defunct Bat-Dor Dance Company and Maurice Béjart's Ballet du XXe Siècle in Brussels. Naharin has received the prestigious Israel Prize for dance; a Jewish Cultural Achievement Award from the Foundation for Jewish Culture; and an honorary doctorate from Julliard, among numerous other honors.
Naharin uses his musical training in his choreography. The soundtrack for his pieces range from a woman screaming (in Sadeh21) to rock music created in collaboration with other musicians. He wrote the score for Max, Sadeh21 and other pieces under the pseudonym Maxim Waratt, about whom he spins tall tales.
Naharin was married to the dancer Mari Kajiwara, who died of cancer in 2001; he is now married to Eri Nakamura, a Batsheva dancer. Naharin lights up when he talks about his daughter, Noga, 5, who travels the globe with her parents: "She is unbelievably gifted, a motoric genius," he says. Naharin's sister, Vered Naharin-Snir, is a psychologist; his brother, Yossi, is a physical therapist and manager of an organization dedicated to teaching Gaga.
Batsheva has embarked on a five-year, $30-million plan to build its own performing arts center, following a gift of the old main bus terminal by the Tel Aviv municipality. Naharin hopes to "change the face of Tel Aviv," he says, by revitalizing the impoverished area of south Tel Aviv.
The 50th anniversary year continues with the premiere in May of a new work (as yet untitled) at the company's current home, Tel Aviv's Suzanne Dellal Centre for Dance and Theater. An archive project that collects and preserves historical materials are housed at the Dance Library of the Beit Ariela Municipal Library in Tel Aviv, and have been digitized online.
Naharin distinguishes dancing from performance. "Everyone should dance," he says. "Dance can help us deal with the weight and difficulty of life. It doesn't solve problems but it makes them seem lighter—and that's halfway to solving them."