For One Convert, the Bumps in the Road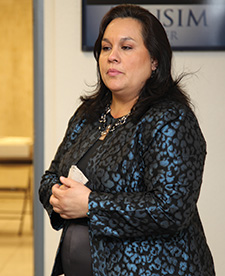 Alia D. Garcia-Ureste, 42, of El Paso, Texas, daughter of a Lebanese Muslim father and a Native American mother, was once a practicing Christian. Today, she is Jewish. "It was like a treasure hunt," she says. "A lot of drama, a lot of tears, a lot of joy. In 2011, I had a technical conversion, we call it a return.
"[That year], my father's brother came to Texas to visit"—her father died a year after she was born—"he had his DNA tested and he had the Jewish haplotype G. [Then] Bennett Greenspan [of Family Tree DNA] guided me to ask my mother very strategic questions: how she celebrated December. She said 'We never put up a Christmas tree. We put up candles…and watched them in the window. We made bumuelos, fried them, with sugar and cinnamon.'" Garcia-Ureste's mother also remembered the custom of planting a tree in the spring, covering mirrors when in mourning and referring to the lunar calendar for planting and harvesting.
Both Garcia-Ureste's parents' families received land grants in Texas, her father's during the Spanish Colonial period, when many arrivals were crypto-Jews. Her mother's crypto-Jewish family intermarried with Native Americans. She moved her blended family of 10 children to El Paso to be part of B'nai Zion congregation, where her children will get a Jewish education. Recently, she became the first "madam" state commissioner for the Texas Holocaust and Genocide Committee. In that capacity, she recognizes her life has come full circle: "Spanish Jews escaped to other countries in Europe and were then killed in the Holocaust." She is also concerned about the Islamic State, which, she says, is on the Mexico-United States border. She sees fighting terrorism as part of "the Jewish struggle…for the right to exist."
Her given name, Alia, is after an aunt with the same name, another clue to a Jewish past. "It means going up to Israel," she says, something "I hope to do someday."