Say 'I Do'—Then Visit Israel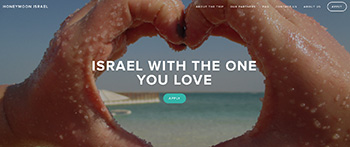 Avi Rubel and Mike Wise hope to change the future of the Jewish community by sending you on a heavily subsidized honeymoon. They are the co-CEOs of Honeymoon Israel, a program for newlyweds and committed partners, ages 25 to 40, starting their lives together. The idea came about in response to the 2013 Pew survey on American Jewry.
"The Jewish community has a lot of investment in high school and college students, and established families with kids," said Rubel, former North American director at Masa Israel Journey. "This area, there aren't really a lot of options for them to explore. We want to welcome these young couples to the Jewish community…so that when they get back from the trip they feel like [it] is home for them."
The trip is open to inmarried, interfaith, straight and LGBT couples.
The nine-day trips will bring together 20 couples from the same Jewish community, starting with Los Angeles and Phoenix in May 2015. Future trips include couples from Denver, New York, Miami, Atlanta and more. The trip is $750 per person, including travel and ground costs, visits to Jerusalem, Masada, the Dead Sea, Tel Aviv and customizable activities whether you're interested in art, food or business.