Good as Gold: Barbara Wolff's Illuminated Manuscripts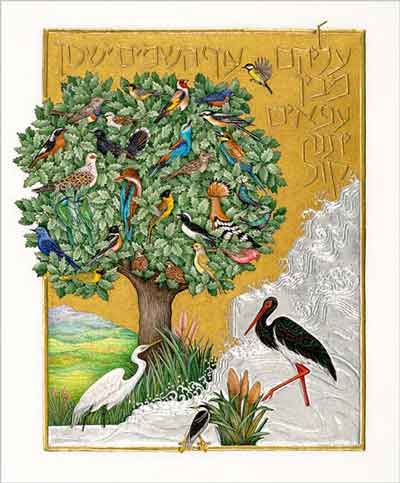 Barbara Wolff belies the belief that using metal leaf to illuminate religious texts is a practice that ended centuries ago. The New York-based artist employs rich gold, silver and platinum foils on vellum with imagery from nature, archeology and religious custom to do just that.
Two of her sumptuous, detailed works—a haggada and an illuminated Psalm 104, donated by Joanna S. Rose—are on display in the exhibit  "Hebrew Illumination for Our Time" at the Morgan Library and Museum in New York through May 3.
Wolff's work is both inventive and beautiful. For example, in the psalm's first verse, the signs of the Zodiac look like symbols of the 12 Tribe hovering over the Hebrew letters. And, uninspired by traditional woodcuts of the Four Sons in many haggadot, she renders the sons as equals, their names encased in gold.
"Barbara has the ability to work with glue, pigments and foils in a manner I've never seen anybody in the modern age command," said Roger Wieck, head curator at the Morgan.
Wolff, who has also exhibited at the Jewish Theological Seminary, Yeshiva University Museum and the Museum of Biblical Art, began illuminating in the late-1990s—when computer-based art was on the rise. A former natural science illustrator, she preferred, she says, "using my hands."