Film Reviews: Justice, and Injustice, on Screen
Woman in Gold
The film's Jewish title character was Vienna's high society beauty Adele Bloch-Bauer, whose gold-flecked portrait was painted by Gustav Klimt in 1907 and looted by the Nazis in 1938. After World War II, Bloch-Bauer's niece, Maria Altmann, waged an eight-year legal battle to retrieve "Austria's Mona Lisa" from Vienna's Belvedere Palace, and subsequently sold it for $135 million. The movie stars Helen Mirren and Ryan Reynolds and sticks closely to the facts in portraying the luxurious and art-filled life of the Jewish upper crust in Vienna between the world wars and its degradation by swastika-waving Austrians. The Weinstein Company. —Tom Tugend
Felix and Meira
The theme in this slow-paced film directed by Maxim Giroux has been explored before (unhappy ultra-Orthodox wife tries to escape her constricted life), yet the main characters are compelling and mysterious. When Hasidic Meira discovers a shared love of art and music with the secular Felix in her Montreal neighborhood, she's drawn to him, slipping from modest clothes into jeans and from Yiddish into French. Yet, their forbidden relationship seems as inhibited as the one she has with her husband. Metafilms. —Sara Trappler Spielman
Deli Man
In Erik Greenberg Anjou's documentary, Ziggy Gruber, a third-generation delicatessen owner, gives a tour—and history lesson—of North America's iconic delis in New York, New Jersey, California and Canada. Also on the menu is Jewish deli wit and recollections from Jerry Stiller, Michael Wex and Yiddish acting star Fyvush Finkel. Cohen Media Group. —Penny Schwartz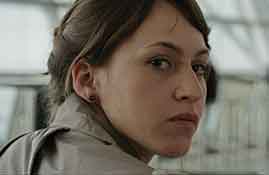 Aya
Through a mixup, a Danish music scholar (played by Ulrich Thomsen) arriving at Ben-Gurion Airport believes Aya (above, played by Sarah Adler) to be his assigned driver. She plays along, and on the ride to the Jerusalem hotel both search for a tentative relationship. The 40-minute short, nominated for an Oscar, is reminiscent of  Nöel Coward's "Brief Encounter." Cassis Films. —T.T.
Natan
The French film industry was rescued from obscurity by Bernard Natan, a Romanian Jew who moved to Paris in 1904, founded his own film studio in 1913 and bought Pathé in 1929, renaming it Pathé-Natan. When Pathé-Natan foundered in the 1930s, Nazi sympathizers launched a smear campaign: Natan was tried for fraud, rounded up during the Vel d'Hiv and sent to Auschwitz, where he died. This documentary by David Cairns and Paul Duane is a fascinating attempt at redeeming his name. Reel Art. —Judith Gelman Myers
DVDs
Exodus: Gods & Kings 
Ridley Scott tries to reinterpret the Bible for contemporary times but his midrash strays so far from the text that it is difficult to take seriously. A top-billed cast (Christian Bale is Moses) flounders amid disappointing scenes (the Red Sea drains slowly instead of splitting dramatically); comic anachronisms (Moses marries Tzipporah under a huppa, above, yet later tells her that their son can decide on his religion when he's older); Holocaust overtones (a quarry resembles a concentration camp); and hard-to-believe theological twists (the 10 plagues as a competitive warfare tactic composed by a petulant child-God). See it just to remember what the original story is all about. —Rahel Musleah
Waiting
When Michal Kesten-Keidar's husband signed on for permanent service in the Israeli army, they were given an apartment in Modiin—a place where identical housing units are populated by military wives who see their husbands every other weekend and children are plagued with sleep disorders. Kesten-Keidar believed there was something wrong with this picture, and she began filming the lives of three military families to prove it. Israeli Films. —J.G.M.