A Mentch in Rome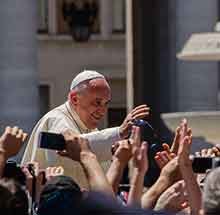 If you took a poll today asking American Jews to name their favorite religious leader, the answer might well be Pope Francis.
It is remarkable, really, given the centuries of animosity between the Catholic Church and the Jewish people—not to mention the still-unresolved questions of the Vatican's actions during the Holocaust. But in just two short years, Pope Francis has emerged as the most unlikely of figures: a pope who has charmed the world…by acting like Jesus.
Literally embracing the lepers and the sick, railing against economic injustice and famously proclaiming, "Who am I to judge?" when asked about gays and lesbians, Pope Francis is more than a progressive reformer; he is emerging as a transformational figure whose sense of justice is matched by a sincere spirituality. I am sure many of us wish our rabbis were more like him.
Which is telling. In fact, the popularity of Pope Francis raises profound challenges to the role of the rabbi in American Jewish life.
As a human being, Pope Francis is a mentch. This is something to which every rabbi, and every Jew, should aspire. His personal humility and his concern for those who are suffering are middot—attributes of the soul—valued by Jews and Christians alike.
And as a religious leader, Pope Francis is a courageous progressive in a vast organization that for dec-ades has been controlled by archconservatives. He has made economic inequality and climate change top priorities. And he has already influenced policy; it is unlikely that the Obama administration's warming of relations with Cuba would have taken place without the pope's personal involvement.
Here, too, rabbis could take a lesson. Agree or disagree, we respect religious leaders who follow the edict in Deuter-onomy 16:20 of "justice, justice, shall you pursue."
But if we look a little closer, Pope Francis's popularity is as much challenge as inspiration.
Francis's predecessor, pope Benedict XVI, was a classically rabbinic type of pope. Well before his accession, then-Cardinal Ratzinger was a meticulous theologian and stringent legal thinker. He was a posek, a legal decisor. As pope, he was visibly uncomfortable in his pastoral role, preferring Latin books of theology to the crowd-pleasing events he was obligated to attend.  And while still a cardinal, he tolerated widespread corruption, systemic abuse of children and abuses of power of all sorts, all for the sake of the stability of the church as institution. In all these ways, it's easy to see analogies to many of our community's religious leaders, particularly in more traditional sectors.
Contrary to popular perception, Pope Francis has not (yet) changed the conservative doctrines that Pope Benedict helped to put in place. Don't expect the Catholic Church to celebrate same-sex weddings or ordain women as priests—not in this papacy, anyway. In fact, Pope Francis has affirmed many of the socially conservative positions of the church, even as he has taken progressive political stands and challenged corruption.
So, it's not as if Pope Benedict is an Orthodox rabbi and Pope Francis a Reform one. Both are, in fact, committed traditionalists. The differences are stylistic, not substantive.
But style counts, and here's the rub: Most of today's rabbis are still trained to be Benedict, not Francis. In Conservative, Orthodox and even some Reform contexts, they are taught the minutiae of Jewish law and the intricacies of Talmudic reasoning. And then they're set loose in a field where, often, none of those skills matter.
Let me not exaggerate. All nonharedi seminaries in America teach counseling, public speaking and personal character. Some even include meditation and spirituality. Rabbinic as-sociations do their best to support their members in these skills.
But, in general, the model of the rabbi-as-legal-decisor still holds sway, particularly in Orthodox and Conservative contexts. We don't train rabbis to be Francis-like charismatic leaders, washing the feet of lepers; we train them to be Benedict-like experts in Jewish law or, worse, quasi-priests who know how to do all that Jewish stuff so we don't have to. Some of this is intrinsic to the Jewish conception of the rabbi and some is an accident of history. But the net result is an outdated rabbinic model that does not meet the yearnings of most actual Jews in actual congregations.
If American denominations were serious about learning from Pope Francis, they would need a different model of rabbinic leadership: one that centers on spiritual growth, charismatic leadership, commitment to justice and personal spiritual commitment. Our rabbis must be both learned teachers and spiritual friends, as Pirkei Avot 1:6 suggests.
And this model would need to be upheld not just by seminaries but, more important, by congregants in synagogues. You can't yearn for Pope Francis but subject the rabbi to endless ritual committee debates and competing demands of donors.
American Jews have been inspired by Pope Francis's profound spirituality. But will we be inspired enough, I wonder, to value it among our own spiritual leaders?
Rabbi Jay Michaelson, Ph.D., will be publishing his sixth book, The Gate of Tears (Ben Yehuda Press), in October.