Israel's Latest Population Figures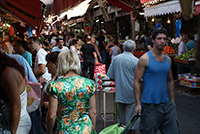 Israel's Central Bureau of Statistics (www.cbs.gov.il) has released population data for 2014 as well as shared information on immigration to the Jewish state. Some of the bureau's findings include:
The total population of Israel is 8,296,000; this is an increase of 162,000 from 2013, which is a two-percent increase.
Ten years ago, Israel's total population was estimated at 6.86 million.
Of the population, 6,218,000 are Jews (75 percent of population), 1,719,000 are Arabs (21 percent) and 359,000 are classified as "other."
In 2014, 23,000 new immigrants arrived in Israel.