Newark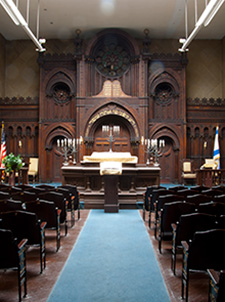 The nation's third-oldest city has a rich Jewish past—and a bustling downtown whose cultural offerings and revitalization Jews are championing. Visitors will find a world-class museum built by a Jewish philanthropist, a thriving performing arts center supported by Jews and a spanking new downtown park and "town square" reinvented by Jewish experts in urban renewal.
While the number of Jews living in Newark, New Jersey, is thought to be somewhere in the low hundreds, former Newarkers (and their descendants) return often, for exhibits at the museum, concerts at the New Jersey Performing Arts Center or Shabbat services at the city's only active synagogue. Jewish visitors without ties to Newark will find much to savor here as well.
History
Newark was founded in 1666 by Puritans from Connecticut, led by Robert Treat—a name still seen around town. Although there were Jews living in New York at the time, no evidence of Jewish life in the newly established colony has been found.
The city incorporated in 1836. A German immigrant named Louis Trier, who arrived in 1844, is its first documented Jewish resident. Abraham, the first of Louis's six children, was born the following year—the first recorded Jewish birth in Newark history. Several years later, a small group of immigrants founded B'nai Jeshurun, Newark's first Jewish congregation.
These early immigrants came primarily from Germany and Bohemia. Most arrived with few resources, often working as peddlers until they amassed enough money to open a butcher shop, grocery or other small store. The proprietors were mainly, but not exclusively, male. An 1853-54 directory listed Hester Goldstein, dressmaker—said to be the first Jewish woman to own a business in Newark and possibly the city's first female entrepreneur.
By 1855, when Newark's Jewish population had grown to roughly 200 families, tanneries, cigar and trunk factories and dry goods stores owned by Jews dotted the main streets. Benjamin Altman, who went on to establish the eponymous New York department store, got his start as a clerk in a Newark clothing store.
Jewish population growth accelerated in the 1880s as East Europeans began fleeing from pogroms. Between 1880 and 1924, some two million Jews arrived in America. Most settled in major cities, including Newark—which rapidly went from farm and field to an industrialized urban center. Like other fast-growing cities, Newark had a Jewish "ghetto," located in and around Prince Street in the Third Ward.
In 1892, Louis Bamberger—a German Jew born in Baltimore—bought a general store. Soon after, he was successful enough to erect the flagship department store that bore his name until 1986.
As Jews became more affluent, they moved to less industrialized neighborhoods. Most sought after was the Weequahic section, the only one in the city with a Native American name. Weequahic Park was a popular spot for harness racing, golf, boating, picnics and concerts.
In 1933, Meyer Ellenstein, Newark's only Jewish mayor, was elected. That same year, Weequahic High School, a new school with an Art Deco design, opened its doors. By then, Newark's population had peaked at around 445,000, including at least 70,000 Jews. (The current population is closer to 280,000.)
In the years after World War II, another population shift began, as African-Americans began moving into old Jewish neighborhoods and Jews headed to nearby suburbs. By the time of the race riots in 1967, few Jews remained, and almost all of those who did rapidly fled.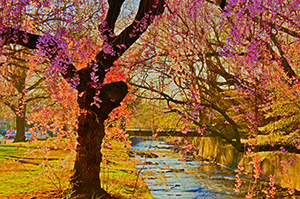 Community
Despite the dearth of Jewish residents, evidence of Jewish life in Newark can still be found. A Chabad Torah Center, located in the Robert Treat Hotel, provides a daily prayer service for observant Jews who work downtown. A small enclave of Russian Jews belongs to Mount Sinai (973-372-3551), an Orthodox congregation that has been meeting in a basement in the Ivy Hill apartments for 50 years. A yeshiva housed in a towering downtown office building still advertises both Torah and secular studies and the opportunity to work toward a college degree. And the Northern New Jersey region of Hadassah (www.hadassah.org/northernnewjersey) has a Maplewood-Newark chapter.
Newark's Forest Hill section, just east of Branch Brook Park—described by city historian Charles Cummings as "an architectural and residential jewel"—has a small number of Jewish residents. Each April, the park has a cherry blossom festival, which also has Jewish roots. In 1927, Caroline Bamberger Fuld (Louis Bamberger's sister) donated 2,000 Japanese cherry trees to the park. Today, there are more than 4,000.
Newark is also home to Congregation Ahavas Sholom, the city's last remaining—and continuously operating—synagogue. The shul has a small core membership and several hundred people who attend High Holy Day services or are otherwise involved.
What Ahavas Sholom lacks in numbers it makes up in diversity. Among those who worship there are Jamaican Jews, Brazilian Jews, Iraqi Jews and Jews from the Sudan. The congregation partners with The Trust for Public Land to transform barren asphalt city schoolyards into environmentally safe and child-friendly playgrounds.
Sights
Newark Museum (48 Washington Street; 973-596-6550; www.newarkmuseum.org) is an ideal place to start a tour of downtown Newark. Noted for its world-class collections of Asian, African and American art and antiquities housed in 80 galleries, the museum also boasts a planetarium, sculpture garden and fire museum and an authentic 18th-century schoolhouse.
It is also home to the Ballantine House, a restored Victorian mansion; a Tibetan Buddhist altar consecrated in 1990 by the Dalai Lama; and a science hall featuring the interactive exhibit "Dynamic Earth."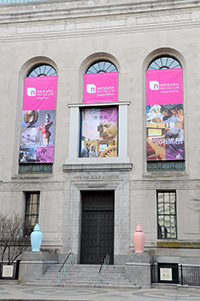 The museum was founded in 1909. Until 1926, when it moved into a stately brass-doored limestone building funded by Louis Bamberger, the museum occupied the top floor of the Newark Public Library. Newark Museum has since undergone a major renovation and expansion, completed in 1989 by architect Michael Graves. And, although Jewish-themed programs are presented only on occasion, the museum still has steadfast Jewish supporters serving as trustees and consultants as well as patrons.
The main branch of the Newark Public Library (973-733-7784; www.npl.org), another historic landmark, is just down the street at 5 Washington Street. A four-story Italian Renaissance building designed as a 15th-century Florentine palazzo, prominent features include an atrium and decorative glass panels, interior arches, oak paneling and ornamental plasterwork. Although the 1901 structure has been renovated to accommodate a modern library collection, its striking elegance remains.
A highlight of the second-floor gallery is a mythological-themed triptych of Apollo and the Fountain of Knowledge. Commissioned in 1927, the mural was covered with wood panels from about the 1950s until its "rediscovery" in the late 1980s.
Like the museum, the library counts many Jewish supporters. Among those honored for their support a few years ago were Warren Grover, author of a book about the Nazi presence in Newark, and his wife, Andrea. The couple met at the library.
East of the library and across Broad Street is Military Park (973-733-6454; www.militarypark.com), a six-acre triangle that has recently undergone a major upgrade. The aim, says Ben Donsky, the Jewish project leader working under the auspices of the Jewish-led firm, Biederman Redevelopment Ventures, is to turn the park into Newark's town square.
"Urban parks are there for people to use," says Donsky, "and we need to give people reasons to use them." With that in mind, the park's trees, all newly planted, were moved closer to the street to make more room for people, better lighting was added and a gourmet burger café and bar are on tap.
Visitors will find Ping-Pong, checkers, chess and other games; movable "imagination playground" equipment for kids; a rack of reading material; and tai chi, yoga, line dancing and more.
Military Park also has some sculptures you won't want to miss. Sitting high atop a pedestal at the park's south end is a bust of President John F. Kennedy by Jewish sculptor Jacques Lipchitz. Further north is a majestic fountain with the inscription "My cup runneth over" and the name of its Jewish donor, Moses Plaut. Plaut was the owner, with his brothers, of The Bee Hive, Newark's first department store.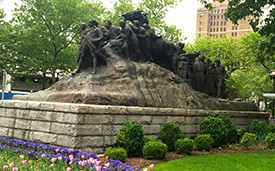 The centerpiece of Military Park—so named because it started out as a training ground for soldiers—is a colossal bronze statue by Gutzon Borglum of Mount Rushmore fame. Wars of America, which incorporates 42 people (including the sculptor himself and his wife and son) and two horses, commemorates America's participation in the Revolutionary War, War of 1812, Indian Wars, Mexican War, Civil War, Spanish-American War and World War I.
Around the corner at 1 Center Street is the New Jersey Performing Arts Center (800-GO-NJPAC; www.njpac.org), designed with brick, exposed steel and glass to reflect Newark's industrial history. "A [classical] monument to culture would not have been the right thing," says Larry Goldman, a Jewish expert in urban renewal and former vice president of Carnegie Hall who convinced donors—many of them Jewish—of the value of putting a world-class performing arts center in the city and remained at the helm until 2011. NJPAC, which opened in 1997, had to be not only "in Newark, but of Newark," says Goldman, now a consultant for One Theater Square, a planned residential and retail high-rise to be built across the street.
On Thursday evenings in the summer, NJPAC hosts Sounds of the City, a free concert series on its expansive brick plaza. Visitors will also find a wide array of performances, from opera, jazz, pop, rock and classical music to dance, theater and a poetry festival.
At 9:30 A.M. on Saturdays, visitors can attend Shabbat services at Ahavas Sholom (145 Broadway; 973-485-2609; www.ahavassholom.org). The gated historic building, which is unlocked just before services start, is on both the state and national registers of historic places. But its most notable feature is inside the sanctuary—the majestic 19th- century Ark, one of the oldest in the country.
While the building itself dates from the early 1920s, the intricately carved Ark originally stood in the sanctuary of a synagogue on New York's Lexington Avenue. After that building was razed, the Ark was donated, then transported in pieces to Ahavas Sholom. Antique dealer and furniture maker Leopold Jacobson, one of the shul's founders, trimmed and installed the masterpiece.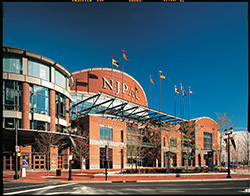 The synagogue's upper floor—originally where women worshiped before Ahavas Sholom transitioned in the 1990s from Orthodox to Conservative practice—houses the Jewish Museum of New Jersey (www.jewishmuseumnj.org).
While the space is not expansive, the museum presents rotating and traveling exhibitions and programs, typically featuring themes or work relating to the state's 400-plus years of Jewish history. While visitors who attend services may have an opportunity to view the latest display, call ahead to check out the program schedule and opening times.
In the early 1990s, the Greater Newark Conservancy stopped the demolition of the Prince Street Synagogue when they purchased the Moorish Revival house of worship in the heart of the old Jewish neighborhood at 32 Prince Street and began restoration plans. Oheb Shalom had erected the building in 1884; in 1911, the building was sold to another Jewish congregation before operating as a Baptist church from 1939 to 1993. The conservancy is renovating the space to be a multipurpose educational facility and community gathering place.
Day Trip
Liberty State Park (www.libertystatepark.org) in Jersey City—15 miles from downtown Newark—is an ideal day trip. It's a short ferry ride from the park to Ellis Island and the Statue of Liberty (www.statueoflibertytickets.com). But before boarding, follow signs for Liberation Monument.
Created by Polish sculptor Nathan Rapoport, who lost his family in the Holocaust and is best known for his commemorative Warsaw Ghetto memorial, Liberation depicts an American soldier carrying an emaciated concentration camp survivor to freedom. The 15-foot bronze was dedicated in 1985.
Ellis Island has been transformed into a multimedia museum featuring artifacts, images and a cacophonous sound installation meant to mimic the jarring foreign tongues that greeted the 12 million immigrants who arrived here between 1892 and 1954—including nearly 3 million East European Jews.
If there's time, catch the next ferry to Liberty Island for a look at the classic symbol of American freedom. Advance reservations are a must for those who wish to climb to the pedestal or crown.
Personalities
Author Philip Roth, who has written extensively about Weequahic and woven the names of city streets into his novels, is Newark's best-known native son. To commemorate Roth's 80th birthday in 2013, the Newark Preservation and Landmarks Committee led a tour of Roth's Newark. Among the stops: Weequahic High School, from which he graduated, and Roth's childhood home—81 Summit Avenue—just a block from the school. A plaque adorns the building and a street sign on the corner of Keer and Summit Avenues designates it Philip Roth Plaza.
Other notable Jews with a Newark connection include Supreme Court Justice Ruth Bader Ginsberg, who taught at Rutgers Law School in Newark, and Paula Ben-Gurion, wife of Israel's first prime minister, who studied nursing at Newark's Beth Israel Hospital. (Beth Israel was the first Jewish hospital in the state, opening in 1901 with financial support from Felix Fuld, Louis Bamberger's partner and brother-in-law, and Bamberger himself.)
Beat poet Allen Ginsberg; composer Jerome Kern; comedian Jerry Lewis; and Dore (Isadore) Schary, film director and author of Sunrise at Campobello, were born in Newark.
Books and Film
In I Married a Communist (Vintage), Roth recalls the seated Abraham Lincoln—another Gutzon Borglum creation—in front of the historic Essex County Courthouse. The Plot Against America (Vintage) describes the leisure activities enjoyed by Weequahic's Jews in the 311-acre park of the same name. And a character in Portnoy's Complaint (Vintage) hails the high school's perennially losing football team with a rousing cheer that reads, in part: "We play football, we play soccer—and we keep matzohs in our locker!"
The Jews of Weequahic (Arcadia) by Linda Forgosh and Nazis in Newark (Transaction Publishers) by Warren Grover are both available at the Jewish Historical Society of New Jersey (973-929-2994; www.jhs-nj.org) and from major online retailers.
Joachim Prinz: I Shall Not Be Silent (www.prinzdocumentary.org) is a new documentary highlighting the prominent Newark rabbi's passionate commitment to civil rights. A one-time president of the American Jewish Congress, Prinz addressed the crowd at the 1963 March on Washington just before Martin Luther King Jr. gave his "I have a dream" speech.
Recommendations
The landmark Robert Treat Hotel (www.rthotel.com) is located at 50 Park Place, directly across the street from Military Park and within walking distance to Ahavas Sholom. Albert Einstein and Presidents Woodrow Wilson and Kennedy are among the dignitaries who once stayed here.
During the week, kosher Middle Eastern food is available at The Green Chicpea (59 Halsey Street; www.the greenchicpea.com), a short walk from the hotel. Nearby, at 392 Broad Street, is the Question Mart (973-350-0030), a vegetarian grocery store.
For more about Newark's sights and sounds, check out www.visitnj.org/newark. In addition to learning about scheduled events, you will discover—as this native Newarker did—that the first public use of the electric light, invented by Thomas Edison (who worked out of a study in the city in the 1870s), was at Newark's Military Park.
Helen Lippman is a freelance writer based in Montclair, New Jersey. She was born and raised in Newark.