Tile Tips from Mavens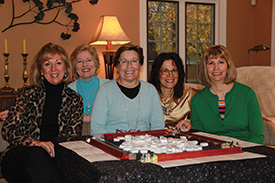 Though many associate Mah Jongg with Jewish grandmothers playing at upstate New York bungalow colonies, the tile-based game with roots in China is enjoying a resurgence, and five women from Philadelphia want to help you get your game on.
"Mah Jongg is a game that keeps your mind active," explains Leah Feigenbaum, a full-time Mah Jongg teacher and one of the founders of Mah Jongg Mentor (mahjonggmentor.com). "It's strategic, with some luck involved, but not over people's heads. And you don't need a partner to play." Feigenbaum, a lifetime member of Hadassah, adds that the social aspect of the four-player game is "big," and she should know: She has been playing for 45 years.
For an annual membership fee, users have access to a trove of more than 50 teaching videos from beginner lessons to advanced strategy tips as well as an online community of fellow Mah Jongg enthusiasts.
As the site's name attests, members may also interact with experienced Mah Jongg mentors, like Feigenbaum herself, who will answer questions and help improve their game. The site was founded by Feigenbaum along with mavens Sue Pritchard, Faye Somers, Arlene Marron and Marcy Abloeser.