'Coffee With a Mission'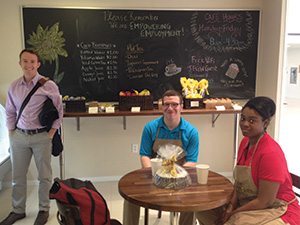 Café Sunflower & Bakery officially opened on April 19. The café, serving coffee, cold drinks and baked goods, is located in the lobby of The Jewish Federation of Greater Washington in North Bethesda, Maryland.
What makes the café unique is the staff, nine young adults with cognitive disabilities. They are being trained to learn how to make coffee and espresso, wait tables, figure out the bill and answer customers' questions.
The café operates under Sunflower Bakery (www.sunflowerbakery.org), a kosher nonprofit increasing job opportunities for young adults with cognitive disabilities, in collaboration with the federation, United Jewish Endowment Fund and Jewish Foundation for Group Homes. "It's the first time the Jewish federation has been actively involved in a job skills program," said Steve Rakitt, federation CEO. "I call it a cup of coffee with a mission."