Conserve, Protect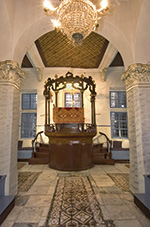 Of the 34 synagogues that existed a century ago in Izmir—on Turkey's Aegean coast—only 13 remain. The nine that are located in the Kemeralti bazaar in the city center, and which are still in use, were listed by the World Monu­ments Fund in 2004.
Four of those synagogues have been lovingly restored by the small community of 1,700, revealing unique architecture, especially the triple Ark and central bima surrounded by four columns. But several—including the Portugali Synagogue, the base of the false messiah Shabbetai Zevi—languish in ruins, and even those that have been restored must be conserved to maintain their beauty.
Now, paradoxically, when Turkey's relations with Israel are strained, there is hope for Izmir's synagogues as well as for some 2,000 holy books, some dating to the 16th century, and more than 200 textile items.
The Izmir Project is an initiative of the Mordechai Kiriaty Foun­da­tion (izmirproject1@gmail.com) with the cooperation of Izmir's Jewish community and lo­­­­cal government, to restore and conserve the synagogues, creating a living museum of the city's Se­­fardic heritage and a bridge between Muslims and Jews.
"Izmir was always very tol­er­ant," said the foundation's Uri Bar-Ner, who notes that while the city understands the tourism po­­ten­tial, additional funds are still needed.