A Projector Unto the Nations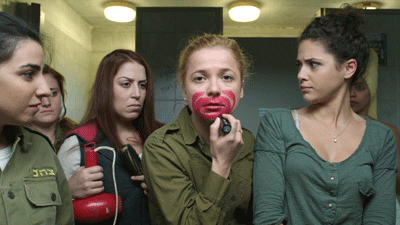 What makes a good Israeli movie? Certainly, it is one that appeals to local audiences as well as local critics.
Just as crucial a question for film lovers is, what type of Israeli film will interest American audiences and motivate distributors to bring it across the Atlantic. Judging by the movies currently here or about to hit our shores—in theaters, at Jewish film festivals, on DVD and online streaming services—there is no one formula. Among the crop of movies being shown now in the United States (most premiered in Israel in 2014) are the critically acclaimed GETT: The Trial of Vivianne Amsalem, a tense, tight courtroom drama; Zero Motivation, a black comedy about women in the Israeli Army; and The Last Farewell, another dark comedy, about a group of elderly friends in a retirement home.
With sales in the country topping a record 1.7 million tickets and an unprecedented seven Israeli films garnering over 100,000 viewers each, this past year was one of the best for films in Israel's history. "For the first time in years, there were a large number of commercially successful films," notes Israeli film portal Seret.co.il in its year-end roundup. "It seems that Israeli cinema has finally targeted wide and varied audiences."
Half a dozen 2014 films made it to the Cannes Film Festival, and Zero Motivation won an award at the prestigious New York City Tribeca Film Festival. (Also noteworthy is that 2014 was a breakout year for women in the industry. According to a December article in the Ha'aretz newspaper, women helmed or codirected four of the year's most successful films, and films directed by women captured major awards at the Jerusalem Film Festival and the Docaviv documentary film festival as well as several Ophir Awards.)
The nominees and winners of the recent Ophir Awards—the Israeli equivalent of the Oscars—transcend genres, from comedies and dramas, to love stories and political films. There is no one common subject or theme that predicts what would make a film successful in Israel, either critically or commercially.
So what does the industry's diversity mean to American audiences?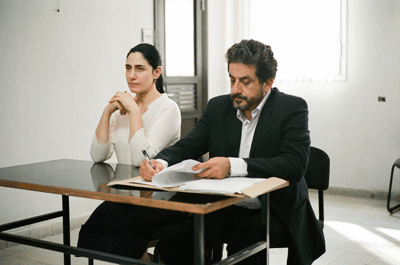 "There has been a tremendous improvement in quality of film," says Neil Friedman, president and founder of Menemsha Films, an art film distributor specializing in films of Jewish, Latin American and Czech-language content. "Israeli cinema is as strong as anywhere in the world: There are so many talented writers and filmmakers—no less strong than France or Germany."
"It used to be that in order to get accepted to a prestigious festival, an Israeli filmmaker had to show something about the conflict or a terror attack," says Ravit Turjeman, founder and managing director of Dragoman Film Distribution, which provides professional representation, marketing and distribution of Israeli Cinema and Television in North America. Look at Oscar nominees such as 2007's Beaufort, Joseph Cedar's tale of soldiers stationed in an outpost in Southern Lebanon just before Israel's withdrawal from the area, or Waltz with Bashir, Ari Pulman's animated rendering of the first Lebanon war. Both are dark films, about difficult political subjects.
But, notes Turjeman, that is no longer true.
Zero Motivation, directed by Talya Lavie, was the biggest hit of the year in Israel, is only somewhat political and is still making the rounds at film festivals in the United States. In addition to its Tribeca prize for Best Narrative Feature, it has won five Ophirs, including for best director and best actress.
Zero Motivation is a comedy about listless female Israel Defense Forces recruits trying to survive their service in a remote desert outpost doing, basically, nothing. "One day you'll wake up and you'll realize that you were two years in the army and you didn't contribute anything," the mistakenly ambitious commander tells her recalcitrant recruits.
Billed as Private Benjamin meets M*A*S*H, the platoon members spend their time playing computer games, having staple gun wars, singing pop songs and conspiring to get transferred to Tel Aviv—while endlessly serving coffee to the men who run the show.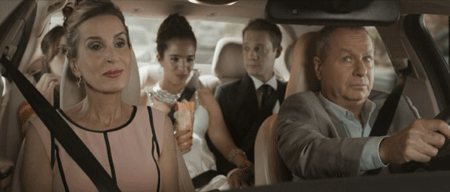 The film spoke to israeli audiences on two different levels—both as a comedic portrayal of life for a woman in the army and as a deeper commentary on mandatory service and the chauvinism in the IDF. But despite being a critical favorite—Kenneth Turan of the Los Angeles Times called it "surreal, unexpected and at times wildly funny"— it was not as popular across the Atlantic. However, this might be due to the timing of its release. The April 2014 release of the film in Israel came during a period of relative calm; the December opening in the United States was after Operation Protective Edge in Gaza. Not many Americans were in the mood to laugh about the Israeli military.
In general, "Over the years Israeli films have become…more about personal experiences unique to the fabric of life that can only happen in Israel," Turjeman says. When she is deciding which films to bring over, "We are looking for elements to the story that anyone from anywhere can relate to." Turjeman also consults with the Israel Film Center in New York, which streams Israeli films.
Many of the current films distributed in America do have one thing in common—their characters. Israeli films feature tough, direct and not always likeable leads. That mainstay of Hollywood—the affable and sympathetic protagonist—is not essential for sabras.
Take the caustic couple in Academy-Award nominee GETT: The Trial of Vivianne Amsalem, a somber, tense film about a long-suffering married woman and her five-year attempt to obtain a religious divorce from her manipulative husband through an unsympathetic rabbinical court. The couple tears each other apart so much so that, like the rabbis in the film, the viewer never wants to see either one of them again. GETT won the 2014 Ophir for best film and has jump-started discussions about Jewish divorce and the rabbinical courts in Israel.
Another hard-to-take character is the spiteful plastic-surgeon father in Hill Start, a film primarily about a son who cannot stand up to his callous dad. Of course, Hill Start touches on so much more: the trashy fiancée who the father hates and who caused the car accident that lands the mother in a coma; the beaten-down sister who cannot open herself up to love; and a father who learns manners and life lessons from, of all people, his driving instructor, a young woman who helps him overcome trauma from the car accident.
"Abba, what do you have against her?" the son, who is also a plastic surgeon, asks about his fiancée.
"She's plain, she's provincial, she's never been abroad," his father replies as they both scrub up for a breast enlargement surgery.
"She's been to Turkey," the son says.
"Turkey? Turkey's like Netanya!" the father says.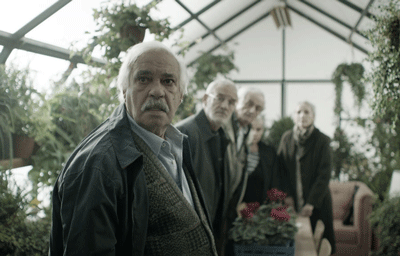 Filmmaker Dani Menkin feels that American audiences are tired of dark or political films. "We have so much of it in the news, and so many [directors] are trying to say something, to bring their agenda," says Menkin, who wrote, produced and directed 2005's 39 Pounds of Love, which won an Ophir and was sold to HBO. "I appreciate it, but I like to make a film that will entertain people while giving them something to think about."
Menkin is touring the United States and visiting film festivals with Is That You? about a 60-year-old Israeli who goes on a road trip in America to find the lost love of his youth. Menkin's 2011 documentary Dolphin Boy, about a sick Arab child healed by a dolphin, was screened in over 20 countries around the globe and has been picked up by Disney for a feature adaptation.
"I go to a lot of the Jewish film and Israel film festivals in the United States," he notes, "and people tell me, 'Oh my God, you guys bring so many depressing movies with heavy subjects.'"
Israeli cinema is influenced by the somber European style of filmmaking and storytelling, Menkin explains, since many Israeli films are coproduced with French companies. Menkin cites the Israeli-French The Kindergarten Teacher, an abstract film about a teacher and babysitter both obsessed with the talents of  a young boy under their stewardship, which he cannot imagine will have broad appeal here—though it is opening in the United States in July.
"Americans like something else," Menkin says, likening movie taste to food taste. "The food I am making is more American," he says, adding that he is known in Israel as "The American-Israeli" filmmaker. "I try to bring lighter movies with the three-act structure."
It is not that he thinks, "What will Americans like?" when he makes a movie. Menkin, who studied filmmaking here and splits his time between Tel Aviv and Los Angeles, just produces films that appeal to him, and he was influenced by directors like Richard Linklater, Alexander Payne and Robert Zemeckis.
Menemsha's Friedman disagrees. He says foreign films need to have art-house appeal, like GETT, which opened here to great critical acclaim.
Then there is A Borrowed Identity, released in the United States in June, directed by Eran Riklis. A throwback to the political films of yesteryear, it is based on the book by the famed Arab columnist and novelist Sayed Kashua about an Arab Israeli boy trying to fit in among the Jewish teens in an elite Jerusalem bording school. Like GETT, it exposes harsh realities of life in Israel, but it is kinder: The main character befriends a handicapped boy and falls in love with an Israeli girl—but is still shackled to his circumstances.
"When the American audience thinks of foreign-language films, they think more intellectual, more unique," he says. It is an older, more sophisticated audience, who "won't go to see B-movies."
Which is why Kicking Out Shoshana will not play in many film festivals here. The broad comedy, which Ha'aretz called "the most politically incorrect film of all time," is about a professional soccer player who fools around with a mafioso's girlfriend. When he is caught, instead of getting killed, he is forced to come out as gay. Still, it had Israelis laughing.
"Usually comedies are harder to sell," says Meir Fenigstein, who has run the Israeli Film Festival in Los Angeles for the last three decades. "It's a question of humor. If the American distributor doesn't understand the humor, then the audience wouldn't understand it either."
That should make an interesting future for film, especially if Israel keeps churning out the yuks. "The great success of [Zero Motivation], along with the success of Shoshana, proves that Israeli audiences are thirsty for comedies," writes Yair Raveh, a popular Israeli film blogger (blog .orange.co.il, in Hebrew). "The fact is that every time there is a comedy or drama with humor, the crowd comes."
The Farewell Party, from the writer-director team of Tal Granit and Sharon Maymon, and one of 2014's top four films in Israel, is another comedy. The film, which opened in the United States in May, is about a group of friends at a retirement home, one of whom decides to become his own Dr. Kevorkian and builds a mercy-killing machine to stop his friends from needless suffering. Word gets out, and he is beset by more requests than he can handle.
"I want you to tell him that you might be a killer, but you are not a serial killer," says his wife, who opposes euthanasia, but is herself beset by Alzheimer's, leading to the climax. With its jokey moments and light touch, despite the heavy subject matter, Farewell is a far cry from the maudlin Still Alice, last year's tear-jerker about a woman with early-onset Alzheimer's.
That combination of slice-of-life stories as well as serious subject matters might be the key to finding films that appeal both at home and abroad. The 2015 Israel Film Festival in Los Angeles was a major success. Tickets sales increased 25 percent over last year. "The audiences loved the films," notes Fenigstein on the festival's website.
"Israeli films have first-rate cinematic quality," Turjeman says. "The greatest achievement of any Israeli film is that it is being judged according to the same criteria as every other film."
But for some it is about more than just film. The film business is "good press for the country—[it] helps how people outside of  Israel view the country," says Friedman. "By watching Israeli films, people see that Israelis are like everyone else—that they're creative, that they have family problems, that it is not all about worrying when the next bomb will  drop. They say to themselves, 'It pretty much looks like us,' so it's a great way for Europeans and Americans to identify with Israel."