Big Love for Small Patients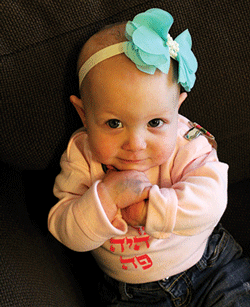 "I doubt I need to describe in detail the emotions that a mother and father feel, after handing over their one year old daughter to a surgeon, believing with every cell of their body that G-d is in control, praying with every breath and utterance from their mouth, but ultimately aware with every nano-second, that they may not see their daughter again. We sat for 8 hours. 8 very excruciating long hours…."
These thoughts come from Shoshana Balofsky's blog, Tehilla's Heart Journey. The blog describes her daughter Tehilla's fight with hypoplastic left heart syndrome, starting with her diagnosis before her birth to her heart surgeries at the Hebrew University–Hadassah Medical Center at Ein Kerem and her ongoing recovery.
Balofsky and her husband, Ron, are former residents of Toronto who have lived in Israel since 2004. The eight-hour surgery at Hadassah Hospital was their daughter's third in an unfinished series of open-heart procedures to create normal blood flow in a heart whose two left chambers never developed.
Tehilla is one of some 200 children who undergo surgery for congenital heart defects at Hadassah each year. The pediatric cardiology team has doubled this number in the past three years and continues to add to its caseload.
"To treat these children successfully there must be close coordination between surgeons, anesthetists and the PICU [pediatric intensive care unit]," says Dr. Eldad Erez, Hadassah's director of congenital cardiothoracic surgery, who operated on Tehilla. "We don't take a child into surgery unless there is a PICU bed available. If we lose that bed to an emergency admission, surgery is delayed."
Hadassah's 25-year-old PICU relocated from the fourth to the seventh floor of the Mother and Child Center in May 2012. Its state-of-the-art premises now spreads across an area equivalent to half a baseball field. Each of its eight beds is in a separate bay, enclosed within electronically activated glass doors to control infection and block resistant bacteria. Two beds are currently being added, with plans to reach 16 beds within two years.
"Expanding the unit is critical," says Dr. Jacques Braun, who has directed Hadassah's PICU since January. Hadassah has Israel's only pediatric neurosurgery center and is also at the forefront of children's hematology-oncology, cardiology and cardiac surgery, and intensive care plays a key role in each.
The PICU serves Jerusalem and its surroundings, "but with expanded infrastructure we could accommodate patients from all of Israel," says Dr. Erez. With Hadassah's congenital heart surgery results ranking in the top 10 percent of a database of 120 leading hospitals in the United States, he believes "we could also carve a substantial medical tourism niche, especially from Cyprus and Russia."
While the PICU is for critically ill children from birth to mid-teens, most of its patients are in their first year of life. "The majority of youngsters come to us following heart surgery or because of acute respiratory disease, but we see every kind of medical and surgical discipline here, from multiple traumas to repair of a wide variety of inborn defects," says Dr. Braun, the first pediatrician to have completed a PICU fellowship in Israel. "It makes for fascinating round-the-clock work that is challenging in every sense—constantly changing, emotionally demanding and always lifesaving. It is also very satisfying: 97 percent of our young patients leave the unit in good condition and eventually go home."
The PICU is a noisy, busy place. Its ventilators, hemofiltrators, IVs and monitors beep. It abounds with physicians, nurses (one to every two patients), support staff and at least one parent or caregiver by every bed. But it is an environment in which, Dr. Braun believes, there is intuitive understanding of often unresponsive young patients and stressed families.
"We currently have a 3-year-old road-traffic victim here with severe brain and spinal cord injury," he says. "He is unconscious, but improving slowly. It may take months, but there is a good chance he will stand, walk and speak again. We see this kind of thing happening, even when expectations are very low. Our role is to support him so that he survives, while time heals him."
The welter of emotions among the families of the unit's young patients—from anxiety and helplessness to anger and guilt—are addressed not only by its empathetic team, but also by enlisting parents in patient care. "We believe that having one parent stay with the child contributes to the healing process," reads the unit's website.
"I have only positive things to say about the PICU," says Shoshana Balofsky. "The staff are incredible. They're always patient, totally understanding of Tehilla's needs and ours, and they take fantastic care both of her and of us as a family."
Young heart surgery patients like Tehilla comprise more than a third of all Hadassah's PICU admissions—a proportion that has soared since Dr. Erez came to Hadassah four years ago. The medical center's first dedicated congenital heart disease surgeon, he revitalized the discipline as a discrete area of expertise, with three specialized surgeon and anesthesia teams.
"Heart surgery in children differs from that in adults," he says. "Not only is a child's heart far smaller—the size of a newborn baby's fist—its physiology differs from the adult, both before and after surgery. This makes it more complex and technically demanding to treat congenital heart disease in a child than acquired heart disease in an adult. The profession today is divided into congenital and acquired heart disease."
Congenital heart disease—a structural problem in the heart present at birth—is the most common form of birth defect, affecting about one in every 100 children. Two thirds of these children will need at least one open-heart surgery. "While heart defects remain the leading cause of death in birth-defect-related deaths, surgical and medical advances have hugely increased chances of survival," says Dr. Erez.
"We first heard of hypoplastic left heart syndrome following a routine ultrasound when I was 17 weeks pregnant with Tehilla," says Balofsky. "We were left paralyzed by the diagnosis…. We began the runaround of doctors with their conflicting information, including one who was clearly in favor of terminating my pregnancy. Finally we got to Hadassah's pediatric cardiology head, Dr. Azaria Rein. He sat with us for 45 minutes instead of the scheduled 15 and answered every one of our 200-plus questions. Because of him, we could make an educated decision about whether to go ahead with the pregnancy."
Surgical treatment of hypoplastic left heart syndrome is one of the major achievements of congenital heart surgery in recent years. Dr. Rein told the Balofskys that their unborn child had a 45-percent chance of reaching age 5 and, thereafter, a 70-percent chance of living a virtually normal life. They decided to take the odds.
"After struggling to get the information and make a decision, there were now months of waiting, of knowing that our baby would go into surgery directly after she was born," recalls Balofsky. "Knowing, too, that this would be the first of at least three operations, and it would be the most complicated and the hardest to recover from. It was an intense and surreal time."
Two days after arriving in the world in a scheduled C-section (as had her two siblings), six-pound Tehilla was in surgery. "Everyone at Hadassah involved in her care was in the loop, from the maternity room onward," says Balofsky. "Tehilla spent 18 days in the PICU and a further 10 in the step-down unit, while I basically lived in the hospital. The doctors and nurses there updated us continuously. As a parent, you really struggle watching your child recover from surgery. It's completely out of your control…. These updates really helped me to cope. A month after she was born, we brought her home."
The 18 months since have seen Tehilla frequently back at Hadassah, for consultations, the ER and surgery, but, says her mother, "our heart-warrior princess" is doing well, developing and growing.
If Tehilla is a heart warrior,  her mother has become an advocacy queen. When still pregnant, Balofsky founded a Facebook group for families with children with heart problems that grew to 2,500. "[Members] flooded us with advice and photos of their beautiful smiling children and helped us decipher information and find proper resources…. It was they who advised me to start a blog to update family and friends on our heart warrior's progress. That blog has had over 250,000 views."
Following Tehilla's first surgery, Balofsky, with two other families, created Little Lev (www.littlelev.org), Israel's first support organization for families with kids with congenital heart defects. "There needs to be a place to go for support, like I found online from other heart parents," she says. "Little Lev gives out information, advice and friendship, and matches families with one another, based on language and their child's condition. Hadassah's PICU now gives Little Lev contact details to newly diagnosed families, and I was invited to speak about our experience and the organization at a pediatric cardiac care symposium of doctors, surgeons, nurses, physical therapists and others from Hadassah Hospital.
"Nearly everyone was crying and laughing throughout my speech. A few nurses came and hugged me and thanked me for sharing our story."
A least one major operation lies ahead for Tehilla. "Every surgery is hard, but each is a step ahead, something we want to put behind us," says Balofsky. "We have no regrets about our decision. Even if we had lost Tehilla, we would still be happy we gave her a chance at life."